Great Prices
We challenge you to find cheaper! Our rates include unlimited mileage, one-way fees and roadside assist*. Why pay more?
Wide Selection
We have around 20,000 depots around the world. We offer a great range of vehicles at competitive prices, from the most reputable suppliers
24/7 Hotline
We provide 24/7 service while you're on the road. You can also call 1800 823 578, leave a message, and we'll return your call.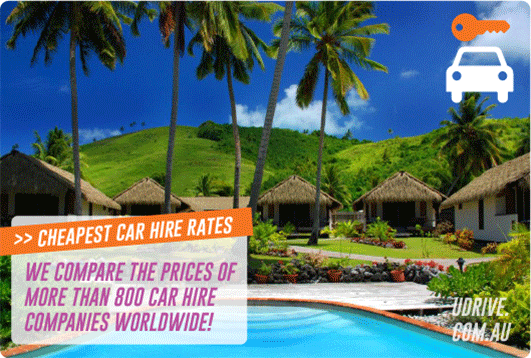 The country of Fiji was location to the blockbuster hits "Cast Away" (Tom Hanks) and "Blue Lagoon" (Brooke Shields). There could have been no better setting because the beaches of Fiji are indeed stellar stars. In the recent years, only the rich and affluent who are off for a good time could afford to go on a car rental holiday in Fiji. Fortunately, myriad budget resorts have mushroomed in a few towns. The opening of these budget lodgings managed not only to accommodate more cost-conscious car holiday travelers, but also to introduce the less known, pristine islands of the country. In Fiji, you can just laze on their white sand beaches or brave it out in their exceptional diving spots or shop til you drop. Just go ahead and rent a great value Fiji car hire and embrace everything that Fiji has to offer.

Going around Fiji
Public transportation in Fiji is relatively cheap with options of bus, shared taxi and private taxi. The road works in Fiji are far from exceptional; it is common to encounter pot holes, bumpy roads and dilapidated bridges. If you're not confident about getting transported by a stranger, you may opt to hire a car rental in Fiji.
Nearby Countries
Fiji is very close to Hawaii, where you can also go on a very eventful car rental holiday. Hawaii showcases the world's most diverse cuisine, thanks to the plethora of nationalities that immigrated to the country.
Popular Car Hire Depots in Fiji
Hertz
Nadi International Airport
Arrivals Concourse
Nadi
Much of Fiji tourism is about having a great time at their luxurious beaches. You may drive your rental car to Mamanucas and join a leisurely cruise around the island. Mamanucas is famous with socialites and partyphiles, being the location of grand cruises and upscale resorts. You may join all the other car rental holiday tourists on their lavish parties or choose to "get away from it all" on their virgin, secluded beaches. Other choices for lazy beach lounging are Coral Coast, Nananu-I-Ra and Yasawas (popular for manta ray sightings). For a foreign city life, drive around the capital city of Suva in your car rental and check out the museums, clubs, restaurants and shopping centers.
The Nadi International Airport is Fiji's main airport and services flights from the U.S. and Korea. It is best to arrive at the airport with pre-arranged tour packages - hotel, Fiji car rental and other activities - as Fiji travel agencies are notorious for selling packages at high commissions. Nadi airport taxis can be used to transfer you to the city; the airport strictly enforces the use of the taxi meter so you are spared the trouble of being charged extra. There are air-conditioned buses at the airport, but may not be convenient if you are lugging a lot of stuff around. You may also rent a car in Fiji from the numerous car rental agencies found at the airport, by simply booking online.
---
Top Car Hire Locations in Fiji
---
I used UDrive.com.au for my recent trip.Why Udrive - because of the excellent rates they offered, as usual. The pick up went all very smooth and fast, actually got the car I requested. Will certainly use them again and again for my next trips.