Great Prices
We challenge you to find cheaper! Our rates include a brand new vehicle, unlimited mileage, insurance and roadside assist*. Why pay more?
Wide Selection
We offer a great range of vehicles at competitive prices, from the most reputable suppliers.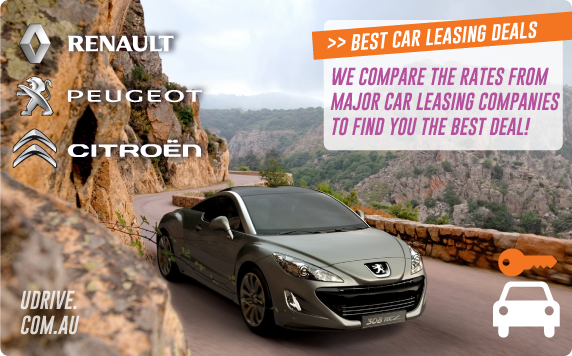 Car leasing is a fantastic alternative to long term car rental in Munich. The insurance included is certainly a highlight, covering many European countries! Leasing is a tax free buy back programme endorsed by the French government to encourage tourism.
There are only 3 companies you can lease from in Munich and these are; Renault, Peugeot and Citroen. The variety of vehicles offered by these three companies are extensive and selection of the best deal can be an overwhelming experience. Udrive takes the hassle from our customers and compare the rates from these three companies to suit your needs. We will simply compare and provide you with the best possible quote from one of these companies within 24 hours of receiving your quote request. We're confident that once you've compared our prices to those elsewhere, you'll find that our deals are unbeatable.
Udrive has also come to enjoy a well-deserved reputation for client service. We have operators available to answer your email enquiries seven days a week, so you can be sure of a prompt reply.
Udrive is 100% Australian owned. It was founded by a group of Australians with extensive international experience in the travel industry. We understand that today's travellers want to take advantage of a competitive market to get the greatest possible deal. Together with our partner UK and Europe Travel, we can offer fantastic European car, 4WD & mini van deals.
Why Book Your Lease With Udrive.com.au?
- Most reputable companies
- Simple bookings
- Great internet-only prices
- No hidden extras
- Australian customer service centre
- Prompt customer support
Benefits of European Car Leasing
- Receive a brand new vehicle
- 24 hour roadside assistance *
- Unlimited kilometers
- Over 30 European pick up and drop off locations *
- Full insurance with no excess *
- Coverage in 42 countries *
* Conditions apply.
Specifically designed for non-European residents and travellers planning an extended holiday in Munich between 17 and 175 days, all vehicles are left-hand drive. It is a great alternative to car hire allowing you to explore the best of Munich as soon as you arrive.
Please note that most vehicles include insurance with no vehicle excess, full factory warranty, personal accident insurance, free additional drivers, unlimited kilometres and 24 hour roadside assistance in 8 countries throughout Munich.
Europe Car Leasing - Who is Eligible?
To be eligible for car lease, you must meet all of the following conditions:
- Your country of residence must be outside the European Union;
- You must spend less than 185 consecutive days in Europe in a year;
- You must not be in Europe for business purposes;
- You must be over 18 the day the vehicle is delivered; and
- Have held a driving licence for more than one year.
Munich is the third largest city in Germany and situated on the banks of the River Isar. It will certainly amaze you with its vibrant, multicultural atmosphere and the variety of interesting places to see.
If you want to feel the spirit of the city, take a walk in the old town. It consists of many traditional, small bars and restaurants, where you can drink the local beer and try some specialities of German cuisine. It will enchant you with its special atmosphere and make you want to come back. But Munich is not just about beer and food. The city is an important cultural and scientific centre of the region.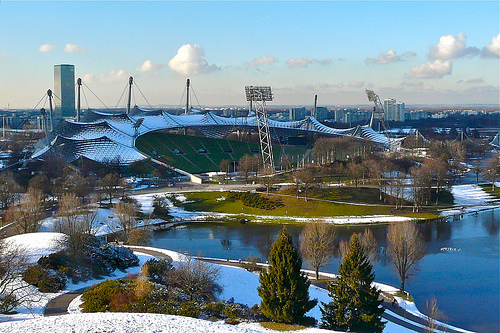 (Munich Olympia Park by Sanfa Media)

Munich Cathedral
The famous Munich Cathedral; the Frauenkircheis, is one of the greatest examples of Gothic architecture in Europe. Its construction took place in 1494 and its towers are famous for their dome tops, remodelled on the Dome rock in Jerusalem. Inside the cathedral it's possible to admire some real treasures, made of bronze and silver. The cathedral has become the most famous building of the city.
Museums
Munich has also much to offer for those who love history and enjoy museums. The most interesting is the Deutsches Museum which focuses on historic artefacts from science and technology. There is also the Museums ensemble which is three at museums showcasing different time periods from the Middle Ages to the 20th century.
The carnival
One of the most remarkable attractions of the year is the carnival. The main bulk of events are traditionally held in February, when it becomes a large street festival of costumes and dance parades. Other events including dance balls make the life of the city more intense and colourful. The atmosphere of fun draws in many tourists and makes Munich a very attractive destination.
Oktoberfest
Possibly the biggest festival in the world, the Oktoberfest is held every year for 16 days from late September to October. Thousands of people enter large and big tents to celebrate traditional beer and food. Based on Bavarian culture, if you visit Munich during this event, pre book your accommodation well in advance.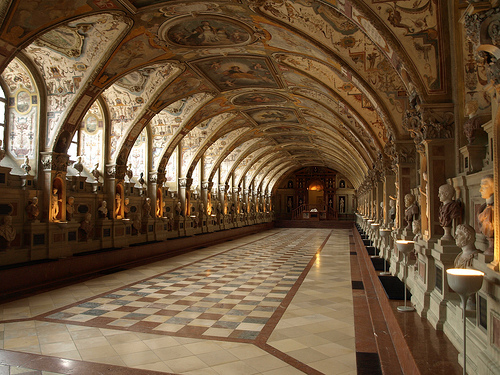 (Munich Residenz interior, the Antiquarium by Barynz)
Other Things to do in Munich
Visit the city Centre park which is a mass of green areas and a great place to relax
The Brandhorst museum is cheap to enter and focuses on modern art
Sample traditional German cuisine at Viktualienmarkt
The interactive museum of Man and Nature is great for kids and next to the Botanical gardens
For an amazing view of the city, climb to the top of St Peters tower
Row in a lake boat or go biking in the Englischer Garten
Kids will enjoy a day out at Blomberg Mountain, which is also great for hikers
Party animals seeking a rocking night-life should head to Kunstpark
The Schloss Nymphenburg Palace dates back to 1665 and a full day can be spent exploring it and the gardens.
Kids will certainly enjoy the wild life at Munich Zoo
Cars enthusiasts should head to the BMW museum
Built for the 1972 Olympics, the Olympia Park is open every day and great for family activities.
A convenient way to see Munich and Germany is by hiring or leasing a car.
We were very pleased with both the new Citreon and the service we received both prior to departing Australia and upon arrival and departure from Muncih Airport. We made one phone call form the airport and the driver picked us up in our car, and gave us a briefing on the car, then upon return the driver took us straight to the airport without any fuss. The car performed well, was easy to drive and was very comfortable. We would do it again.