Great Prices
We challenge you to find cheaper! Our rates include a brand new vehicle, unlimited mileage, insurance and roadside assist*. Why pay more?
Wide Selection
We offer a great range of vehicles at competitive prices, from the most reputable suppliers.
24/7 Hotline
We provide 24/7 service while you're on the road. You can also call 1800 761 192 , leave a message, and we'll return your call.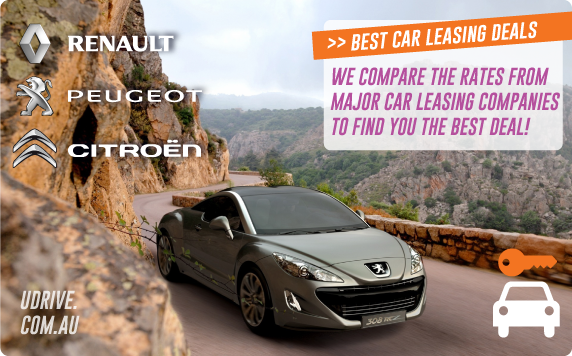 Great Savings For Your Long Term UK Vehicle Needs. Car leasing is a fantastic alternative to long term car rental in UK. The insurance included is certainly a highlight, covering many European countries! Leasing is a tax free buy back programme endorsed by the French government to encourage tourism.
There are only 3 companies you can lease from in UK and these are; Renault, Peugeot and Citroen. The variety of vehicles offered by these three companies are extensive and selection of the best deal can be an overwhelming experience. Udrive takes the hassle from our customers and compare the rates from these three companies to suit your needs. We will simply compare and provide you with the best possible quote from one of these companies within 24 hours of receiving your quote request. We're confident that once you've compared our prices to those elsewhere, you'll find that our deals are unbeatable.
Udrive has also come to enjoy a well-deserved reputation for client service. We have operators available to answer your email enquiries seven days a week, so you can be sure of a prompt reply.
Udrive is 100% Australian owned. It was founded by a group of Australians with extensive international experience in the travel industry. We understand that today's travellers want to take advantage of a competitive market to get the greatest possible deal. Together with our partner UK and Europe Travel, we can offer fantastic European car, 4WD & mini van deals.
Why Book Your Lease With Udrive.com.au?
- Most reputable companies
- Simple bookings
- Great internet-only prices
- No hidden extras
- Australian customer service centre
- Prompt customer support
Benefits of European Car Leasing
- Receive a brand new vehicle
- 24 hour roadside assistance *
- Unlimited kilometers
- Over 30 European pick up and drop off locations *
- Full insurance with no excess *
- Coverage in 42 countries *
* Conditions apply.
Specifically designed for non-European residents and travellers planning an extended holiday in UK between 17 and 175 days, all vehicles are left-hand drive. It is a great alternative to car hire allowing you to explore the best of UK as soon as you arrive.
Please note that most vehicles include insurance with no vehicle excess, full factory warranty, personal accident insurance, free additional drivers, unlimited kilometres and 24 hour roadside assistance in 8 countries throughout UK.
Europe Car Leasing - Who is Eligible?
To be eligible for car lease, you must meet all of the following conditions:
- Your country of residence must be outside the European Union;
- You must spend less than 185 consecutive days in Europe in a year;
- You must not be in Europe for business purposes;
- You must be over 18 the day the vehicle is delivered; and
- Have held a driving licence for more than one year.
So, you have the weekend off work and your feet are itching to get out and about. The perfect way to do this is by hiring a car and exploring sites and attractions of the UK. Here are our top three suggestions of where to go when you get behind the wheel.
Weekend Driving Holiday Ideas in the UK
The Windermere District
This area is home to England's largest lake called Windermere. The lake is ideal as a family destination or for couples. Hit the road and take a short drive to the surrounding villages of Ambleside, Waterhead, Bowness and Fellfoot. All are traditional English villages with small teahouses, quaint cottages, and scenic views.
For accommodation stay overnight in the village of Windermere situated a mile inland from the lake. When you set off the next morning, take a short detour off the main lake road, and visit the magnificent gardens of Holehird. Then head to the lake to marvel at its pure size and beauty.
Many say the best way to see it is via a short cruise if the weather permits it. If you are traveling as a family, on the way back home visit the Zip lining center in Brockhole. Kids will enjoy swinging through the trees and completing the adventure course.
Liverpool and Southport
Combine a trip to ones of England's most iconic cities with a short break in the seaside resort of Southport. Liverpool has many attractions and museums. Fans of the Beetles will enjoy following a trail that includes visits to the childhood homes of Paul McCartney and John Lennon.
Famous buildings to visit include St George's hall and the Anglican cathedral. At the end of your first day in Liverpool, take the short drive to Southport and book overnight into a bed and breakfast establishment.
The next morning head to the pier and eat traditional English fish and chips. Then attempt go-karting and crazy golf. The quirky British lawnmower museum will amuse and you can follow the Southport treasure trail that is a great way to discover the hidden attractions that only the locals know about. On the way out of this quaint seaside resort, stop by the model railway village.
Stonehenge and Wiltshire
Stonehenge has baffled historians for many years and it continues to be one of the UK's biggest attractions. You can visit in the daytime however; a sunset tour will provide perfect holiday photographs.
Stay overnight in the one of the many bed and breakfast hotels located close to the magnificent landmark and then head off the next morning to explore the rest of the Wiltshire countryside including Salisbury cathedral, the National Trust property of Stourhead, Longlet Zoo and Avebury Manor.
Fans of the old railways will love the steam museum but if it is a lovely summer's day spend the rest of your time relaxing and strolling around the Caen locks. At the end of your walk, indulge in a traditional British pub lunch.
---
Car Leasing Locations in UK
---
Micheal The car lease was as near to perfect as I could have hoped for and I would book again if staying in Europe for more than 6 weeks. We drove Ireland Then Ferry to France drove through France to Spain Across Spain from Segovia to Barcelona, Girona, Marseille, Provence, Nice, Monaco, Florence, Pisa, Rome, Pompey, Tuscany, Venice, Munich, Sinsheim, Speyer, Mulhouse, Paris, Caen, London. 15,000 Klms. The car was a perfect size for the narrow old town,s and narrow roads, and was equally at home on the motorways and the autobahn. The booking- Pick up and drop off were fantastic. My only change I would make for the next time wold be to book an automatic. Fabulous way to make the best of expensive flights and see the real countryside. As a treat to ourselves we stayed in Air BnB Castles and Chateaux. Not much more needed to say 14 weeks of fun friends and family. I don't know how they can do it but I hope it continues. Ripper way to go.
We used UDrive to arrange a lease car for our recent holiday in Europe. The lease car gave us the flexibility we needed to drive from the UK to Ireland and then to France without worrying about rental car company penalties and conditions. We were picked up from Heathrow in our brand new car and after 15 minutes of easy paperwork were on our way. The return at Paris airport was even quicker and they dropped us at the terminal. We had the car for 102 days and felt confident about it's reliability given that it was brand new and covered by a full insurance scheme and 24 hour roadside assistance (which we didn't have to use). We will use UDrive again and do recommend the scheme to our friends. Michael Altan was very professional in all our dealings and I haven't mentioned the best part...the very competitive price!
UDrive made our trip around the UK a dream, picking up a brand new leased vehicle was so easy and we saved thousands compared to a rental and we had the peace of mind of full comprehensive insurance included, we fully recommend UDrive for your next European driving holiday.