Great Prices
We challenge you to find cheaper! Our rates include unlimited mileage, one-way fees and roadside assist*. Why pay more?
Wide Selection
We have around 20,000 depots around the world. We offer a great range of vehicles at competitive prices, from the most reputable suppliers
24/7 Hotline
We provide 24/7 service while you're on the road. You can also call 1800 761 192 , leave a message, and we'll return your call.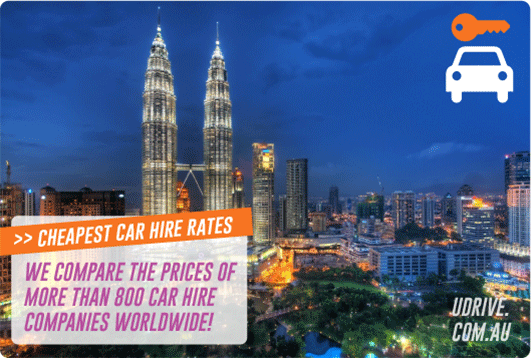 Malaysia is a country in Southeast Asia consisting of thirteen states and three Federal Territories, with a total landmass of 329,845 square kilometres. The capital city is Kuala Lumpur, while Putrajaya is the seat of the federal government. The population stands at over 28 million. The country is separated by the South China Sea into two regions, Peninsular Malaysia and Malaysian Borneo (also known as East Malaysia). Malaysia borders Thailand, Indonesia, Singapore, and Brunei. It is near the equator and has a tropical climate. Malaysia's head of state is the Yang di-Pertuan Agong, an elected monarch, and the head of government is the Prime Minister. The government is closely modelled on the Westminster parliamentary system.
Malaysia as a unified state did not exist until 1963. Previously, the United Kingdom had established influence in colonies in the territory from the late 18th century. The western half of modern Malaysia was composed of several separate kingdoms. This group of colonies was known as British Malaya until its dissolution in 1946, when it was reorganized as the Malayan Union. Due to widespread opposition, it was reorganized again as the Federation of Malaya in 1948 and later gained independence on 31 August 1957. Singapore, Sarawak, British North Borneo, and the Federation of Malaya merged to form Malaysia on 16 September 1963. Tensions in the early years of the new union sparked an armed conflict with Indonesia, and the expulsion of Singapore on 9 August 1965.
During the late 20th century, Malaysia experienced an economic boom and underwent rapid development. It borders the Strait of Malacca, an important international shipping crossroad, and international trade is integral to its economy. Manufacturing makes up a major sector of the country's economy. Malaysia has a biodiverse range of flora and fauna, and is also considered one of the 17 megadiverse countries.
Malaysia is a perfect testament to modernity and wilderness working in synch to give a unique identity to one country. The capital city of Kuala Lumpur features futuristic structures and establishments, also an information technology hub in Southeast Asia. As you drive your Malaysia car rental outside Kuala Lumpur to the less developed towns like Sarawak, you'll notice how the view shifts from a cemented, urban jungle to lush greens and immaculate beaches. Foodies love traveling to Malaysia because of the diversity of cuisines that can be found in this amazing country. Even when there's strong foreign influence in Malaysia like Chinese, Indian and Western, the integrity of Malaysian cuisine is still very much intact.
Going around Malaysia
Traveling by bus around Malaysia is cheap so it is often full on weekends and holidays. Reserving bus seats in advance is a great way of making sure you get a slot amidst the sea of holiday tourists. If you'd like to avoid the droves of travelers, there a great number of car rental companies in Malaysia. The roads in Malaysia are well-connected so driving a Malaysia car hire around the country is almost hassle-free. You should also note that there is a rail system that goes around Malaysia but is relatively slow and inefficient.
From the Airport
The Kuala Lumpur International Airport is Malaysia's main airport. It is a prime aviation hub in Southeast Asia and is in the top 20 busiest airports in the world. It is named after the capital city of Malaysia although it is located in the town of Sepang. Travel by rental car from the airport to Kuala Lumpur takes about an hour, a distance of 50 kilometers. You may get a Malaysia car hire from the many international car rental companies at the Kuala Lumpur International Airport or take the KLIA Express; the train goes non-stop from the airport to Kuala Lumpur downtown.
Places to See
The variety of beaches in Malaysia is rich; you may choose from chic, upscale beaches to gritty, remote ones. Luxury is the main stream in Pulau Langkawi, and is the most marketed island in Malaysia. Splurge on lavish accommodations at any of the beaches in Pulau Langkawi, sun bathe on the shore and just let time idly pass by. Other sights in the town of Langkawi are rice paddies, verdant jungles and water buffaloes. The highlands of Malaysia are perfect for growing tea. In fact, you can drive your Malaysia car rental to Cameron Highlands to take a tour of the tea plantations in the area. Farmers encourage travelers to visit their plantations and to sample their local brew. The climate and the soil are also perfect for growing wild flowers, which are marketed throughout the country. For a taste of Malay culture, steer your Malaysia rental car to Khota Baru where you can find the country's most colorful night market, remarkable palaces and historical museums. You should definitely try nasi lemak, one of Malaysia's signature dishes. It is often served for breakfast, a dish composed of rice cooked in coconut cream, served with fish or chicken, anchovies, peanuts, cucumber slices and made more flavorful with chili.
Nearby Country
A day's drive could take you to the border of Thailand, another choice car rental holiday destination in Southeast Asia. In Thailand you shall see legendary Buddha statues, one of the largest markets in Asia (35 acres!) and sample the sweetest tropical fruits.
Car Rental Services Directory in Malaysia
Avis
Kuala Lumpur International Airport
Counter C01 International Arrivals Airside
Kuala Lumpur 43900
Europcar
17-2 Level 17 Wisma UOA
Jalan, Pinang
Kuala Lumpur 50450
Hertz
Lot 2 G/F Kompleks Antarabangsa
Jalan Sultan Ismail Kuala Lumpur
0 false 18 pt 18 pt 0 0 false false false
Kuala Lumpur
Udrive.com.au provides a wide range of vehicles from economy vehicles through to luxury autos. Udrive.com.au will compare the top car hire providers to find you the very best deal on your car rental in Malaysia.
Compare Cheap Malaysia Car Hire
Try our simple-to-use booking engine to compare car hire deals in Malaysia. Type in your pickup and drop off locations & other information required and we'll immediately provide you with some quotations. Whether you're after an economy Malaysia car hire, or a luxury Malaysia rental vehicle, we have the perfect deal for you. Our low cost car rentals are provided by well-known suppliers such as Avis, Hertz and Europcar, but we can often provide better car hire rates!
Avis, Budget, Thrifty, Dollar, Hertz, Europcar, Sixt, Alamo, National & More!
We have 7 pick up locations in Malaysia (See below). Please select your car rental pick up location from our booking engine or by clicking on the 'Book Now' link above.
Langkawi - The Andaman | Kuala Lumpur - Airport Int | Penang - Airport Int | Kuala Lumpur Airport-LCCT Terminal | Penang - Downtown | Langkawi - The Datai | Langkawi - Four Season | Langkawi - Sheraton
---
Top Car Hire Locations in Malaysia
---
---
Malaysia Rental Locations
---
Our car rental in Malaysia recently was very good. It was difficult to find a vehicle large enough for our family, but Udrive had one and the price was good. Convenient location at the airport and rental desk was easy to find.