Great Prices
We challenge you to find cheaper! Our rates include unlimited mileage, one-way fees and roadside assist*. Why pay more?
Wide Selection
We have around 20,000 depots around the world. We offer a great range of vehicles at competitive prices, from the most reputable suppliers
24/7 Hotline
We provide 24/7 service while you're on the road. You can also call 1800 761 192 , leave a message, and we'll return your call.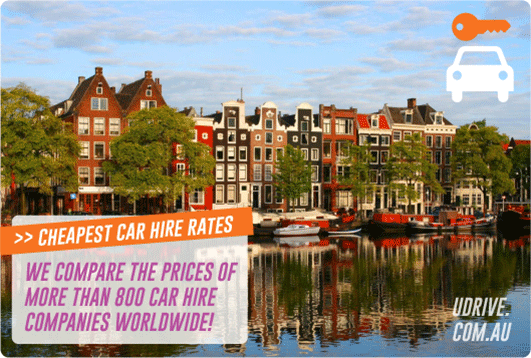 The Netherlands is a constituent country of the Kingdom of the Netherlands, located in North-West Europe. It is a parliamentary democratic constitutional monarchy. The Netherlands borders the North Sea to the north and west, Belgium to the south, and Germany to the east. The capital is Amsterdam and the seat of government is The Hague.
The Netherlands is often called Holland, a pars pro toto, as North and South Holland are actually two of its twelve provinces. The word Dutch is used to refer to the people, the language, and anything pertaining to the Netherlands. This lexical difference between the noun and the adjective is a peculiarity of the English language and does not exist in the Dutch language. The adjective 'Dutch' is derived from the language that was spoken in the area, called 'Diets', which equals Middle Dutch.
Being one of the first parliamentary democracies, the Netherlands was a modern country from its inception. Among other affiliations the country is a founding member of the European Union (EU), NATO, OECD and WTO. With Belgium and Luxembourg it forms the Benelux economic union.
The Netherlands is a geographically low-lying country, with about 20% of its area and 21% of its population located below sea level with 50% of its land lying less than 1 metre above sea level. Significant land area has been gained through land reclamation and preserved through an elaborate system of polders and dikes. Much of the Netherlands is formed by the estuary of three important European rivers, which together with their distributaries form the Rhine-Meuse-Scheldt delta. Most of the country is very flat, with the exception of foothills in the far southeast and several low-hill ranges in the central parts.
There is no other country across the globe that is as distinct as Netherlands. Travelers fly to Netherlands, hire a car rental and travel all over the famed country for a taste of a culture that is as unique as its geography. Flatness characterizes the country's land, but there is nothing flat or plain or boring about Netherlands. A car rental holiday in Netherlands affords a tourist of splendid views of crystalline lakes and sandy coastlines, of sailboats and windmills, of bridges and canals. The people of Netherlands, the Dutch, are equally fascinating, possessing an admirable balance of discipline and a liberal attitude.
Going around Netherlands
The government of Netherlands has done a great job on its public transportation, with almost all of its towns accessible by bus or train. The only problem with public commute in Netherlands is that it gets too crowded most of the time since the country is densely-populated. A great way to explore Netherlands is by driving a car rental, which lets you reach towns not accessible by train or bus such as the North Sea Islands. Being a country of discipline, drivers are to abide by traffic rules, especially the speed limit. If you're driving a car hire in Netherlands, you have to understand that speed limit varies by town.
From the Airport
The main airport of Netherlands, Amsterdam Airport Schiphol, is located in its capital city, Amsterdam. It is situated 20 minutes from the Amsterdam downtown. The airport rail service connects the Amsterdam Airport with major towns such as Amsterdam, The Hague, Utrecht and Rotterdam. There are international car rental companies at the Amsterdam Airport and one of its awesome conveniences is that you can arrange to pick up your Netherlands car rental as soon as you arrive.
Places to See
The capital city of Netherlands is its biggest attraction, drawing travelers to its colors and vivacity. Drive your Netherlands car hire all over Amsterdam; ride a boat and cruise along the canal while listening to your "captain" play traditional and modern songs on the organ. It's common to see adults smoke a reefer in a café or to see men (and even women) going in and out of red-light establishments. It is not all hedonism in Amsterdam, mind you. Visit the Van Gogh Museum; Vincent Van Gogh is Netherlands' most important celebrity and you'll see more than 200 of his artworks at the Van Gogh Museums. It is also recommended that you park your rental car by the parks and old world villas as they are simply charming. Drive your Netherlands car rental outside the capital city and fill your senses with wonderful Dutch offerings – Delft (a well-preserved town made famous by blue and white ceramics), Nijmegen (country's oldest city), Hoge Veluwe National Park (sand dunes, heathlands and woodlands) and Keukenhof (vast flower fields).
Nearby Country
Located to the south of Netherlands is Belgium. Some of the best reasons to go on a car rental holiday in Belgium are its historical cathedrals, artistic heritage and beer.
Car Rental Services Directory in Netherlands
Europcar
Amsterdam Airport Schiphol
Aankomst Passage 10
Arrivals Hall, West 3 Plaza
Amsterdam 1118
Hertz
Overtoom 333
Amsterdam
Udrive.com.au offers budget car rental with the lowest car rental rates from the world's top 450 car rental companies. With Udrive, you can choose from a wide range of vehicles, from mini vehicles to vans and 4WD four wheel drives. You can select from our large list of pickup locations in Netherlands and all around Europe above. Compare our rates now, you won't be disappointed.
Compare Cheap Netherlands Car Hire
Try our simple-to-use booking engine to compare car hire deals in Netherlands. Type in your pickup and drop off locations & other information required and we'll immediately provide you with some quotations. Whether you're after an economy Netherlands car hire, or a luxury Netherlands rental vehicle, we have the perfect deal for you. Our low cost car rentals are provided by well-known suppliers such as Avis, Hertz and Europcar, but we can often provide better car hire rates!
Avis, Budget, Thrifty, Dollar, Hertz, Europcar, Sixt, Alamo, National & More!
We have 52 pick up locations in the Netherlands (See below). Please select your car rental pick up location from our booking engine or by clicking on the 'Book Now' link above.
Geleen | Den Bosch | Rotterdam | Hoofddorp | Leeuwarden | Rotterdam Airport | Rotterdam City | Eindhoven - Airport | Heerlen | Maastricht | Maastricht Airport | Haarlem | Hilversum | Enschede | Groningen | Hoogeveen | Groningen Airport | Alkmaar | Amersfoort | Amsterdam South East | Emmen | Den Haag West | Den Haag City | Arnhem | Breda | Apeldoorn | Doetinchem | Amsterdam West | Amsterdam - Downtown | Amsterdam Schiphol Airport | Eindhoven - Downtown | Tilburg | Utrecht | Zeist | Veendam | Zwolle | Heerenveen Downtown | Heerhugowaartd | Assen Downtown | Dordrecht | Ede | Vlaardingen | Deventer Fa Bultman | Nijmegen | Roermond | Waalwijk | Weert | Zaltbommel | Venlo - Blerick | Almere | Kerkrade | Goes | Hapert
---
Top Car Hire Locations in Netherlands
---
---
Netherlands Rental Locations
---
Thank you. Everything was perfect. The procedure was easy and service was great on all stages.Thanks.
Our contact in Australia and has to be commended for his helpfulness clear understanding of our requirements. He kept contact with us and let us always know so we were always well informed. If your traveling overseas this is the company to deal with all your rental needs.
We recommend the Renault Scenic perfect car for Europe.

Many thanks U-Drive for making our holiday one to remember, cheers mate.
Attention to detail. Well done UDRIVE!
As you know we booked our hire car via U drive and I must say that the experience was great. We had no problems at all, we received all the relevant e mails regarding our booking and difficulties were not encountered.

On line booking process, was easy and options were clearly defined
Selection of cars, we put in the parameters and lots of choices were offered
Payment, received a receipt promptly along with voucher. All very detailed
Pick up, At Schipol airport, went to the counter, all my details were on screen. The person explained to us what we needed to know such as insurance. (This was our first time hiring a car)
The person who handed over the car was very informative and helpful. He arranged for the baby seat to be installed and explained the cars features. On our return we had the same man, again he was very caring and he completed the final check list and final bill.Car Opel Corsa (5 speed manual, hatch) very clean and comfortable car. Before leaving on our trip I did e mail UDrive with a few questions and I am happy to say that your efforts in answering my questions was exceptionally high, so thank you for that.
I was recommended U drive by a friend and I will recommend U drive to other friends. The service and prices were very good. On my next trip I will be using the service again and I will keep an eye out for specials. Thanks again.