Great Prices
We challenge you to find cheaper! Our rates include unlimited mileage, one-way fees and roadside assist*. Why pay more?
Wide Selection
We have around 20,000 depots around the world. We offer a great range of vehicles at competitive prices, from the most reputable suppliers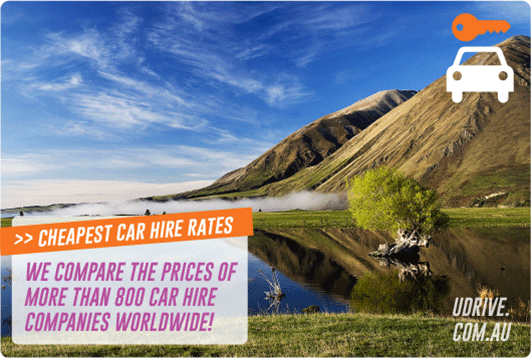 New Zealand is an island country in the south-western Pacific Ocean comprising two main landmasses (commonly called the North Island and the South Island), and numerous smaller islands, most notably Stewart Island/Rakiura and the Chatham Islands. The indigenous Maori language name for New Zealand is Aotearoa, commonly translated as The Land of the Long White Cloud.
The majority of New Zealand's population is of European descent; the indigenous Maori are the largest minority. Asians and non-Maori Polynesians are also significant minority groups, especially in urban areas. The most commonly spoken language is English.
New Zealand is a developed country that ranks highly in international comparisons on human development, quality of life, life expectancy, literacy, public education, peace, prosperity, economic freedom, ease of doing business, lack of corruption, press freedom, and the protection of civil liberties and political rights. Its cities also consistently rank among the world's most liveable.
Elizabeth II, as the Queen of New Zealand, is the country's head of state and is represented by a ceremonial Governor-General who holds reserve powers. The Queen has no real political influence, and her position is essentially symbolic. Political power is held by the democratically elected Parliament of New Zealand under the leadership of the Prime Minister, who is the head of government.
t's not difficult to understand why the sun chose to rise on New Zealand before any other country on the globe. New Zealand has a bewitching splendor to it, as embodied by craggy mountains, glistening fiords, immaculate lakes, charming beaches and powerful volcanoes. Rent a New Zealand car hire, drive all over the country and be mesmerized by the very same beauty that has enamored the fans of the Lord of the Rings film trilogy. If you have been awed by the scenery in the film, imagine how much more pleased you'll be in real life when you go on a New Zealand car rental holiday.
Going around New Zealand
Travelers who wish to visit different provinces in New Zealand go on domestic flights as these can be cost-efficient and time-efficient. However, because of the mystifying scenery that New Zealand is blessed with, it is encouraged that tourists travel by land and the best mode is by driving a New Zealand rental car across towns and provinces. You need a valid driver's license in order to rent a car hire in New Zealand. Other modes of public transportation are bus and rail.
From the Airport
New Zealand's primary airport is not found in its capital city, Wellington, but rather in Auckland. The Auckland Airport is New Zealand's biggest and busiest airport, being the country's main air hub. It is located 21 kilometers to the south of Auckland's central district. There are three bus companies that operate between the airport and key places in Auckland; this may be convenient if you're not lugging large baggage. Otherwise, you may choose to hail a cab or better yet, arrange for a New Zealand car rental at one of the many international car rental agencies found at the airport. If you want to up the convenience further, book a great deal New Zealand rental car online and pick up your vehicle rental on your arrival.
Places to See
New Zealand is comprised of 270,534 square kilometers of unparalleled grandeur. To help you make the most of your New Zealand car rental holiday, write down the sights and activities that capture your fancy. Here are a few places that have won the hearts of the travelers in the past decades. As soon as you have picked up your vehicle rental on your arrival in Auckland, you may explore the country's biggest city and alternate sights of volcanoes and beaches while immersing yourself in the vibrant New Zealand culture. Drive your car hire to New Zealand's most frequented National Park, the Abel Tasman National Park. As soon as you pick out a parking spot for your rental car, explore the park by foot or by kayak and enjoy the golden sand beaches protected by marble and limestone mountain ranges. There are also caves and potholes that make the park a lot more interesting. Surfing will always be a big hit with car rental holiday tourists in New Zealand and the most popular surf spot in NZ is the town of Raglan, where the surfing culture is at its most colorful.
Nearby Country
Australia is a hop away from Kiwi land. Located approximately 1,500 kilometers from New Zealand, Australia is the perfect car rental holiday destination for those who are after a great union of the rugged outback and stylish cityscapes, aboriginal culture intertwined with the modern and the undulating waves conquered bravely by intrepid surfers.
Car Rental Services Directory in New Zealand
Avis
25 Dixon Street
North Island
Wellington 6011
Europcar
Auckland Airport
International and Domestic Terminal
Auckland
Hertz
154 Victoria Street
West Auckland
Auckland 1010
Udrive.com.au offer a wide range of cars from budget vehicles through to luxury autos. Udrive.com.au will compare the top car hire providers to find you the very best car rental deal in and around New Zealand.
Compare Cheap New Zealand Car Hire
Try our simple-to-use booking engine to compare car hire deals in New Zealand. Type in your pickup and drop off locations & other information required and we'll immediately provide you with some quotations. Whether you're after an economy New Zealand car hire, or a luxury New Zealand rental vehicle, we have the perfect deal for you. Our low cost car rentals are provided by well-known suppliers such as Avis, Hertz and Europcar, but we can often provide better car hire rates!
Avis, Budget, Thrifty, Dollar, Hertz, Europcar, Sixt, Alamo, National & More!
We have 59 pick up locations in New Zealand (See below). Please select your car rental pick up location from our booking engine or by clicking on the 'Book Now' link above.
Kerikeri | Lower Hutt | Napier - Airport | New Plymouth | Palmerston North - Airport | Rotorua | Taupo | Tauranga | Wanganui | Whakatane | Whangarei | Blenheim | Tauranga - Airport | Wellington - Ferry Terminal | Hamilton | Auckland - Downtown | Palmerston North | Christchurch | Dunedin | Greymouth - Train Station | Invercargill - Airport | Nelson - Airport | Picton | Queenstown | Queenstown - Airport | Gisborne - Airport | KeriKeri - Airport | New Plymouth - Airport | Rotorua - Airport | Timaru - Airport | Auckland - Airport | Christchurch - Airport | Kawerau | Timaru | Hokitika - Airport | Kaitaia | Taupo - Airport | Invercargill | Cambridge | Hamilton - Airport | Napier | Paihia Bay of Islands | Wanganui - Airport | Wellington | Wellington - Airport | Whakatane - Airport | Whangarei - Airport | Blenheim - Airport | Dunedin - Airport | Hastings
---
Top Car Hire Locations in New Zealand
---
The car hire was fantastic. No hidden costs, no problems! They even threw in a free navigator for the duration of the trip! Great service. Thank you.