The best places to visit in Milan, the fashion capital of Italy, offer a great insight into a large multicultural city that delivers intrigue, alongside history and modern trends. Founded by the Celtics, but also ruled by the Romans, Spanish, Austrians, and French, these days, the second largest metropolis in Italy has exceeded a population count of 5 million people who helped it to flourish regarding economic and educational success.
Also, home to two major football teams, Milan proudly hosts many international festivals and many places of interest. All of them are easy to visit using local transport but to move at a leisurely place according to your own itinerary, check out prices for local car hire suppliers here.
7 of the Best Places to Visit in Milan, Italy
1: Milan Cathedral (Duomo Di Milano)
The 14th century Milan Cathedral, bags fame, as the largest church in Italy and the third largest in the world. This impressive landmark took six centuries to complete, swapping from style to style to incorporate various architectural trends.
Differences in opinion, wear and tear, as well as un-used architectural plans, have hampered its progress over the years, but one smart move was allowing access to the roof, from which tourists have the best panoramic view and close views of architectural styles in the spires.
The interior is just as stunning and holds some impressive art including the Saint Bartholomew Flayed statue, the sarcophagi of two archbishops, and three beautiful altars.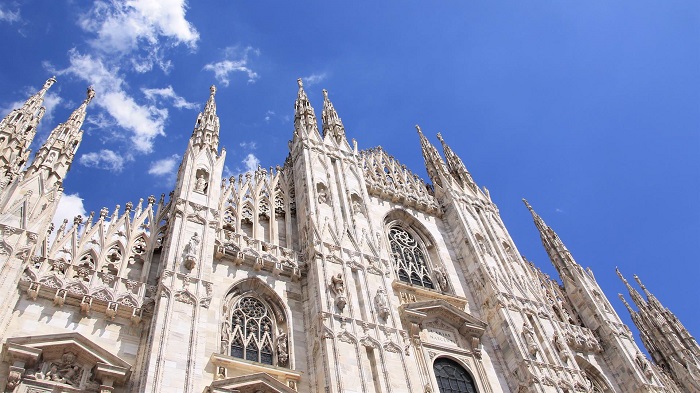 2: Sforza Castle (Castello Sforzesco)
Sforza Castle Museum built between the 14th and 15th century is one of the best places to visit in Milan and was in full use until 1862. By the 17th century, it was one of Europe's largest fortresses, and expansion continued until 1905.
Open every day except Monday, the 10 euro admission fee gets you front seat place to impressive museums and art collections of Italy. Leonardo da Vinci famously frescoed some room ceilings, and despite suffering severe damage during Allied bombing in the Second World War, it has been restored to much of its former glory.
The Costello complex houses separate museums including ancient art, musical instruments, furniture, and Egyptian history. (Official website – www.milanocastello.it/en)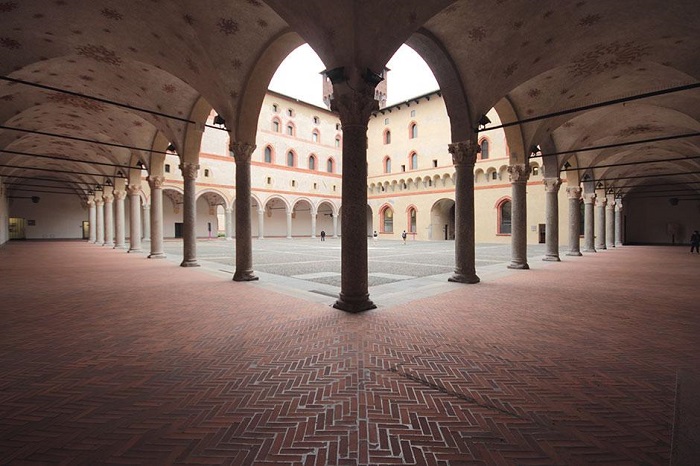 3: Brera District of Milan
Bohemian vibes of the Brera district of Milan have inspired many artists over the years but bars, restaurants and shops are also gaining recognition as cool, upper-class places to socialise and spend hard-earned money.
The Fine Arts Academy and Brera Art Gallery, in the Palazzo building, boast of a botanical garden, astronomical observatory and library, while often called the artistic pulse of Milan, Pinacoteca di Brera has a beautiful collection of paintings by Italian artists including Raphael.
If art isn't your passion, spend times exploring cobbled streets and browsing through antique shops. Alternatively, boutique jewellery and clothing shops offer up individualistic styles while cafes and high-end restaurants serving quality food remind us, that even in a large busy city, pleasure and relaxation is possible.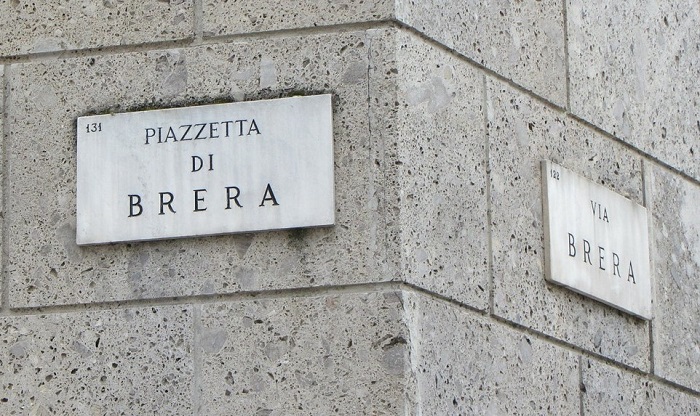 4: Galleria Vittorio Emanuele
Built in the 19th century, Galleria Vittorio Emanuele II is another major landmark building of Milan often attracting curious tourists with tales of its impressive architecture. Sitting within a four-story arcade with iron and glass roof topped by a glass dome, it's between the cathedral and theatre, making all three a nice, leisurely tour.
Also suffering damage during World War Two, the roof underwent renovation in the 1970s and 1980s. Therefore the version we see today is not the exact original but never the less still compliments the architectural style.
In 2015, intense cleaning and repair efforts further boosted its appearance. Don't just admire the architecture though because shopping and eating amenities are also in abundance.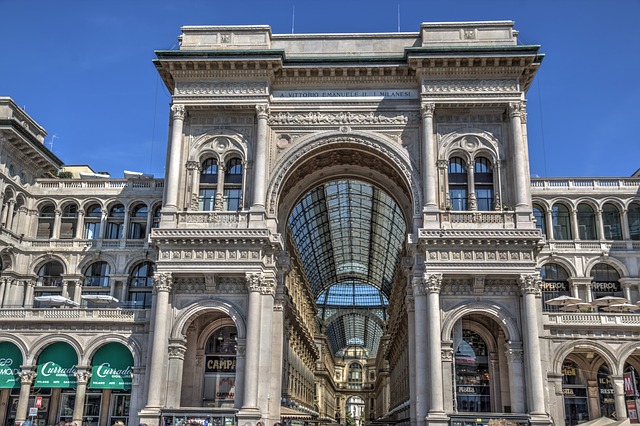 5: Teatro Alla Scala: La Scala
With a capacity to host audiences of 2000 people, the 18th century Teatro Alla Scala also known as La Scala is Milan's prestigious opera house. Hosting world-famous singers and performers, across the globe, many say it is the world's best ballet and opera theatre.
Including a prestigious academy teaching fine arts like music, dance and stage performances, the theatre museum gives an impressive insight into its history through costumes and paintings. Teatro Alla Scala had extensive renovation work done after bombing in the Second World War, and in 2004 but is still an impressive and treasured landmark of Milan. More information on the official Website here – www.teatroallascala.org.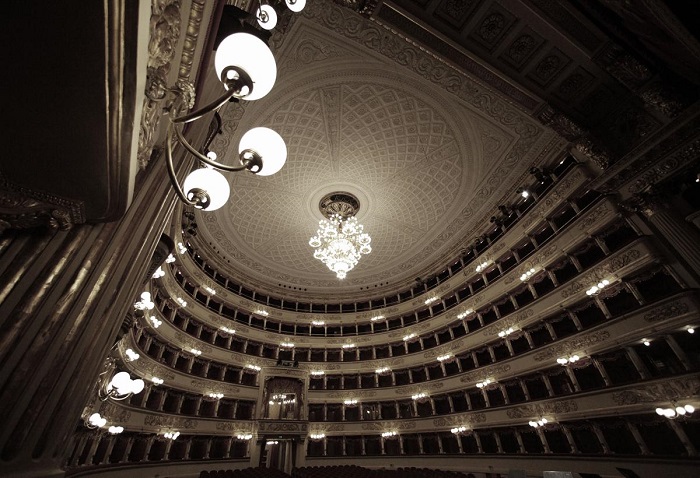 6: Santa Maria Delle Grazie
The 15th century Santa Maria Church and Convent holds two claims to fame. It belongs to the UNESCO World Heritage Site Collection and holds the famous painting, the Last Supper by Leonardo da Vinci. This attraction is top-rated, and entrance is limited to a few people at any given time, so avoid disappointment, by buying tickets online and ahead of time.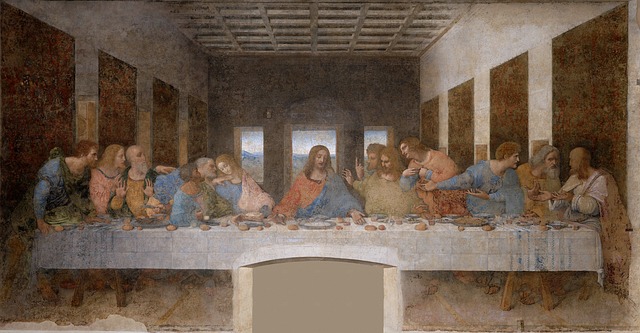 7: Quadrilatero Della Moda
Quadrilatero Della Moda is more iconic than famous. Representing Milan's upscale shopping district, and nicknamed fashion square, high-class boutiques and outlets include the world's best clothing houses and brands.
Comprised of several streets, famous names include Hugo Boss, Calvin Klein, Armani, Jimmy Choo, Stella McCartney, Alexander McQueen, Burberry, and Gucci. Even if you can't afford to max out the plastic, browsing the districts proves why Milan is a global fashion hub.
Getting About Milan and Italy: Seeing the best places to visit in Milan is comfortable with your own car. Leaving you to get around at your own pace, our online search engine sources the best and cheapest car leasing deals. Get a quote today here.