Salt Lake City in the western state of Utah is one of the most popular touristic centres in the United States of America. Nicknamed the crossroads of the west, attractions often lure families completing a road trip of the area.We recommend that if you are passing through, to stay overnight since the wide range of excellent restaurants and overnight accommodation choices are all-encompassing and diverse. However if you are on a flying visit and want to know what to see in Salt Lake City in one day, we suggest you focus on the Temple Square area.
What to See in Salt Lake City in One Day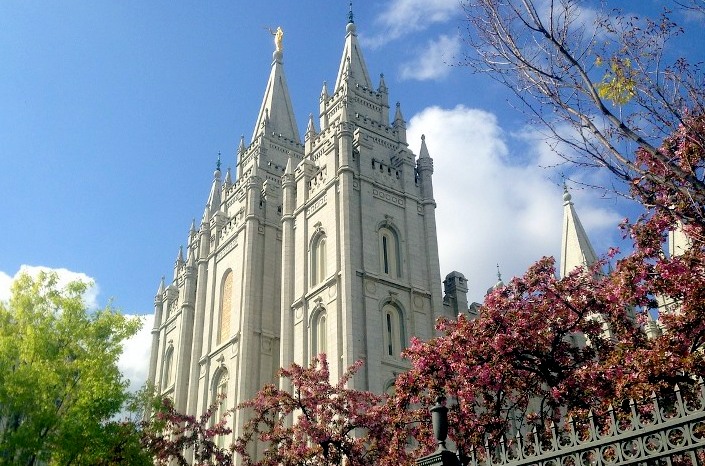 Since Salt Lake City is famously known as the home of the pioneering Mormons, Temple Square is the most visited attraction in Utah State. Covering 10 acres, it is easy to spend a day exploring the attractions that include…
Salt Lake Temple
This is the heart of Temple Square and one of the original churches. General access to the interior for the public is not allowed, but viewing the grounds and architecture of the building is an interesting experience in itself.
Salt Lake Tabernacle
Built in 1867, tour guides happily show people around the building of which its original intention was a meeting place, but now it is a concert hall. Admission to the Tabernacle is free and it is also possible to attend a choir performance as well.
Salt Lake Assembly Hall
Owned by the Church of Jesus Christ of Latter Day Saints and built in 1877, the assembly hall has Victorian Gothic style architecture and sitting directly in front of the church is the Seagull monument, said to resemble an event in 1848 when seagulls saved a crop from being destroyed by crickets.
Art and History Museum
Near Temple Square is the Museum of Art and History of which the 1st floor showcases the history of the Pioneers' settlement throughout the USA. The 2nd floor depicts Mormon artists from around the world and their works.
Beehive House
Also near Temple square is the Beehive house that was a home of Brigham Young, one of the founding members of Salt Lake City and a famous leader in the LDS movement, who orchestrated the mass exodus across the USA to Utah.
Built in 1855, it is now a museum showcasing furniture from that time, many of which are the original pieces from the date of its construction. Concluding the travel question of what to see in Salt Lake City in one day, more attractions are within this area and if you are an independent traveller, tour them at your own pace. Otherwise, book a guided tour to talk to a guide about the history of the region as well.
Using a car to get around is the best way to see all the delights that the country has to offer.
Save