Great Prices
We challenge you to find cheaper! Our rates include unlimited mileage, one-way fees and roadside assist*. Why pay more?
Wide Selection
We have around 20,000 depots around the world. We offer a great range of vehicles at competitive prices, from the most reputable suppliers
24/7 Hotline
We provide 24/7 service while you're on the road. You can also call 1800 761 192 , leave a message, and we'll return your call.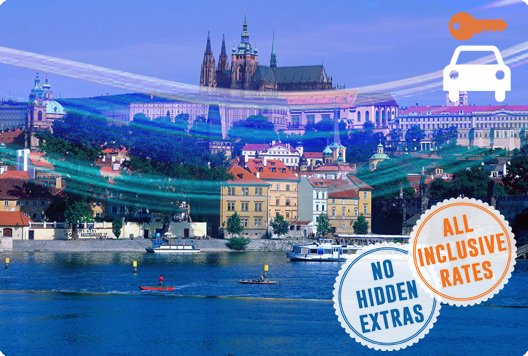 Prague is the capital and largest city of the Czech Republic. Nicknames for Prague have included Praga mater urbium/Praha matka mest in Latin/Czech, Stovezata Praha ("City of a Hundred Spires") in Czech or Zlate mesto/Goldene Stadt ("Golden City") in Czech/German.
Situated on the Vltava River in central Bohemia, Prague has been the political, cultural and economic centre of the Czech state for more than 1100 years. For many decades during the Gothic and Renaissance eras, Prague was the permanent seat of two Holy Roman Emperors and thus was also the capital of the Holy Roman Empire.
Today, the city proper is home to more than 1.2 million people, while its metropolitan area is estimated to have a population of over 1.9 million.
Since 1992, the extensive historic centre of Prague has been included in the UNESCO list of World Heritage Sites, making the city one of the most popular tourist destinations in
Europe
, receiving more than 4.1 million international visitors annually, as of 2009.
Compare Cheap Prague Car Hire
Try our simple-to-use booking engine to compare car hire deals at Prague. Type in your pickup and drop off locations & other information required and we'll immediately provide you with some quotations. Whether you're after an economy Prague car hire, or a luxury Prague rental vehicle, we have the perfect deal for you. Our low cost car rentals are provided by well-known suppliers such as Avis, Hertz and Europcar, but we can often provide better car hire rates!
Avis, Budget, Thrifty, Dollar, Hertz, Europcar, Sixt, Alamo, National & More!
Prague has highway connections from five major directions. Unfortunately, the highway network in the Czech Republic is quite incomplete and some highways are old and in poor condition. Thus, the highway connection from Prague to the border of the Czech Republic is available only in two directions: southeast and southwest.
The southwestern highway (D5; international E50) leads through Plzen to Germany. The D5 highway continues in Germany as A6. Riding from the state border to Prague takes about an hour and a half (160 km / 99 mi).
The southeastern highway (D1) is the Czech Republic's oldest and most used highway but is in a rather poor condition. It leads through Brno to Bratislava in Slovakia. It offers a good connection to Vienna, Budapest and all traffic from the east. It runs for 250 km (155 mi), and usually takes over two hours.
To the northwest, you can take highway D8 (E55), but it is not complete to the German border. It ends now at Lovosice (about 60 km (37 mi) from Prague and starts again in Usti nad Labem and continues to the northern Germany via A17 (Dresden, Berlin, Leipzig).
To the northeast, you can take highway R10 (E65). It is strictly speaking a motorway, not a highway, but it has four lanes and differs little from a highway. It leads from Liberec to Turnov. It is not regarded as an important access route, as there are no major cities in this direction (Zittau in Germany, some cities in Poland), but it offers a good connection to the Czech mountains Jizerske hory and Krkonose (Riesengebirge) with the best Czech skiing resorts.
To the east, you can take the newly completed D11 (E67), which goes to Hradec Kralove. It leads to Poland.
Czech highways are under development (D8 and D11 are being extended, D3 to Ceske Budejovice and Linz is supposed to be completed in 2020) so things will get better. Unless there are road works, there are only seldom traffic jams on Czech highways, with the exception of D1 near Prague (and near Mirosovice (direction to Ceske Budejovice and Linz, and Brno, too)).
Prague Car Hire - Reliable Rental From UDrive
I can't say anything negative about my experience with UDrive car rental booking online. Everything went smooth and well.
1) Online booking - Easy and stright forward.
2) Vehicle selection - I was able to upgrade to a better car on spot at Europcar in Prague.
3) Online voucher process - They honoured the payment made through UDrive. I payed the balance.
4) Pick up experience - Excellent, friendly and helpful staff at Elisky Krasnohorske.
5) I hired VW GOLF TSI 1.4 petrol, 7 speed automatic. Excellent car, good performance and economy.
At the end I payed 200 EUR extra for full insurance to have all excesses waived which was fully worth it.