Great Prices
We challenge you to find cheaper! Our rates include unlimited mileage, one-way fees and roadside assist*. Why pay more?
Wide Selection
We have around 20,000 depots around the world. We offer a great range of vehicles at competitive prices, from the most reputable suppliers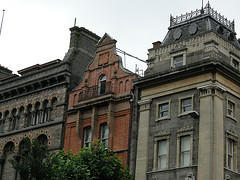 Ireland Information
Ireland is the third-largest island in Europe and the twentieth-largest island in the world. It lies to the north-west of continental Europe and is surrounded by hundreds of islands and islets. To the east of Ireland is the island of Great Britain, separated from it by the Irish Sea. The Republic of Ireland covers five-sixths of the island. Northern Ireland, a part of the United Kingdom, covers the remainder and is located in the northeast of the island. The population of Ireland is estimated to be 6.2 million. Slightly less than 4.5 million are estimated to live in the Republic of Ireland and slightly less than 1.8 million live in Northern Ireland.
Relatively low-lying mountains surrounding a central plain to epitomise the Ireland's geography with several navigable rivers extending inland. The island has a lush vegetation, a product of its mild but changeable oceanic climate, which avoids extremes in temperature. Thick woodlands covered the island until the 1600s. Today, it is the most deforested area in Europe. Twenty-six mammal species are native to Ireland, with some, such as the red fox, hedgehog and badger, being very common. Others, like the Irish hare, red deer and pine marten are less so.
Irish culture has had a significant influence on culture world-wide, particularly in the fields of literature and, to a lesser degree, science and learning. A strong indigenous culture, expressed for example through native sports and the Irish language, exists alongside a regional culture, such as Rugby football and golf.
Most people scoff at overly-commercialized tourist destinations, with over-development putting a damper on a country's natural beauty. Such is the case with Ireland, but it would be unfortunate not to go on a car rental holiday in Ireland just because it's earned the "touristy" stamp. If there's anything about the leprechaun capital that should entice you to rent a car in Ireland and explore the whole country, it should be the chance to marvel at treasures that have been unearthed by people before you such as the Emerald Isle, a gorgeous cacophony of green and blue, of mountain and sea, of land and sky that melds so perfectly, you'd just want to preserve it in your memory.
Going around Ireland
Going around Ireland is best done with a car rental. Recommended is an automatic transmission car hire to better maneuver along narrow roads. If you want to get a fantastic deal Ireland car rental, search online for great car hire packages. You can also use the train although you might have to make obligatory stops in Dublin since it is the central train hub of Ireland.
From the Airport\
Dublin Airport is Ireland's primary and largest airport (also Europe's 8th largest airport). It is situated about 10 kilometers north to Dublin's central district and can be accessed via car hire, bus or train. There are different bus and coach services terminating at the airport, with Airlink transferring passengers straight from the airport to Dublin's city center. There are also a number of car rental companies at the Arrivals Hall of the airport, where you can pick up your Ireland rent-a-car should you decide to go on a car rental holiday in Ireland.
Places to See
Amidst Ireland's loud touristy vibe is a reverberating cultural atmosphere. Drive your car rental to Bru Na Boinne, which is one of the most breathtaking places in Europe. Bru Na Boinne records to have existed a thousand years before the enigmatic Stonehenge in South England. It is a magnificent showcase of Neolithic chamber tombs, henges and standing stones. For another dose of history, drive your rental car to Londonderry and be awestruck by the Bogside murals that date back to the 17th century. Londonderry also features a colorful nightlife where you can down bottles of Guinness while listening to great music in one of their pubs. For a mélange of bright flowers, archeological ruins and jagged cliffs, steer your Ireland car hire to the Aran Islands and soak up all the color. If you want to sample hearty Ireland cuisine, drive around Dublin in your car rental and order a serving of its signature dish, the Coddle, a stew of pork sausages, bacon and potatoes. For breakfast, there's nothing better than the Irish breakfast or commonly called "fry", a generous serving of bacon, eggs and pork sausage made with blood, which they call "black pudding".
Nearby Country
If you're in Ireland, you may go on an extended car rental holiday in France, the world's romance capital where you can fall in love over (or with) undulating vineyards, world's best champagne and of course, the Eiffel Tower.
Car Rental Services Directory in Ireland
Avis
35 – 39 Old Kilmainham Road
Dublin 8
Europcar
Main Arrivals Hall
Dublin Airport
Dublin
Hertz
151 – 157 South Circular Road
0 false 18 pt 18 pt 0 0 false false false
Dublin 8
Compare Cheap Ireland Car Hire
Try our simple-to-use booking engine to compare car hire deals in Ireland. Type in your pickup and drop off locations & other information required and we'll immediately provide you with some quotations. Whether you're after an economy Ireland car hire, or a luxury Ireland rental vehicle, we have the perfect deal for you. Our low cost car rentals are provided by well-known suppliers such as Avis, Hertz and Europcar, but we can often provide better car hire rates!
Ireland, the land of scenic landscapes and friendly locals has become a favourite holiday destination in the last ten years. Devoid of troubles that blighted it throughout history, its historical attractions and local traditions lure thousands of foreign visitors every year.
A particular favourite type of holiday is a self-drive tour of the most popular destinations. This allows people to travel at their own pace, adapt to a flexible schedule and of course, gives them time to experience travel memories that are not listed in any guidebooks.
Points to Remember About Driving in Ireland
• In the Republic of Ireland, all distances are measured in Kilometres while in the north, they use miles
• An international or national driving licence is required
• Drive on the left hand side
• Always wear your seatbelt
• Drink driving is strictly forbidden and there are strong penalties for this.
Speed Limits in Republic of Ireland
• 50kph or 30mph in urban areas
• 80kph or 50mph on open roads
• 100kph or 60mph on national roads
• 120kph on motorways
Speed Limits in Northern Ireland
• 30mph or 50kph in urban areas
• 60mph or 96kph on single carriageways
• 70mph or 112kph on dual carriageways and motorways
Suggested Areas For Driving Holidays in Ireland

The South West
This area is one of the most scenic in the country and it offers a large diversity of attractions and things to do. Mainly covering the counties of Cork, Kerry, and Claire, the focus of a driving holiday in this area would be ancient history and folklore. Traditions are still alive and kicking! Places to visit include…
• Blarney Castle which is home of the mystical blarney stone
• The coastal village of Kinsale, that is renowned for its delicious seafood dishes
• The Dingle Peninsula, where the old language of Gaeltecht is still used. This area is also great for hiking and trekking
• The Dubeg fort is nearby which is an iron age construction with a massive stone rampart

The Northeast
The focus of the northeast has to be Belfast, which these days has become the top most visited destination in Ireland. Home of the doomed Titanic, and one of the finest universities, it has also become a mass of swish hotels and traditional pubs.
• One of the most talked about attractions in this area is the Titanic Belfast, which opened in 2012, to mark the 100th year following its sinking. It tells the story of the liners history and industrial development in Belfast. Walk a short distance from this attraction to the actual dock where 500 men built the Titanic over seven years.
• The Botanical gardens were created in 1889, house many festival, and events over the year, including the Tennents Vital festival
• On the outskirts of Belfast is the Giant's Causeway dating from 1692. The Basalt columns are a geographical mystery and a walk along this stretch of coastline is pleasant and calming
• Antrims Glen is a collection of traditional farming landscape that would ideally suit anyone with a passion for trekking and photography
Further Reading - Find out about more attractions in Ireland, and use our local search engine to source car hire suppliers in all regions, that will bring you the best deals and prices on car rental in Ireland.


---
Top Car Hire Locations in Ireland
---
From online booking to return of the vehicle, everything went perfect! Keep up the good work.