Great Prices
We challenge you to find cheaper! Our rates include unlimited mileage, one-way fees and roadside assist*. Why pay more?
Wide Selection
We have around 20,000 depots around the world. We offer a great range of vehicles at competitive prices, from the most reputable suppliers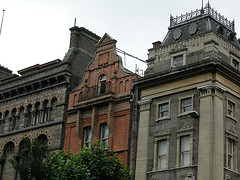 Dublin Information
Dublin is the largest city and capital of Ireland. It is officially known in Irish as Baile Atha Cliath or Ath Cliath; the English name comes from the Irish Dubh Linn meaning "black pool". It is located near the midpoint of Ireland's east coast, at the mouth of the River Liffey and at the centre of the Dublin Region. Originally founded as a Viking settlement, it evolved into the Kingdom of Dublin and became the island's primary city following the Norman invasion. Today, it is ranked 23rd (down from 10th in 2008) in the Global Financial Centres Index, has one of the fastest growing populations of any European capital city, and is listed by the GaWC as a global city, with a ranking of Alpha - which places Dublin amongst the top 25 cities in the world. Dublin is a historical and contemporary cultural centre for the island of Ireland as well as a modern centre of education, the arts, administrative function, economy and industry.
Dublin Airport, is operated by the Dublin Airport Authority. Located in Collinstown, in the Fingal part of County Dublin, 23.5 million passengers passed through the airport in 2008. Passenger traffic at Dublin Airport is predominantly international; only 900,000 of its 23.2 million passengers in 2007 were domestic. Dublin Airport is the busiest airport in the Republic of Ireland, followed by Cork and Shannon. It is the busiest on the island of Ireland followed by Belfast, Cork and Shannon.
The airport has an extensive short and medium haul network, served by an array of carriers. Domestic services are offered to most regional Irish airports. There are approximately 50 daily departures from Dublin to all five London airports (Stansted, Luton, Gatwick, Heathrow and London City), The Dublin-London route is the second busiest route in the world after the Hong Kong-Taipei route. There are up to 30 daily departures to other smaller UK Airports and to Manchester Airport. There is also a reasonably sized long-haul network. Aer Lingus serves many popular US destinations, and has been able to add more thanks to the open skies deal. US legacy carriers also serve the airport from major US hubs. Etihad Airways operates a daily service between the airport and Abu Dhabi.
United States border preclearance services are available at the airport for US-bound passengers, Dublin being one of only two European airports with this facility, along with Shannon.
Compare Cheap Dublin Car Hire

Try our simple-to-use booking engine to compare car hire deals in Dublin. Type in your pickup and drop off locations & other information required and we'll immediately provide you with some quotations. Whether you're after an economy Dublin car hire, or a luxury Dublin rental vehicle, we have the perfect deal for you. Our low cost car rentals are provided by well-known suppliers such as Avis, Hertz and Europcar, but we can often provide better car hire rates!
Dublin, the capital city of Ireland and known as the "town of the huddled fort" sits on the East coast and traces its heritage back to Viking times. For a short time, it was the second largest city of the British Empire and faced many turbulent times during the last century. However, in the 1990s, it underwent a massive redevelopment project and is now a top tourism hotspot for visitors throughout the world. So what are the reasons why people flock there?
Why You should Visit Dublin
- The local landmarks and monuments are hundreds of years old. They present a wide variety of architectural and art fashions over the centuries. A simple walk around them all will unravel the history of this glorious Irish city.
- It is easy to assume that as a city, Dublin is overrun with urban development however it has more green spaces and parks than any other European city. The most notable and largest are Phoenix and Herbert parks.
- Dublin is a UNESCO city of literature which will delight anyone interested in books, poems and past authors. Famous citizens include Oscar Wilde, Bram stoker and George Bernard Shaw. Head to the National Print Museum to see a vast collection of past works.
- Thanks to the numerous theatres in the city, Dublin is called as the centre of Irish art, attracting thousands of well known and unknown artists every year. The Dublin Dance Festival normally held in May is one of the most popular yearly events out of the whole country.
- With a large population of its citizens being under 30, it should come as no surprise that Dublin has a vibrant night time scene. Live street music is common or partygoers can head to the Temple Bar area to find lots of modern nightclubs and bars.
- Dublin is very close to the coastline and green areas with set walking trails. Some of the best beaches are located a short drive away.
- Walking and sailboat tours are big business as visitors are interested to the highlights of the city presented by a local. The Sailing Boat Museum and Blood and Guts tours are just two examples that receive rave reviews on sites like Trip Advisor.
- No certified shopaholic will ever be able to criticize shopping in Dublin. From the vintage antique stores, modern shopping malls and century old markets, there are enough shops to keep you busy for a week.
Best Time to Visit: May to September
This was the cheapest deal I ever had. Quality vehicle with a smiley service.