Great Prices
We challenge you to find cheaper! Our rates include unlimited mileage, one-way fees and roadside assist*. Why pay more?
Wide Selection
We have around 20,000 depots around the world. We offer a great range of vehicles at competitive prices, from the most reputable suppliers
24/7 Hotline
We provide 24/7 service while you're on the road. You can also call 1800 761 192 , leave a message, and we'll return your call.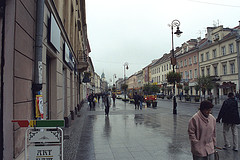 Warsaw Information
Warsaw is the capital and largest city of Poland. It is located on the Vistula River roughly 360 kilometers (224 mi) from the Baltic Sea and 300 kilometers (186 mi) from the Carpathian Mountains.
Warsaw is the 9th largest city in the European Union by population. Warsaw is one of the Alpha Cities.
Warsaw is also known as the "phoenix city", as it received extensive damage during World War II, and rebuilt with the effort of Polish citizens. Warsaw has given its name to the Warsaw Confederation, Warsaw Pact, the Duchy of Warsaw, Warsaw Convention, Treaty of Warsaw and the Warsaw Uprising.
For more information, visit http://en.wikipedia.org
Udrive.com.au offers instant car rental bookings for vehicles from budget or economy options through to 4WD, luxury & minivans in Warsaw and all around Europe. Udrive.com.au compares rates from reputable & reliable car hire providers to find you the best deal short or long term car hire in Warsaw.
Compare Cheap Warsaw Car Hire
Try our simple-to-use booking engine to compare car hire deals in Warsaw. Type in your pickup and drop off locations & other information required and we'll immediately provide you with some quotations. Whether you're after an economy Warsaw car hire, or a luxury Warsaw rental vehicle, we have the perfect deal for you. Our low cost car rentals are provided by well-known suppliers such as Avis, Hertz and Europcar, but we can often provide better car hire rates!
When it comes to choosing family holidays with the kids, many assume that beaches are the best way to go, however a road trip is just as doable and can actually be more fun for everyone.
It just takes a little bit more planning to ensure that all disasters are pre-empted and the kids enjoy a variety of attractions. Here are our tips to help you plan an unusual and great family road trip.
Road Trips with Kids: Hints and Tips
1: Large families can often spend a lot of money while traveling so check voucher discount sites to save money on hotels, amusement parks and local attractions.
2: To ensure your kids are happy with the idea, plan the route and itinerary with them. Get them to research each destination and tell you what they want to do. Help them to pack their own suitcase
3: Avoid driving long distances without stopping. Kids are not able to handle this like adults unless they are sleeping all the way. Make a point of stopping off every two to three hours for a run outside and refreshments.
4: Find entertainment for the car, whether it is an electronic game or a family version of I spy. Music is also a good choice or sing songs from their favourite television shows.
5: Use the opportunity for some fun learning and education. Brush up on facts and figures about each destination so when you arrive, the kids will identify with the place.
6: Ensure your vehicle is in top condition before setting off. Breaking down at the side of the road is a sure fire way to ignite moods in your kids.
7: Give each kid a travel allowance for the day so they can choose souvenirs and their own snacks. This is a great way to introduce money budgeting.
8: Introduce your kids to maps and suggest they draw the route when you arrive at each destination.
9: While you may love historical sites and museums, it is not often that children do so break up activities by visiting amusement parks and kids attractions.
10: Source local farmers markets along the route and stop off for fresh fruit. This is a simple way to avoid your kids snacking on junk food for two weeks.
Readers Question: Do you have any tips for family road trips?

My car hire experience was a great one with UDrive. I went online and bang, there was the car I was looking for at the cheapest rate I came through. I booked right away and the confirmation was received as soon as I hit the book button. The booking went through to Europcar. The pick up was very easy, the instructions were very clear on how to retrieve our car from the car park. The guy at the counter was very helpful, he set up our GPS system in a language that we can understand.