Great Prices
We challenge you to find cheaper! Our rates include unlimited mileage, one-way fees and roadside assist*. Why pay more?
Wide Selection
We have around 20,000 depots around the world. We offer a great range of vehicles at competitive prices, from the most reputable suppliers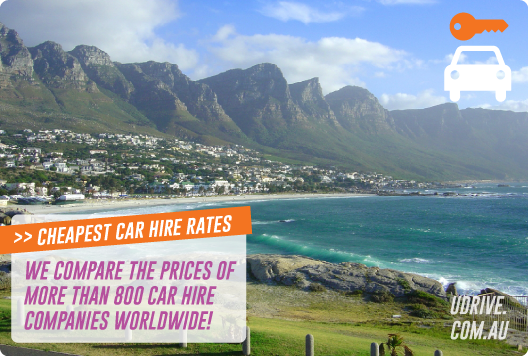 Cape Town Information - Guide
There is much to say about Cape Town and about 90% of it are purely good words. Let's start off with all the lovely sights natures had endowed South Africa's second largest city - its lush green land, picturesque mountain ranges and paradise surf beaches. What about the dynamic and colorful culture evident in the locals' love for music and sports? Or the diverse types of creatures found in the city - penguins in one area, buffaloes, antelopes and black rhino in another? What about the locals' cheery disposition and positive outlook in life? What about you go on a Cape Town car rental holiday and share your own experiences of one of the most exciting and exquisite cities in the world?
Places to See
Whether you're into surfing, heritage, nature, outdoor adventure, shopping, dining or simply having a great, lazy time, Cape Town has something awesome for you. While it may take all of forever to make a list of Cape Town's offerings, here a few places that you shouldn't miss driving your Cape Town car hire to. Located an hour's drive by rental car from the city center is one of the most scenic places you would to take snapshots of - Scarborough. With dramatic views of Cape of Good Hope and the Atlantic Ocean, Scarborough is perfect for nature-watching, surfing and other water sports. You should also drive along the vineyards surrounding Scarborough and you just might find the perfect wine to accompany a delightful seafood dinner. You should definitely not miss Cape Point, found in the Cape Floral Region World Heritage Site. The very fertile soil has been perfect for yielding the world's richest flower beds. The plants found in the area are simply dazzling; anticipate baboons to want to play with you, along with sights of zebras and eland. An aerial view of Cape Town is especially spectacular and if you want to see the beautiful city from a viewpoint that not many have seen, why not try skydiving? There is a famous skydiving company that attends to skydivers and lets you view sights of the mountains, the beaches and the verdant grass lands.
Going around Cape Town
The recommended means of moving around Cape Town for tourists is by driving a car hire. There isn't a lack of choice of vehicle rental as there are numerous car rental companies in Cape Town we work with. Book your Cape Town rental car online and inquire which parts of Cape Town are best accessed by a 4WD rental.
From the Airport
The city of Cape Town is served by the Cape Town International Airport. It is South Africa's second largest airport, receiving flights from Africa, Europe, South America and Asia. It is found 20 kilometers east of Cape Town central district. It takes about 20 minutes to travel from Cape Town International Airport to the city center. Choices of transportation are taxi or car rental. Avis, Europcar and Hertz are a few of the car hire companies found at the airport. It is convenient to arrange a Cape Town car hire on our site and arrange to pick it up when you get to the airport.
Nearby City
Cape Town is very near Cape Winelands, one of the most famed towns in South Africa. Wine is the biggest tourist attraction in Cape Winelands, hence the name. A Camp Winelands car rental holiday is incomplete without strolling along wide expanses of vineyards.
Popular Car Hire Depots in Cape Town
Avis
Cape Town International Airport
Cape Town
Europcar
Southern Sun Waterfront
1 Lower Buitengracht Street
Southern Sun Waterfront
Cape Town
Hertz
40 Loop Street
Cape Town
Udrive.com.au provides car rental for vehicles from budget & economy options through to 4WD, luxury & minivans. Udrive.com.au compares rentals from reputable & reliable car hire providers to find you the best deal in Cape Town.
Compare Cheap Cape Town Car Hire
Try our simple-to-use booking engine to compare car hire deals in Cape Town. Type in your pickup and drop off locations & other information required and we'll immediately provide you with some quotations. Whether you're after an economy Cape Town car hire, or a luxury Cape Town rental vehicle, we have the perfect deal for you. Our low cost car rentals are provided by well-known suppliers such as Avis, Hertz and Europcar, but we can often provide better car hire rates!
Avis, Budget, Thrifty, Dollar, Hertz, Europcar, Sixt, Alamo, National & More!
Cape Town Airport | Cape Town Downtown | Cape Town Bellville | CapeTown Tableview
All aspects of our car hire trough from Thrifty were smooth and seamless and we were very satisfied with all aspects.
Just to let you know that we found it very easy to book using your website and will certainly do so again in the future. When needing to make unforseen changes this was handle easily and without any problems.