Great Prices
We challenge you to find cheaper! Our rates include unlimited mileage, one-way fees and roadside assist*. Why pay more?
Wide Selection
We have around 20,000 depots around the world. We offer a great range of vehicles at competitive prices, from the most reputable suppliers
24/7 Hotline
We provide 24/7 service while you're on the road. You can also call 1800 761 192 , leave a message, and we'll return your call.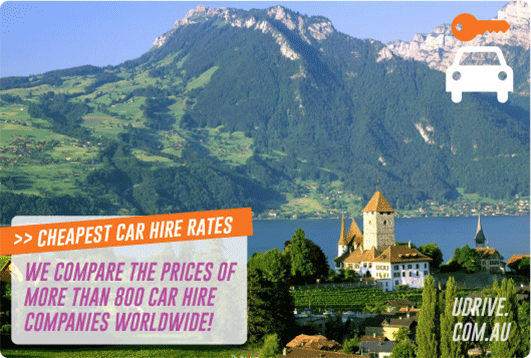 Switzerland combines German, French and Italian cultures to create its own sophisticated identity. Blessed with arguably the most spectacular natural beauty in Europe, Switzerland offers a wonderful range of outdoor adventures. There is something to the cliches of cheese, chocolate and clocks, as a backdrop for stuffy bankers and fierce national independence. However, when enjoying your Swiss self drive holiday, be prepared for much more. Be ready to jump into a vibrant nightlife, learn more about famous international organisations and even try a bit of yodelling. Be warned - the Swiss enjoy a very high standard of living, and your budget may take a battering.
Attractions

Take on the famous ski slopes in winter and enjoy famous ski resorts such as St Moritz and Zermatt, Klosters and Villars. They are posh, pretty and very, very expensive. While these are the play grounds of winter, don't overlook the hiking opportunities of Switzerland in summer, or the adrenalin adventures of Interlaken.
Accommodation

Those with a low budget will be motivated to seek out affordable accommodation options - and they may turn out the winners. Who could forget the self-drive holiday in Switzerland when they rented out space in a dairy farmers barn while the cows were out to summer pasture, complete with cow bells and yodelling? Some inns along mountain hiking trails and some independent hostels have the greatest character and atmosphere. While prices are relatively high, the standard of accommodation is generally good, and there is no shortage of top-end luxury in which to indulge in Swiss chocolates and great regional wines rarely found outside Switzerland.
Transport

Switzerland is a great place to explore at your own pace in a great value Switzerland rental car. Slow down to take in the scenery, and spend the money you saved with our great rates on fondue and fashion in Zurich. When driving your bargain Swiss rental car, take care on mountain roads. Dip your lights in tunnels. Be especially careful on windy mountain roads and don't forget that ascending traffic has right of way. Carry snow chains in colder months for mountain driving. You need a vignette or ticket to use motorways and toll roads around Switzerland, which you can collect from most car rental agencies or the local Motoring Association. You don't need an international drivers' license, but to take advantage of our great low rates for Switzerland car hire, you need your home country drivers' license with no major endorsements.
Food

Switzerland is quite rightly a land obsessed with dairy. The quality of chocolate, cheeses, yoghurts and butter is a testament to the happy lives of Swiss cows and the verdant pastures in which they graze. The traditional dishes of fondue and raclette are coronary risks, but risks worth taking. Make sure you also try the local wursts, hearty sausages to warm up with on snowy days. Switzerland's cities also have plenty of restaurants and cafes dishing up cuisines from around the world, so no-one need get homesick for too long!
Emergencies
In case of emergencies dial 117 for police and 111 for medical emergency advice.
Information
For more information, visit http://en.wikipedia.org/wiki/Switzerland
We have 58 pick up locations in Switzerland (See below). Please select your car rental pick up location from our booking engine or by clicking on the 'Book Now' link above.
Geneva - Rue De Berne | Bellinzona | Berne City - Laupen street | Geneva - Downtown | La Chaux-De-Fonds | Interlaken | Bern - Airport | Bern | Altenrhein - Airport | Baar | Frauenfeld | Fribourg | Geneva - Balexert | Geneva - Rue De Lausanne | Jona | Langenthal | Locarno | Lugano | Lugano - Airport | Mendrisio | Montreux | Neuchatel | Schinznach-Bad | Sierre | Triesen | St. Gallen | Saint Moritz | Taegerwilen | Thun | Uster | Vevey | Winterthur | Yverdon Les Bains | Zug | Altdorf | Berne City - Wankdorffeld street | Liebefeld | Bruegg | Buchs | Chur | Crans Montana | Lausanne - Crissier | Lausanne - Ave De Provence | Lausanne - Downtown | Lucerne | Basel - Nauenstrasse | Verbier | Basel - Badischer Bahnhof | Zurich - Rauti Street | Zurich - Hagenholz Street | Zurich - Ueberland Street | Basel - Airport | Basel - Swissotel Le Plaza | Pratteln - Goetzisbodenweg | Basel - Reinacher street | Zurich - Downtown | Kloten | Geneva - Airport Swiss side | Zurich - Airport
Switzerland is a country of outstanding affluence, having one of the world's most stable currencies, progressive economies and lowest unemployment rates. You'll expect a country of this character to be filled purely with financial institutions and money-driven locals with barely the time to enjoy, but go on a car rental holiday trip to Switzerland and prove yourself mistaken. The Swiss take full advantage of their picturesque snow-capped mountains to go on skiing holidays, laze around Lake Geneva, sip wine and have a great time in their plazas. Drive a car hire around Switzerland and sample their boasted gifts to the rest of the world: cheese, chocolates, wine and luxurious watches.
Going around Switzerland
Everyone who visits and lives in Switzerland is spoiled by the Swiss government when it comes to public transportation. Places are well-connected and well-serviced and offer a great variety of transport options. Even the mountains will not deter people's mobility as there are several means of moving around nature's blessings. There are buses, trains, boats and for the environmentalists, bike rentals in most places. Switzerland car rental holiday tourists wouldn't have a difficult time driving a car hire around Switzerland either and the best thing is that you are afforded of Sweden's most beautiful scenery when you drive a rental car.
From the Airport
The Zurich Airport is Switzerland's largest airport and handles more than 2 million passengers every month. It is located 10 kilometers north of Zurich central district and is well-connected by highway A20 to Switzerland's major towns – Basel, Bern, St. Gallen and Zurich. Moving from the Zurich Airport to key places in Switzerland is painless. The Swiss Federal Railways links the airport to central Zurich and major towns and tourist sites. The coach network also does and even better, major ski resorts can also be easily accessed. Car rental companies are also conveniently found at the Zurich Airport terminal and driving a Switzerland rent-a-car through the breathtaking sights is a sure way of easing you of any jet lag. International car hire companies at the airport include Avis, Europcar and Hertz.
Places to See
Whatever season you decide to go on a Switzerland car rental holiday, you'll surely have a superb time as it is touted as a summer and winter paradise. The Swiss Alps is a terrific hiking spot in the summer and makes for resplendent ski holidays in the winter. Switzerland is abundant with offerings the whole year round. The Augusta Raurica in Basel features the largest Roman ruins in all of Switzerland. These ruins are record to date back to 44 BC and you'll surely be impressed by its restored temples and open-air theatre. It also has a museum that will give you a glimpse of early civilization in Switzerland. Drive your rental car to the Chateau de Chillon, the most visited building in all of Switzerland, located on the equally stunning Lake Geneva. The fort was built in the 13th century and features an unusual oval shape that is a tapestry of delicately designed courtyards, halls and towers filled with luxurious artworks and iconic weaponry.
Nearby Country
To the west of Switzerland is France, home to the most romantic place on Earth, Paris. Go on a car rental holiday in France and fall in love over and over again.
Car Rental Services Directory in Switzerland
Avis
Gartenhofstrasse 17
Zurich 8004
Europcar
Josefstrasse 53
Zurich 8005
Hertz
Geneva Cointrin International Airport
Route de l'Aeroport Arrival Hall
Geneva
Udrive.com.au provides a wide choice of vehicles from budget or economy options through to luxury autos. Udrive.com.au will compare all the top car hire providers to find you the very best deal on your car hire in Switzerland. Some of our popular rental locations include; Basel, Geneva, Montreux, Winterhur & Zurich.
Compare Cheap Switzerland Car Hire
Try our simple-to-use booking engine to compare car hire deals in Switzerland. Type in your pickup and drop off locations & other information required and we'll immediately provide you with some quotations. Whether you're after an economy Switzerland car hire, or a luxury Switzerland rental vehicle, we have the perfect deal for you. Our low cost car rentals are provided by well-known suppliers such as Avis, Hertz and Europcar, but we can often provide better car hire rates!
---
Top Car Hire Locations in Switzerland
---
---
Switzerland Rental Locations
---
I found the Udrive web site and access to details of the car hire was excellant. I also got prompt replies to all the questions I asked regarding the car hire.
I was very happy with the service from the booking process to the service when picking up the car. I would be very happy to use your company again.