Great Prices
We challenge you to find cheaper! Our rates include unlimited mileage, one-way fees and roadside assist*. Why pay more?
Wide Selection
We have around 20,000 depots around the world. We offer a great range of vehicles at competitive prices, from the most reputable suppliers
24/7 Hotline
We provide 24/7 service while you're on the road. You can also call 1800 761 192 , leave a message, and we'll return your call.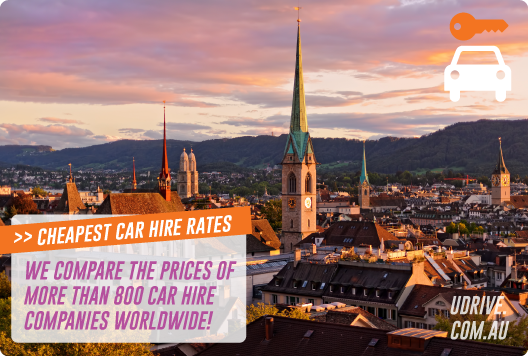 Zurich is Switzerland's largest city, famous for banking but offering those on self-drive holidays so much more. It is a beautiful, affluent and stylish city and its easy pace makes driving a breeze. However, you might as well park the car and walk around the charming and compact old city or take out one of the cities free bicycles, just leave your ID and a small deposit. Your great Zurich car rental deal will be most useful when heading out of Zurich and into the gorgeous surrounding country-side.
Accommodation
Accommodation in Zurich ranges from affordable back-packer accommodation to five star luxury hotels. Zurich also has a strange fondness for themed hotel rooms - you can find rock star rooms, jungle safari rooms and Arabian nights rooms - particularly in the mid-range.
Transport
Public transport is highly effective within
Zurich
, and includes trains, trams, great public buses and river boats. However, you can also drive your
rental car
around on its easy and well-sign posted roads. Once out of town, enjoy the rolling green hills and snow - capped alpine scenery by driving an excellent value car hire vehicle at your own pace. Take care on mountain roads. Use dipped lights in all tunnels, take special care on mountain passes and remember that ascending traffic has right of way over descending traffic.
Swiss
police are tough on drink driving, so don't risk it. You may need to attach snow chains to your
Zurich car rental
vehicle, and you need a vignette or ticket to use motorways around Zurich. You don't need an international drivers license, but to take advantage of our great low rates for Zurich car hire, you need a drivers license from your home country with no major endorsements.
Food
By all means, eat as many delicious
Swiss
chocolates as you can while enjoying Swiss chocolate-box scenery - just don't put your sticky fingers all over your Zurich rental car.
Zurich
has a vibrant cafe and bar scene. As well as favourites such as fondue, try out great spaghetti houses and diverse treats including curries and Spanish paella!
Airports and Air Travel
The train into town from the airport takes only 10 minutes. Zurich's international and domestic airport has great services and facilities including a wide range of shopping and dining outlets. Numerous
car rental
agencies are represented at the airport, which means picking up your affordable
Zurich car rental
will always be convenient.
Emergencies
In case of emergencies dial 117 for police, 118 for fire and 144 for an ambulance. You can also contact the Telephone Advisory service for medical and dental services, on 01 269 69 69.
Information
For more information, visit http://en.wikipedia.org/wiki/Zurich
Udrive.com.au provides a wide choice of vehicles from budget or economy options through to luxury autos. Udrive.com.au will compare all the top car hire providers to find you the very best deal on your car hire in Zurich. Some of our popular rental locations include; Basel, Geneva, Montreux, Winterhur & Zurich.
Compare Cheap Zurich Car Hire
Try our simple-to-use booking engine to compare car hire deals in Zurich. Type in your pickup and drop off locations & other information required and we'll immediately provide you with some quotations. Whether you're after an economy Zurich car hire, or a luxury Zurich rental vehicle, we have the perfect deal for you. Our low cost car rentals are provided by well-known suppliers such as Avis, Hertz and Europcar, but we can often provide better car hire rates!
Zurich, the largest city in Switzerland and a hub for business, transport, and tourism was originally founded by the Romans, and has been transformed over thousands of years to become one of the best-known destinations in the world for a city break. It has many art museums, galleries, and local landmarks that attract visitors of all nationalities. The best months to visit are May to September when the warmer half of the year occurs, although the city is open all year round.
Top Sightseeing Attractions in Zurich
• Zurich Zoo opened in 1929 and currently has over 200 species of animals from all around the world. It is an ideal place to visit as a family because of the emphasis of educating children about animals and nature. The zoo is open every day of the year and tickets can be bought online here.
• The Botanical Gardens house over 15,000 species of plants from all over the world. More than 3 million plants, flowers, and trees from all over the world including Africa, are worth walking around for anyone with an interest in horticulture.
• Anyone who enjoys museums should first head to the Zurich Museum of Art. It holds the largest collection of modern art in the world as well as a large library collection of photos.
• To learn about the cultural and historical history of Switzerland, visit the national museum that is located near Platzspitz Park, also worth a visit because of its beautiful grounds.
• A full day should be spent exploring the side streets of the old town. There are many small shops to browse through and local cafes to sit in and watch the world go by. Also take some time to visit the Lindenhofplatz which gives a panoramic view over the city and some marvellous landscape photo opportunities.
• Also within the old town is the Grossmunster church. It dates from the 12th century and displays marvellous examples of architectural influences. The two towers serve as a major landmark in the region.
• The Bahnhofstrasse is a large street with some very pricy and upmarket stores. If your budget has no limit, rummaging through the items for sale will be fun but alternatively, you can also settle for a bit of window-shopping.
The Zurich City Card
The Zurich city card can be purchased from most tourism outlets. Valid from one to three days, it gives the holder unlimited travel and free access to many sites within the city.


Excellent UDrive Car Hire
I found the Udrive web site and access to details of the car hire was excellant. I also got prompt replies to all the questions I asked regarding the car hire.