Great Prices
We challenge you to find cheaper! Our rates include unlimited mileage, one-way fees and roadside assist*. Why pay more?
Wide Selection
We have around 20,000 depots around the world. We offer a great range of vehicles at competitive prices, from the most reputable suppliers
24/7 Hotline
We provide 24/7 service while you're on the road. You can also call 1800 761 192 , leave a message, and we'll return your call.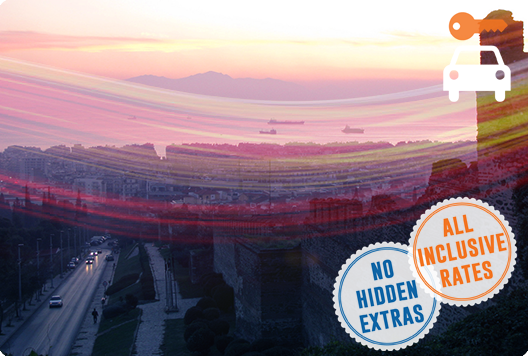 Thessaloniki, Thessalonica, or Salonica is the second-largest city in Greece and the capital of the Greek region of Macedonia. Its honorific title is literally "co-capital", a reference to its historical status as the "co-reigning" city of the Byzantine Empire, alongside Constantinople. According to the 2001 census, the municipality of Thessaloniki had a population of 363,987. The entire Thessaloniki Urban Area had a population of 763,468.
Thessaloniki is Greece's second major economic, industrial, commercial and political centre, and a major transportation hub for the rest of southeastern Europe; its commercial port is also of great importance for Greece and its southeast European hinterland. The city hosts an annual International Trade Fair, the Thessaloniki International Film Festival, and the largest bi-annual meeting of the Greek diaspora.
Thessaloniki is home to numerous notable Byzantine monuments, including the Paleochristian and Byzantine monuments of Thessalonika, a UNESCO World Heritage Site, as well as several Ottoman and Sephardic Jewish structures.
For more information, visit http://en.wikipedia.org
Compare Cheap Thessaloniki Car Hire
Try our simple-to-use booking engine to compare car hire deals in Thessaloniki. Type in your pickup and drop off locations & other information required and we'll immediately provide you with some quotations. Whether you're after an economy Thessaloniki car hire, or a luxury Thessaloniki rental vehicle, we have the perfect deal for you. Our low cost car rentals are provided by well-known suppliers such as Avis, Hertz and Europcar, but we can often provide better car hire rates!
Avis, Budget, Thrifty, Dollar, Hertz, Europcar, Sixt, Alamo, National & More!

Udrive.com.au provide online car hire for vehicles from budget or economy options through to 4WD, luxury & minivans. Udrive.com.au compares rates from reputable & reliable car hire providers to find you the best car rental deal in Thessaloniki.
The Travel Guide to Thessaloniki, Greece. As a holiday destination, Thessaloniki is an ideal choice whether you are after a family friendly vacation or you are an avid explorer eager to see the sites and main attractions. It is the second largest city in Greece and welcomes millions of international visitors every year. Festivals, events, an interesting cultural aspect, a vibrant night-life scene, and an interesting historical time-line are all worthy attributes that it can boast of. Let's get started on how to make the most of your time in the city.

Travel Information for Thessaloniki. How to get there
The city is served by the nearby international airport, which receives domestic and international flights daily.

Museums to Visit
-The Museum of Byzantine Culture displays various exhibitions including early Christian churches and cities
-The Archaeological Museum of Thessaloniki is mostly renowned for its Macedonian artefacts and artworks from Royal palaces
-The Science centre and Technology museum has the largest planetarium in the country
-The Railway Museum houses an original Orient Express train


Attractions and Things to do
-The White Tower situated on the waterfront dates from the Byzantine era and currently hosts an indoor museum detailing the history of Thessaloniki
-The Hagia Sophia is one of the oldest churches and a member of the UNESCO World heritage list
-The Arch of Galerius and the Rotunda date from the 4th century and display intricate carvings in the stone
-The Hagios Demetrios displays one of the largest basilicas in Greece and likewise it is a member of the UNESCO Heritage list
-The Roman forum in the city centre hosts ancient buildings such as a small theatre and public baths
-Thessaloniki is widely marketed as a shopping destination because of its variety of shops including luxury brands, boutique designers, antique stalls, and the standard high street brand names
-In the evenings and at weekend, the seaside is popular especially with locals who opt for a leisurely stroll


Festivals and Events
-The Thessaloniki International Film Fair occurs every year in November
-The Dimitria festival is held every year for a month and it focuses on music and dance

Food to Try
-Bougatsa is a pastry that is typically eaten for breakfast
-Frappes coffees sold in street cafes are widely consumed
-Giaprakia is rice and tender meat wrapped in cabbage leafs
-Mydia Yiachni will delight seafood lovers because it is a mussel stew. Alternatively, also try Soupies krasates which is cuttlefish steamed in white wine


Get Around
Car hire is a great way to get around and also explore the surrounding sites. Our online search engine sources all local car hire suppliers to bring you the best prices and deals. Start searching for car rental suppliers in Thessaloniki here.
---
Thessaloniki Rental Locations
---
The Udrive website is very easy to use. Although there are other similar websites offering comparative prices, I found many of them difficult to read. I like the layout of this website, and found the rental conditions actually easy to read and understand, compared to most other agencies incomprehensible legal speak. This gave me the confidence to believe i knew what I was signing up for. My rental was 62 days, and I needed a large vehicle to accommodate relatives we were visiting, so it wasn't cheap.
I did not want to get stuck with an extra $30 per day for insurance or something, when you're already at the airport and have no choice. However, the terms were clear. One of the customer service people from Udrive also have good advice on the most economical way to reduce our excess, which saved us a fortune.
The vehicle was exactly as promised, and we had a great trip. Thanks Udrive.