Great Prices
We challenge you to find cheaper! Our rates include unlimited mileage, one-way fees and roadside assist*. Why pay more?
Wide Selection
We have around 20,000 depots around the world. We offer a great range of vehicles at competitive prices, from the most reputable suppliers
24/7 Hotline
We provide 24/7 service while you're on the road. You can also call 1800 761 192 , leave a message, and we'll return your call.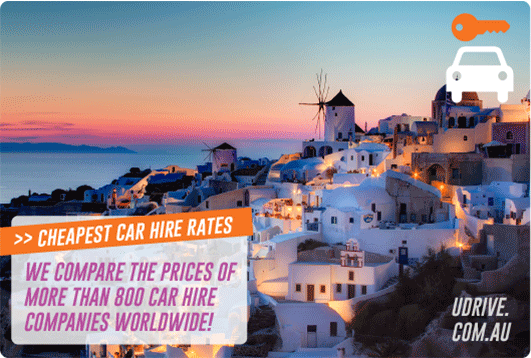 Widely promoted as the cradle of civilisation and the birthplace of democracy, Greece is certainly a history buff's paradise. With ruins galore and museums aplenty, you can explore thousands of years of Greek history, and get a great sense of the times in which the great philosophers and mathematicians worked. In Athens, the Acropolis is unforgettable and magical, and the sight of the Parthenon towering overhead is truly breathtaking. The ancient agora also helps create a vivid image of what life in the ancient city was like in the past one or two thousand years. The National Archaeological Museum is one of the world's great museums and you should allow at least a day for this, or even a couple of shorter visits if possible. The Benaki museum houses a wonderful and diverse collection and is also worth a trip. More light-hearted fun comes from watching the changing of the guard outside the Parliament House on Syntagma square, every hour, on the hour.
Outside Athens, there are plenty of other attractions. Be sure to fit in a visit to Delphi (you can even do a day trip from Athens). Unfortunately, the oracle is no longer in residence to advise on the best season for going to war or whether or not the crops might fail. However, the location of Delphi high up Mt Parnassos, overlooking the Gulf of Corinth, is reason enough to take a photo or 20. The site is beautifully conserved, and stories of how the oracle worked are fascinating. Olympia is also lovely to visit. The onsite museum provides excellent insight into how the original Olympic Games worked and what they were like.
Greek Islands
Of course, many people visit Greece just for the islands! If so, it pays to know what you're doing, and make sure you find the island to suit your dream holiday. While Mykonos is famous as a clubbing, partying island, Santorini, Paros and Crete all have pretty wild scenes of their own. In the Cyclades, Naxos is a bit more chilled out, and you can shop around and negotiate a deal for accommodation with the touts who meet the ferries. You might end up in a charming studio adjoining someone's home, and even wangle an invitation to dinner!
Santorini is the quintessential cruises ship stopover location, for very good reasons. An enormous and ancient volcano lies beneath the blue Mediterranean. One side of the lip of the crater pokes up out of the water, forming the island of Santorini. Consequently, much of Santorini is very high above the water, is crescent shaped and looks around to unbelievable views. The submerged caldera, almost encircled by cliffs, is a geology lesson you won't quickly forget. The sunsets from the village of Oia (pronounced ee-yah) far outshine the shameless commercialism of the main tourist town of Fira. Santorini is the perfect place to rent a car, and cruise around outside the tourist traps to sample local wines, eat where the locals eat (for local prices) and check out the caldera from different angles.
Crete is Greece's largest and most southern island, and sees a quarter of all visitors to Greece. Cheap package tours from Western Europe make Crete affordable, but busy and heavily developed. There is a pleasant mountain chain running through the island, providing opportunities for exploration in your Greece car rental. Knossos is Crete's major tourist attraction. It is 5km from Crete's major city, Iraklio, and is the site of a spectacular Minoan ruin. It can take a whole day to explore the site, and you need a good guide book or else a guide to assist you o make sense of it all. To avoid the worst of the crowds and the heat, arrive early!
Rhodes and the Dodecanese group of islands are quite a bit further from Piraeus (the port of departure for most ferries from Athens), and their proximity to the Turkish coast means they are less developed than some other groups. However, they are lush, green, charming and sometimes a little cheaper than other island groups. It is possible to take day trips to Turkey from some islands, including Samos and Rhodes.
Climate
Greece has a typically Mediterranean climate with very hot, dry summers. While there is an appeal to bare hills with only papery olive trees, white-washed buildings and the blue, blue sea, the heat of July and August only really appeal to the most dedicated of sun worshippers. For those whose tan needn't be so deep, or prefer to avoid the leathery look, late September and early October are lovely. The weather is still sunny during the day, the evenings are mild and the sea has warmed up. May is also pleasant for city visitors. Winters can be very wet, and on the islands, many businesses close in late October and don't open until April or even May. Easter is the most important festival for Greek Orthodox Christians, and there are strong Easter traditions practised by even the non-religious.
Food
Greek food varies by region. In the islands, naturally seafood dominates. In the rural north, lamb and goat are the meats of choice. The world is already familiar with some great Greek snacks. Of course, though they're convenient, the gyros or souvlaki aren't really fast food. The meat turns on those skewers for hours, gradually being trimmed from the outside to serve wrapped in pita for gyros, and souvlaki can either mean the wrapped sandwich made, or an individual kebab, grilled and wrapped. Either way, servings are accompanied by tomato salad and loads of garlicky yoghurt sauce now widely known outside Greece by its authentic name of tzatziki. Spanokoppita (spinach and cheese pastry) and tyropitta (cheese pie) also make for quick snacks along a hungry sight seeing route.
For sit down meals in a taverna, the emphasis will be on mezedes, or meze for short. These are very small plates of appetisers, often small salads or dips eaten with bread, but could also include pickled octopus, rice wrapped in vine leaves (dolmades), giant beans in olive oil, fried whitebait or fried ground meat rolled in a dense batter. There are many great meat-free mezedes, and these could make up a leisurely meal for vegetarians, accompanied by plenty of ouzo or retsina or another local wine.
Main courses are often taken later in the evening, and can include such classics as moussaka (somewhere between a casserole and a lasagne, of eggplant, mince meat and potatoes, with bechamel sauce.) You'll also usually find keftedes (meatballs), stifado (meat stew), and yemista (bell peppers stuffed with meat and rice.) Swordfish and red mullet are common fish, but often more expensive than meat dishes using mince or stewing cuts. Calamari is an exception, which can be very affordable. Salads are vitally important at all Greek meals. The salad of tomato, cucumber, olives and feta which is generally known to English speakers as 'Greek salad' is called horiatiki salata in Greece.
Driving in Greece
Renting a car on just about any Greek island will be rewarding. It allows you to escape the package tourists and the tri-lingual, overpriced tourist 'menus,' to get out and see the island as the locals do. You can duck into a tiny village church barely larger than a closet, and slow to a crawl as an old man on a donkey trudges up a breathless incline on an impossibly narrow road. You'll need nerves of steel for some mountain roads, where the drop off from the sides is unthinkable. However, the pace is slow and people are relaxed, so it can really enrich a visit to the famous Greek isles. On the mainland, highways between major cities are well made, though driving can be hair-raising and high speed. Roads in the north can be treacherous with ice and snow in winter, but the freedom which comes from your own Greek vehicle rental will make it all worthwhile.
Udrive.com.au offers efficient and reliable car hire service in Greece. We have many pick up locations all around Greece for your convenience. There are many vehicles to choose from online, including mini, hatch, sedan and station wagon cars, 4WDs, minibuses and minivans. We welcome clients from all over the world and you are able to obtain a Greece car rental quotation through our web site in 27 different currencies and 11 languages.
Compare Cheap Greece Car Hire
Try our simple-to-use booking engine to compare car hire deals in Greece. Type in your pickup and drop off locations & other information required and we'll immediately provide you with some quotations. Whether you're after an economy Greece car hire, or a luxury Greece rental vehicle, we have the perfect deal for you. Our low cost car rentals are provided by well-known suppliers such as Avis, Hertz and Europcar, but we can often provide better car hire rates!
Avis, Budget, Thrifty, Dollar, Hertz, Europcar, Sixt, Alamo, National & More!
The ancient beauty of Greece attracts not only car rental holiday tourists, but immigrants from Asia, Africa and other European countries as well. The olive oil capital of the world showcases an opulent marriage of fresh and old world, a characteristics shared by most countries in Europe. Its diversity of offerings makes it among the top 20 car rental holiday destinations. Travelers troop to Greece for its ancient structures and history and stay for the people's pleasant temperament and delicious cuisine. Aside from archaic architecture, Greece's tourist attractions include crystalline beaches, high mountain ranges, vineyards and rolling olive orchards.
Going around Greece
A majority of Greece's attractions can be accessed by bus although in the more remote towns, only one or two buses can be found. This is not at all convenient because it would mean having to spend a great part of your day waiting for a best. Greece features a big land to explore and if you're going to stay here for less than a week, you need all the time you can save to cover as much bases as possible. The best thing you can do is to hire a car rental in Greece. Ever noticed how most of the most beautiful places in a country are those that are far from the main areas? This is why getting a car hire in Greece is a great idea.
From the Airport
The airport at the country's capital, Athens, is Greece's main international. The Eleftherios Venizelos International Airport serves over 15 million passengers every year. The airport has 24-hour public transportation to the central area of Athens. You can use the bus, the metro or the suburban rail. If you decide to go on a car rental holiday in Greece, you may pick up your car hire at the airport to save you from having to use public commute.
Places to See
The Acropolis is the most valuable ancient landmark in the West. It is where the Parthenon is found, which holds a great vault of myths and legends. Drive your car rental around the Acropolis and learn of the great Greek mythology that you might not have covered in your history classes. You will also have a great time going on a road trip in your car hire around Corfu, which is one of the most beautiful islands of Greece. Its landscape is made colorful by rich vegetation, wildflowers, cypress trees and sprawling olive orchards; thanks to the rainfall it is blessed with throughout the year. It may be underdeveloped compared with the other Greek towns, but it is what makes it all the more charming. If you want to laze it out under the sun, steer your Greece rent-a-car to Kos, which is a lot less commercial than Rhodes, but with even more stunning beaches. Of course, do not miss out Santorini, which has a very luxuriant, dramatic aura. The colors of Santorini are a lot more vibrant, almost surreal. It may be the best spot to catch a sunset because the view is simply unadulterated, undisturbed by pollution and skyscrapers.
Nearby Country
Greece shares borders with Albania; it is a poor European country making it unpopular with car rental holiday tourists, but just you try to go there and see the Skrapar Canyons, Valbona River and Lure National Park and you'll see what a profound splendor Albania possesses.
Car Rental Services Directory in Greece
Avis
Athens International Airport
5th Klm Ave. Spaton Loutsas
Athens
Europcar
Markopoulo Koropi Avenue
Athens 11742
Hertz
31 Vittaniotti Street
Garage Kifissia
Athens
We have a whopping 217 pick up locations in Greece. Please select your car rental pick up location from our booking engine or by clicking on the 'Book Now' link above.

Iraklion | Rethymnon | Agia Galini | Rhodos - Papanikolaou St. | Thassos - Kavala | Attikis | Paros - Paroikia | Athens - Kifissia Avenue | Athens - Kifisia | Chalkidiki - Chaniotis | Athens - Kinetta | Chalkidiki - Vatopedi | Chalkidiki - Sithonia | Samos - Kampos Marathokampou | Kefalonia - Rizospaston | Kefalonia - Xi | Thessaloniki - Airport | Chalkidiki - Gerakina Beach Hotel | Chalkidiki - Sani Beach Hotel | Zakynthos - Lomvardou | Crete - Chania Kato Stalos | Kefalonia - Lassi | Kos - Club Mediterranee | Kos - Vas. Georgiou B Avenue | Larissa - Downtown | Mykonos - Omvrodektis | Corfu - Nafsikas | Crete - Heraklion Port | Kavala - Downtown | Preveza | Pylos - Downtown | Sivota | Thessaloniki - G.Papandreou Street | Volos - Airport | Athens - Sofias Avenue | Athens - Club Mediterranee Athenia | Athens - Peania | Patmos | Santorini - Messaria | Skopelos | Thasos - Skala Prinos | Leptokaria | Lemnos Island - Myrina | Lemnos Island - Myrina Airport | Athens - Queen Amalias Avenue | Amarynthos Evia | Mytilini - Downtown | Chios - Karfas Oceania | Mykonos - Mykonos Port | Patra - Airport | Crete - Heraklion | Crete - Airport Heraklion | Crete - Hersonissos | Ioannina - Airport | Igoumenitsa - Downtown | Ixia | Limnos - Airport | Limnos - Downtown | Naxos | Paros | Volos - Downtown | Kos - Downtown | Lefkada - Downtown | Loutraki - Downtown | Parga | Lesvos - Downtown | Kefalonia - Airport | Samos - Downtown | Samos
---
Top Car Hire Locations in Greece
---
Greece Car Rental - Corfu Rental From UDrive
Online booking process was great. Was not able to print voucher as left Australia the same day I booked online and did not have access to printer at the hotel we were staying before coming to Corfu. Car hire people were not too fussed that we did not have voucher. Car hire people in Corfu, Greece were very friendly and helpful. Car was excellent, actually they've upgraded us to larger car so we were very happy. Would definitely use your service again.
I was very happy with my hire car in Athens. Car was clean and new. Online booking process was easy. Price was very good.