Great Prices
We challenge you to find cheaper! Our rates include unlimited mileage, one-way fees and roadside assist*. Why pay more?
Wide Selection
We have around 20,000 depots around the world. We offer a great range of vehicles at competitive prices, from the most reputable suppliers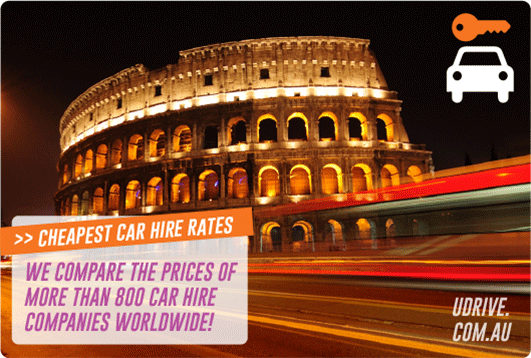 Everyone loves Italy! From the stunning sites of Ancient Rome, to the art of Florence and the pizza of Naples, there are too many things to love! In Rome, don't miss the Vatican city, the Colosseum, St Marks, the Spanish steps, and at least a window shop down Via Condotti. In Florence, soak up a sunset over the River Arno from the historic Ponte Vecchio, check out the Galleria dell'Academia and the unforgettable Duomo. The wonders of Venice need no introduction.
A less favoured tourist destination is Naples. While petty crime is common, and socio-economic indicators are lower than in the wealthy, industrialised north, don't overlook the south. The persistence of agriculture in the south means you'll find the best tomatoes in the world around Naples (though some would argue these are found in Sicily.) Naples has a character and vibrancy unbeaten by other Italian cities, with young studs and their signorinas (and pets) cruising around on their little motorini, far too cool for anyone's good. The pizzas in Naples are incredible. Simple dough, aforementioned tomoatoes, basil and buffalo mozzarella. The best you'll ever eat, guaranteed!
Driving
Italy rewards car rentals and self-drive holidays. The Tuscan countryside, the Amalfi coast and the foot hills of the Italian Alps all provide incredible scenery for driving. The south, including Sicily, offers charming pastoral scenes. The food and charm of the tiny villages you can only explore with your own great value Italian car rental is justification enough. Too many visitors zap around from Venice to Florence to Rome and out again. While they are wonderful cities, you haven't really been to Italy if you've only done museums and churches with all the other tourists. Get out into the countryside, and meet a local.
Italy is served by a network of excellent roads and highways, not to mention the autostrade, or superhighways, which are toll roads. The tolls can add up if you're travelling long distances, so if you're not in a hurry, get off and take the slower, more scenic route on secondary (but still excellent) roads. Also, note that that drivers frequently exceed the speed limits, which can be alarming and somewhat dangerous. The blood alcohol limit is 0.08%, and it is compulsory for all passengers to wear seatbelts. Travel is on the right hand side of the road, and apart from 24 hour service stations on autostrade, many gas stations are closed on Sundays. It is mandatory to use headlights at all times, including the middle of the day, when driving on main roads and highways throughout Italy.
It must be said, however, that driving your Italian car rental in big cities is not a great idea. Traffic can be heavy, and driving in Rome is alarming, especially from the carabinieri! Parking can be difficult, and navigating in streets thousands of years old can be confusing. Many cities have introduced Traffic Restricted Zones (ZTL) and at variable hours of the day. Fines can be levied on vehicles in the ZTL who don't carry the appropriate permit. In cities, park your Italian car rental in the hotel, and hit the footpaths and local public transport in cities, saving the self-driving for the countryside or inter-city journeys. Contact the hotel in advance to check the ZTL arrangements and whether they provide parking. Better yet, collect you car from the airport or train station on your way out of the city, when you've done the churches and museums and are ready to hit the countryside.
Food
Italy is rightly famous for its wonderful food, though some adaptations in our home countries mean it's necessary to take care to seek the authentic in Italy. Italian food is heavily regionalised, and you should try much more than pasta and pizza. Creamy dishes, risotto and polenta are more common in Tuscany and the north. Try osso bucco in Lombardy near Florence, white asparagus and game meat near Venice and in the Trentino-Alto Adige region near Austria, soups with dumpling-like gnocchi.
In the south, tomato-based dishes prevail and there is less use of meat. Olive oil is preferred over the butter used in the north. Octopus is popular, as is the gorgeous spaghetti and clams, dressed only with olive oil, parsley and a little garlic. Other robust flavours of the south include anchovies and capers, represented in such dishes as pasta puttanesca. Try stews, casseroles, unusual green vegetable soups and whatever is made of market fresh produce. Don't just look for a replication of the Italian food you would eat at home!
Accommodation
Italian accommodation ranges from camp grounds in summer, through hostels and homestays, through self catering villas, to luxury hotels. There are standard business hotels, and the truly luxurious boutique hotels, something for every budget. However, accommodation certainly hits a premium in July and August. It is important to book ahead. If you can travel in late September or early June, you should still enjoy some warm weather, with cheaper prices, less tourist traps, less tourists to line up for museums, and a much wider choice of accommodation options.
Compare Cheap Italy Car Hire
Try our simple-to-use booking engine to compare car hire deals in Italy. Type in your pickup and drop off locations & other information required and we'll immediately provide you with some quotations. Whether you're after an economy Italy car hire, or a luxury Italy rental vehicle, we have the perfect deal for you. Our low cost car rentals are provided by well-known suppliers such as Avis, Hertz and Europcar, but we can often provide better car hire rates!
Avis, Budget, Thrifty, Dollar, Hertz, Europcar, Sixt, Alamo, National & More!
Italy is one of the best countries to go on a car rental holiday because it has 44 UNESCO World Heritage Sites, the most number of heritage sites in the whole world. The resplendent art culture has been attracting myriad tourists for the longest time now. But, much kudos is due to the government of Italy as it hasn't been complacent with the force that the arts have over people. It has been proactive in developing the country to keep up with the rest of the world. In fact, Milan is one of the wealthiest countries and is the financial capital of Italy. If you are yearning for an awesome vacation, buy a plane ticket to Italy, book a hotel and rent a car hire and take in all the sights it has to offer.
Going around Italy
Most of Italy is connected by train although there is a certain rail network that operates on specific routes. There are overnight trains that move intercity. You can also board a bus when moving around city limits although tickets have to be bought from stores beforehand. Hiring a car rental in Italy is another great way of seeing the art capital of the world. The country has well-maintained roads and well-developed highway networks that driving a rental car, especially in the northern area is an easy task.
From the Airport
Italy's main airport is named after its most famous artist (possibly the world's most famous); the Leonardo da Vinci-Fiumicino Airport is found in Fiumicino, a 35-kilometer distance from Rome's central district. From the airport, you may take the Leonardo Express Train to get to Rome's primary train station. You can also arrange for a great deal Italy car rental at one of the many car hire companies at the Leonardo da Vinci-Fiumicino Airport.
Places to See
Planning is an essential part of your Italy car rental holiday. With 44 remarkable world heritage sites, try to cover as much bases as you can. Here are the art and culture sites that you can visit: Valcamonica (Rock Drawings), Milano (Leonardo da Vinci's Last Supper), Leaning Tower (Pisa), The Archeological Area of Agrigento (Sicily) and the most recent addition to the country's world heritage sites, The Dolomites. If you want to go back to Italy for yet another eventful car rental holiday, drive your rental car to the Trevi Fountain where you can toss a coin to be able to return to Italy or two coins to meet an Italian lover. Italy is where you can get the best gelato in the world and you better drive to Corrado Costanzo who knows gelato better than anyone else.
Nearby Country
You can drive your Italy car rental to France, which shares borders with the artistic and cultural country. Better have your lover in the car hire with you as France is the best place to fall in love all over again.
Car Rental Services Directory in Italy
Avis
Aeroporto Capodichino (Naples Airport)
Naples 80144
Europcar
Rome Ciampino Airport
Via Appia Km 13
Rome 00040
Hertz
Viale Gramsci, 24
0 false 18 pt 18 pt 0 0 false false false
Modena
For great vehicle rental options in
Italy
, you've come to the right place.
Udrive.com.au
offers the vehicle to meet your needs, whether it is a budget or economy car, through to luxury, 4WD & Vans. Udrive.com.au compares all the top
car hire
providers around Italy, and we'll find you the very best deal for your needs, in your selected location in
Italy
. Some of our popular Italian rental locations include;
Rome Airport
,
Milan
,
Florence
and the Amalfi coast.
We have a whopping 348 pick up locations in Italy. Please select your car rental pick up location from our booking engine or by clicking on the 'Book' link above.
---
Top Car Hire Locations in Italy
---
Overall the experience of leasing the car was fantastic. They came and picked us up from the airport even though we came in late and dropped us off again at the end of our stay in Italy. The car ran great. It was comfortable and fuel economy was great. We had no trouble with the car at all. We are thinking of leasing again next time we are in Europe so we shall be in touch around 2021. Thank you again and we shall definitely recommend leasing a car to our friends. Have a great day
Udrive - Excellent services.
In a couple of words, the online booking process was excellent. The selection of vehicles available were good enough for me. The payment and online voucher process worked really well. Fast and smooth pick up, as was drop off, other than no room in the car park, which is probably normal in Naples at rush hour. There was no complaints about the vehicle, it was suitable for us. It was comfortable, reliable and economical. I would be happy to use your service again and have recommended it to others.
Overall we were very happy with our recent car hire experience. We would use Udrive again and recommend the site to our friends. The Maggiore/Alamo car rental was excellent - excellent car and customer service. Online booking and payment process - excellent - very easy. Selection of vehicles available in Italy was great. The selection of vehicles on Udrive was better than what my local travel agent was able to find. Thanks for your service and we'll be back when we next need to hire a car.
Excellent service in Italy. Car and its condition were first class. Regards.