Great Prices
We challenge you to find cheaper! Our rates include unlimited mileage, one-way fees and roadside assist*. Why pay more?
Wide Selection
We have around 20,000 depots around the world. We offer a great range of vehicles at competitive prices, from the most reputable suppliers
24/7 Hotline
We provide 24/7 service while you're on the road. You can also call 1800 761 192 , leave a message, and we'll return your call.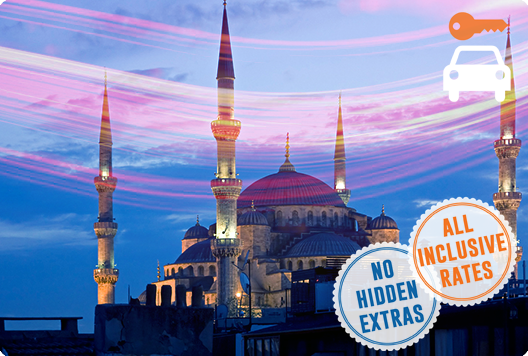 There is no surprise that a land of insurmountable natural wealth would capture the interest of empires and conquerors, such as the Indo-European Hittites, Persian Empire, Roman Empire, Byzantine Empire and the Ottoman Turks. All of these groups were after Turkey's sprawling mountain ranges, craggy coastline and verdant valleys. Thankfully though, you won't have to go through battles and wars to be able to experience these natural wonders. All you need is fly to Turkey, hire a great deal Turkey car rental and drive around until you soak up all its sights and offerings. Aside from nature, a Turkey car rental holiday offers spectacular views of stunning architecture such as the Acropolis in Pergamum, the Blue Mosque in Istanbul and the Ottoman houses in Safranbolu.
Going around Turkey
Turkey's buses and trains have wide area coverage, making it a favorite among foreign travelers and locals. It's considerably cheap to use the bus or the train in Turkey although the bus takes you places much faster than the train. You may also opt to drive a Turkey car rental. The road signs of Turkey are tourist-friendly, which is a great help to all driving a car hire; road signs that use a brown background signify roads that lead to tourist destinations.
From the Airport
Turkey's busiest airport is the Ataturk International Airport, found 24 kilometers west of Istanbul's central district. It is a focal airport in Europe, being the continent's 9th busiest airport. You have several options of moving from the airport to the city center: light rail transit, airport shuttle service, municipal bus or car rental. The fastest way is by using the light rail transit, but the most convenient is by driving a Turkey car hire, which you can arrange to pick up at the airport on the time of your arrival.
Places to See
Turkey is divided into 7 regions: Aegean Turkey, Black Sea Turkey, Central Anatolia, Eastern Anatolia, Marmara Region, Mediterranean Turkey and Southern Anatolia. You definitely wouldn't get bored driving a car hire around the entire country as every region has its own distinct characteristic from the other. The Aegean Turkey, for instance, is predominantly Greek and Roman in vibe with all the remarkable ruins, the bright seas and olive plantations. While driving a rental car around Central Anatolia would give you more ancient archeological sites such as the Cappadocia and the superb Hittite and Phrygian ruins. The Marmara Region, on the other hand, is decidedly more modern and urbanized, with Byzantine and Ottoman architecture interspersing with the modern landscape. Not to be missed: Aya Sofya in Istanbul, one of the oldest monuments in the world dating back to 360. There is a long-winding history that is attached to this monument; Troy in Canakkale, where the legendary Trojan War took place; Ephesus Ancient City in Selcuk for a glimpse of early Christianity and their splendid ruins like Temple of Domitian, Temple of Serapis, Basilica and Odeon.
Sponsored Link: Turkey Tours
Nearby Country
Greece is found to the west of Turkey; one of the world's most visited countries. Being cradle to one of the world's oldest civilizations, a Greece car rental holiday will give you once-in-a-lifetime glimpses at the remains of history's most glorious eras.
Udrive.com.au offers efficient and reliable car hire service in Turkey. We have many pick up locations all around Turkey for your convenience. There are many vehicles to choose from online, including mini, hatch, sedan and station wagon cars, 4WDs, minibuses and minivans. We welcome clients from all over the world and you are able to obtain a Turkey car rental quotation through our web site in 27 different currencies and 11 languages.
Compare Cheap Turkey Car Hire

Try our simple-to-use booking engine to compare car hire deals in Turkey. Type in your pickup and drop off locations & other information required and we'll immediately provide you with some quotations. Whether you're after an economy Turkey car hire, or a luxury Turkey rental vehicle, we have the perfect deal for you. Our low cost car rentals are provided by well-known suppliers such as Avis, Hertz and Europcar, but we can often provide better car hire rates!
Avis, Budget, Thrifty, Dollar, Hertz, Europcar, Sixt, Alamo, National & More!
Adana | Alanya | Ankara | Antalya | Belek | Bodrum | Bursa | Denizli | Didim | Erzurum | Fethiye | Gaziantep | Gocek | Hatay | Istanbul | Izmir | Izmit | Kayseri | Kemer | Konya | Kusadasi | Lara | Malatya | Marmaris | Samsun | Sanliurfa | Side | Trabzon | Urgup | Van
We have multiple pick up depots in each city. Please type in your rental city in our booking engine above for an online quote.

Popular Car Hire Pick Up Locations In Turkey
Avis
Ankara International Airport
Esenboga Airport Dom Lines
Ankara 06100
Europcar
Istanbul Ataturk International Airport
Arrivals Terminal
Istanbul 34149
Hertz
Yedikuyular CAD
No. 4/1 Elmadag Taksim
Istanbul
Location Voitures Turkey | Renta De Autos Turkey | Autovermietung Turkey | Noleggio Auto Turkey | Car Hire in Turkey
From Antalya To Fethiye : A Driving Holiday in Turkey. Turkey is a large country covering approximately 302,000 square miles. The benefit to drivers is that there are many road trip routes to explore.

In years gone by, Turkey had a bad reputation because of poorly constructed roads but the last five years has seen a major campaign by the Turkish government to improve its vast network of roads.
The other objection to driving in Turkey that I frequently hear is that the drivers are crazy. This can be true in the large cities of Turkey like Istanbul but isn't that the case with all cities?
Once you get to the open road, traffic is of normal levels and drivers are not suffering from road rage. The scenery is also amazing.

One of my favourite routes in Turkey is the Lycian way. Technically this is a walking trail but that would take 3 months to complete it and I often like to drive between the recommended sites to see.

Stretching from Antalya to Fethiye the main road of this route, covers historical ruins and gorgeous coastal resorts across many regions. Here are my tips for a great road trip on the West coast of Turkey.

From Antalya to Fethiye : Driving in Turkey

Hire your car from Antalya airport and arrange for it to be picked up at Dalaman airport. This can be done with most major car hire suppliers.
This stretch of coastline is very popular with tourism. Out of high season, there is no need to pre-book accommodation. You can follow your schedule and end the day when you want to but high season is from June to September so you should pre-book your accommodation then.
Although the Lycian way is about historical sites, be sure to pack your swimming costume because there are many beaches along the way.
Do not worry about getting lost. One major coastal road runs from Antalya to Fethiye and as long as you find your way back to there, you can go easily from one place to the other.
Many places like Phaselis and Chimaera charge an entrance fee so account this into your budget.
Recommend Places to Visit
Mount Tahtali : Located on the outskirts of Kemer, you can travel to the summit base in cable car
Phaselis is ancient ruins and gorgeous beaches. Pack a picnic for a relaxing and carefree day.
The Chimaera flames are near the small rustic resort of Cirali. Natural gases oozing out of rocks means that flames are alight 24 hours a day seven days a week.
The ancient Lycian ruins of Myra and St Nicholas church (Santa Claus) are in Demre
Kas is a small coastal resort that has maintained its traditional roots as a fishing village
The Ghost village of Kayakoy is on the outskirts of Fethiye
Head to the resort of Olu Deniz and jump on a taxi boat to visit the beautiful and natural scenery of Butterfly valley.
---
Top Car Hire Locations in Turkey
---
Customer service above and beyond
I have used Udrive several times in Europe, so it was obvious to use them on our trip to Turkey. We weren't sure about traffic and road conditions in Turkey, but Carolyn at Udrive was a mine of information and made really practical suggestions about when and where to pick up the car, parking options, fuel and more. For a budget, online operator, these guys give premium level service and advice. We recommend them to others.