Great Prices
We challenge you to find cheaper! Our rates include unlimited mileage, one-way fees and roadside assist*. Why pay more?
Wide Selection
We have around 20,000 depots around the world. We offer a great range of vehicles at competitive prices, from the most reputable suppliers
24/7 Hotline
We provide 24/7 service while you're on the road. You can also call 1800 761 192 , leave a message, and we'll return your call.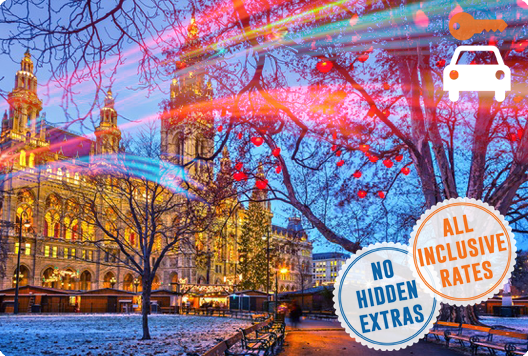 Vienna is known for its incredible architecture, fabulous museums and beautiful parks. You might wish to leave your great value Vienna car hire vehicle at the hotel some of the time, and walk or take the trams around this beautiful city. Keep your car for getting out and about and touring the surrounding stunning countryside.
Vienna Road Travel

Austria is a great place for a self drive holiday. It is small enough to make distances manageable and provides plenty of Alpine scenery. Your great value Vienna car rental will certainly deliver a great self-drive holiday.
Food in Vienna

The Kaffeehaus or coffee houses are an essential part of Viennese life. Don't miss the Sacher tortes and strudels of all kinds to go with the great coffee. Of course, Vienna is home to Weiner schnitzels and plenty of wurst (sausages) as well. You can also find a wide range of stir fries, curries and other ethnic cuisines from around the world at reasonable prices, particularly in the University districts.
Emergencies

In case of emergency in Vienna, dial 144 for Ambulance, 133 for Police and 122 for Fire.
Try our simple-to-use booking engine to compare car hire deals at Vienna. Type in your pickup and drop off locations & other information required and we'll immediately provide you with some quotations. Whether you're after an economy Vienna car hire, or a luxury Vienna rental vehicle, we have the perfect deal for you. Our low cost car rentals are provided by well-known suppliers such as Avis, Hertz and Europcar, but we can often provide better car hire rates!
Vienna Airport
Vienna Downtown

Vienna Car Hire with UDrive
I recently booked a rental car through Udrive and drove it accross Europe, The booking process was great and got me by far the best possible deal, the car was nearly new and only had 10,000 miles on it, the payment system and collection/drop off process were fine. All in all an awesome holiday with hassle free car rental. I never leave reveiws for anything but this was exeptional. Top marks Udrive!