Great Prices
We challenge you to find cheaper! Our rates include unlimited mileage, one-way fees and roadside assist*. Why pay more?
Wide Selection
We have around 20,000 depots around the world. We offer a great range of vehicles at competitive prices, from the most reputable suppliers
24/7 Hotline
We provide 24/7 service while you're on the road. You can also call 1800 761 192 , leave a message, and we'll return your call.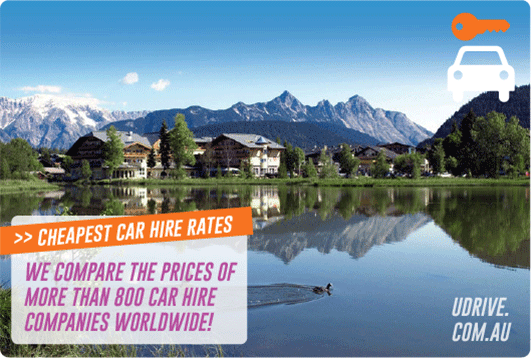 Austria is old Europe, with traditional alpine landscapes, the strains of Mozart and Strauss and enough baroque architectural fantasies to last forever. Check out the fabulous treasures of the Habsburg empire and take advantage of the exquisite Alps for summer hiking or winter skiing.
Austrian Road Travel
Austria is a great place for a self drive holiday. It is small enough to make distances manageable and provides plenty of Alpine scenery. Your bargain Austria car rental will certainly deliver a great self-drive holiday.
Fuel
Unleaded petrol (95 and 98 octane) and Diesel available. No leaded petrol (lead substitute additive available) and limited LPG available. Petrol in a can permitted, maximum 10 litres. Credit cards are accepted by larger filling stations; check with your card issuer for usage in Austria before travel.
Other Driving Information
Tolls are also payable when passing through certain motorway tunnels. The use of the horn is generally prohibited in Vienna and in the vicinity of hospitals. When a school bus has stopped to let children on and off, indicated by a yellow flashing light, drivers travelling in the same direction are not permitted to overtake.
Spiked tyres may be used from the 1st October until the 31st May, special local regulations may extend this period. It is prohibited to use radar detectors. If a voucher is required for parking they can be obtained from most tobacconists, banks and some petrol stations.
Austrian Food
Apart from the obvious Weiner Schnitzel, Austrian cuisine offers some other calorific temptations. Don't miss the Sacher tortes of Vienna, the strudels of all kinds and plenty of wurst (sausages.) Although Austria is old Europe, you can naturally find all kinds of kebabs, curries and stir fries in modestly priced eateries in all the major towns.
Emergencies
In case of emergency in Austria, dial 144 for Ambulance, 133 for Police and 122 for Fire.
Austria is a historical treasure; a gem that serves a link to different eras in the past. History may be most appealing to geeks donning thick-rimmed glasses, but you have every reason to believe that Austria is an exciting country to bring out your inner geek. Rent a sleek Austria car rental and see Mozart's neighborhood, Roman archeological wonders, Stone Age habitats and the Alps, don't forget the Alps. While most people go out of their way for a taste of foreign culture and history, Austria is quite the contrary. You are surrounded by heritage and history that you can't escape from it even if you tried.
Going around Austria
Trains and buses are the Austrians' mode of transportation within the city. This is understandable because these two modes of transportation are well-interspersed. If you're traveling from one city to another, however, these two cannot be well counted on. You might have to rent a car in Austria to be able to reach the other cities. This is not a problem however because reliable car rental in Austria is not hard to find are modestly priced as well.
From the Airport
Austria has 6 airports that service airlines from major countries. Where you should land would depend on what comes first in your itinerary, whether it be skiing on the Alps, getting warm by the lakes or going on a history trip. Commuting in Austria may not be a good try if you are on your first Austria vacation. It is better to arrange an airport transfer with your hotel or pick up your rental car at the airport. Of course, an Austria travel guide and map should be picked up at the airport as well.
Places to See
Skiing the Alps is among most travelers' number one spot Austria car rental holiday itinerary. The Alps are simply astounding, a stark contrast of white against the blueness of the sky. After an exciting day of skiing, you may drive your car hire to Innsbruck where the Alps interestingly complement the artistic medieval structures. Museum-hopping in Innsbruck lets you in on thousand years old annals that shaped the country's identity. If you hail from the city, it would be fun to drive your rental car to Bregenzerwald, which is as "country" as it can get. Imagine alpine milk and cheeses amidst the clanks of cowbells, where locals treat you with utmost welcome and hospitality. Of course, what is a car rental holiday in Austria without a trip to Salzburg, the birthplace of Baroque, the birthplace of the most renowned Mozart?
Nearby Countries
From Austria, you may bring your rent-a-car across the border to Italy, sip the world's classiest wines as you stroll along extravagant vineyards.
Car Rental Services Directory in Austria
Avis
Innsbruck Airport
Flughafen, Kranebitten
Innsbruck 6020
Europcar
Autohaus Vowa
Haller Strasse 165
Innsbruck 6020
Hertz
Suedtirolerplatz 1
Innsbruck
We have a whopping 33 pick up locations in Austria (See below). Please select your car rental pick up location from our booking engine or by clicking on the 'Book Now' link above.
Graz - Airport | Klagenfurt - Train station | Rankweil | Wels | Dornbirn - City | Vienna - Ketzergasse | Vienna - Train Station | Wiener Neustadt | Linz - Airport | Zell Am See | Kitzbuehel | Vienna - South | Vienna - North - Wien 1220 | Amstetten (Franchise office) | Vienna - North | Klagenfurt - Airport | Bregenz | Villach | Vienna - Kagran | Vienna - West | Linz-Kleinmunchen | Wien-Vosendorf | Wiener Neudorf | Klagenfurt | Weiz | Vienna - City | Vienna - Airport | Salzburg - Airport | Innsbruck | Innsbruck - Airport | Linz | Salzburg | St Poelten | Graz - City

Compare Cheap Austria Car Hire
Try our simple-to-use booking engine to compare car hire deals in Austria. Type in your pickup and drop off locations & other information required and we'll immediately provide you with some quotations. Whether you're after an economy Austria car hire, or a luxury Austria rental vehicle, we have the perfect deal for you. Our low cost car rentals are provided by well-known suppliers such as Avis, Hertz and Europcar, but we can often provide better car hire rates!
---
Top Car Hire Locations in Austria
---
Vienna Car Hire with UDrive
I recently booked a rental car through Udrive and drove it accross Europe, The booking process was great and got me by far the best possible deal, the car was nearly new and only had 10,000 miles on it, the payment system and collection/drop off process were fine. All in all an awesome holiday with hassle free car rental. I never leave reveiws for anything but this was exeptional. Top marks Udrive!