Great Prices
We challenge you to find cheaper! Our rates include unlimited mileage, one-way fees and roadside assist*. Why pay more?
Wide Selection
We have around 20,000 depots around the world. We offer a great range of vehicles at competitive prices, from the most reputable suppliers
24/7 Hotline
We provide 24/7 service while you're on the road. You can also call 1800 761 192 , leave a message, and we'll return your call.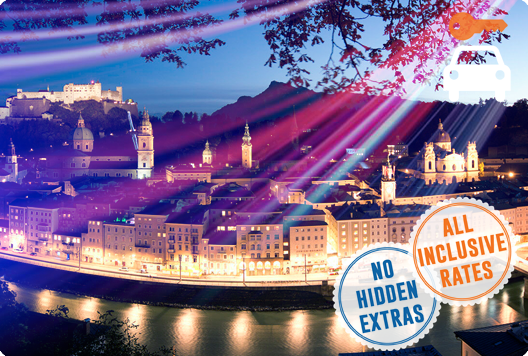 The Hills Are Alive, With the Sound Of... a great self-drive holiday. The home of the Sound of Music and the birthplace of Mozart makes a great base for your motoring vacation. Salzburg is blessed with charming scenery, and the quaint cobbled streets of the 17th old town makes great photographic material and pleasant strolling. In fact, the old city is a UNESCO World Heritage listed site. The city is also renowned for its blowsy, over-blown baroque architecture and decoration. Oh, and don't forget to take the Sound of Music tour - the Schloss Mirabell is a lovely palace and its gardens are delightful.
Salzburg Airport

Salzburg Airport is 4km from town and connected by bus. However, Salzburg airport is also a convenient place to pick up your bargain Salzburg car rental, to start your perfect self-drive holiday.
Getting around

There are buses around town and an excellent rail service connects Salzburg with other parts of Austria. The roads around Salzburg are easy driving, though you should plan to leave the rental vehicle outside the old city and walk around the cobbled streets. Use your low cost Salzburg car rental to get out of town and explore the stunning countryside. There are excellent major highways, though you may need to pay for a vignette (eg for 10 days or 2 months) for these toll roads in advance. Vignettes can be purchased from many service stations. When driving your Salzburg car rental in winter, you may need to use snow chains in mountainous areas.
Emergencies

In case of emergency in Austria, dial 144 for Ambulance, 133 for Police and 122 for Fire.
Compare Cheap Salzburg Car Hire

Try our simple-to-use booking engine to compare car hire deals at Salzburg. Type in your pickup and drop off locations & other information required and we'll immediately provide you with some quotations. Whether you're after an economy Salzburg car hire, or a luxury Salzburg rental vehicle, we have the perfect deal for you. Our low cost car rentals are provided by well-known suppliers such as Avis, Hertz and Europcar, but we can often provide better car hire rates!
Salzburg Downtown
Salzburg Airport

---
Salzburg Rental Locations
---
Salzburg Car Hire - Just Great!
We booked our hire car via U drive and I must say that the experience was great. We had no problems at all, we received all the relevant e mails regarding our booking and difficulties were not encountered.