Great Prices
We challenge you to find cheaper! Our rates include unlimited mileage, one-way fees and roadside assist*. Why pay more?
Wide Selection
We have around 20,000 depots around the world. We offer a great range of vehicles at competitive prices, from the most reputable suppliers
24/7 Hotline
We provide 24/7 service while you're on the road. You can also call 1800 761 192 , leave a message, and we'll return your call.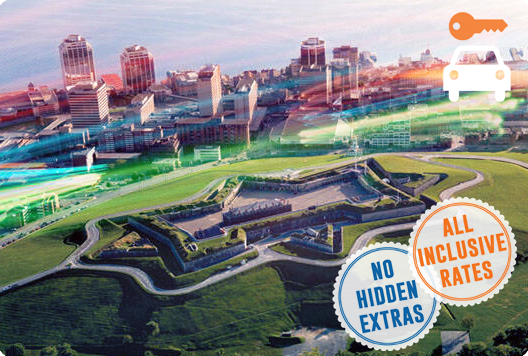 The City of Halifax (est. 1841) was the capital of the province of Nova Scotia and shire town of Halifax County, and was the largest city in Atlantic Canada until it was amalgamated into Halifax Regional Municipality in 1996. It is no longer an incorporated city and is a community of HRM.
The Town of Halifax was founded by British government under the direction of the Board of Trade and Plantations under the command of Governor Edward Cornwallis in 1749. After a protracted struggle between residents and the Governor, the City of Halifax was incorporated in 1841.
On April 1, 1996, the government of Nova Scotia dissolved the City of Halifax, and amalgamated the four municipalities within Halifax County and formed Halifax Regional Municipality, a single-tier regional government covering that whole area.
Today the area of the former City of Halifax is now referred to as an unincorporated "provincial metropolitan area" by the provincial government's place name website and the area is referred to as "Halifax, Nova Scotia" for civic addressing and as a placename.
The area is now administered as two separate community planning areas by the regional government for development, Halifax Peninsula and Mainland Halifax. It forms a significant part of the Halifax urban area. Residents of the former city are referred to as "Haligonians".
Halifax Robert L. Stanfield International Airport, or Halifax/Stanfield International Airport (IATA: YHZ, ICAO: CYHZ) is an airport in Enfield, Nova Scotia, Canada that serves the Halifax Regional Municipality and central Nova Scotia as well as adjacent areas in the neighbouring Maritime provinces.
The airport, owned by Transport Canada since it was constructed and operated, since 2000, by the Halifax International Airport Authority (HIAA) forms part of the National Airports System. The airport hosts the headquarters of Air Canada Jazz and CanJet.
Halifax is connected to the rest of Canada by provincial highways 101, 102, 103, and 104. Highway 102 runs between Halifax and Truro, where it connects to Highway 104 (the Trans-Canada Highway). Going west on 104 takes one to the New Brunswick border, and then onto Maine, Quebec, or Prince Edward Island. It's about 2 hours from Halifax to the New Brunswick border; there is a $4.00 toll at the Cobequid pass. Going east on 104 takes one to Cape Breton.
A ferry service in North Sydney, Nova Scotia connects Nova Scotia with Newfoundland. Highway 103 connects Halifax with the South Shore. Highway 101 connects Halifax with the Annapolis valley. A ferry service connects Digby (about 2.5 hours from Halifax) with Saint John, New Brunswick.
Compare Cheap Halifax Car Hire
Try our simple-to-use booking engine to compare car hire deals at Halifax. Type in your pickup and drop off locations & other information required and we'll immediately provide you with some quotations. Whether you're after an economy Halifax car hire, or a luxury Halifax rental vehicle, we have the perfect deal for you. Our low cost car rentals are provided by well-known suppliers such as Avis, Hertz and Europcar, but we can often provide better car hire rates!
Avis, Budget, Thrifty, Dollar, Hertz, Europcar, Sixt, Alamo, National & More!
Another UDrive Experience
We have had a good experience using Udrive. We had rented a car in Halifax, Canada and had to drop off in Boston USA. We have known the total price including one-way fee in advance. This is not typical for car rental services. Go ahead with this good service.