Great Prices
We challenge you to find cheaper! Our rates include unlimited mileage, one-way fees and roadside assist*. Why pay more?
Wide Selection
We have around 20,000 depots around the world. We offer a great range of vehicles at competitive prices, from the most reputable suppliers
24/7 Hotline
We provide 24/7 service while you're on the road. You can also call 1800 761 192 , leave a message, and we'll return your call.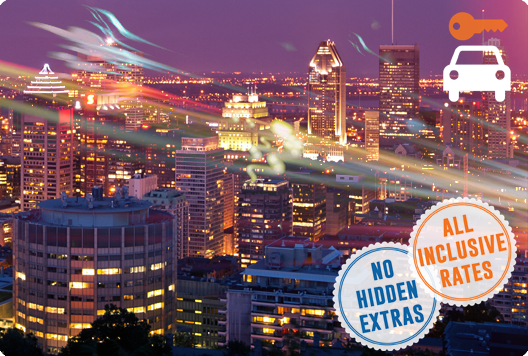 Montreal is the second-largest city in Canada and the largest city in the province of Quebec. Originally called Ville-Marie ('City of Mary'), the city takes its present name from Mont-Royal, the triple-peaked hill located in the heart of the city, whose name was also initially given to the island on which the city is located, or Mont Real as it was spelled in Middle French, (Mont Royal in present French).
The language most spoken at home in the city is French by 57% of the population, followed by English at 19% (as of 2006 census). The official language of Montreal is French as defined by the city's charter. Montreal is the second-largest primarily French-speaking city in the Western world, after Paris. Though historically the commercial capital of Canada, it was surpassed in population by Toronto in 1976, but today is an important centre of commerce, finance, industry, technology, culture, and world affairs.
Montreal has two international airports, one for passenger flights only, and the other for cargo. Montreal-Pierre Elliott Trudeau International Airport (also known as Dorval Airport) in the City of Dorval serves all commercial passenger traffic and is the headquarters for Air Canada and Air Transat. To the north of the city is Montreal-Mirabel International Airport in Mirabel, which was envisioned as Montreal's primary airport but which now serves cargo flights along with MEDEVACs and general aviation as well as some passenger services.
From Toronto, take Highway 401 east about 5 h until it becomes Autoroute (Expressway) 20 on the Quebec side of the border. It will then take about an hour to get to downtown. Be alert for frequent speed-limit changes along this road. To reach downtown follow the Centre-Ville signs and take Autoroute 720 (Autoroute 20 continues over the Pont Champlain bridge to the South Shore).

From Ottawa, it's about 2 hours east along Highway 417 (which becomes Autoroute 40 in Quebec) to Montreal.
From Quebec City, it's about 3 hours west on either Autoroute 40 or Autoroute 20.
From New York City, take Interstate Highway 87 north through Albany and the eastern half of New York State for about six hours. After the border crossing near Plattsburgh, the freeway becomes Autoroute 15, which leads directly into downtown Montreal over the Pont Champlain, the most beautiful approach to the city.
The drive time from Plattsburgh to downtown Montreal is approximately one hour.
From Boston, take Interstate Highway 93 to Highway 89 after you cross into New Hampshire. Follow Interstated 89 north to and through Vermont to the border crossing, where it turns into Highway 133. This secondary road continues to Autoroute 10, which leads directly into downtown Montreal. The whole trip takes about 5 hours. Once you cross the border it is about 1 1/2 hours to Montreal.
Compare Cheap Montreal Car Hire
Try our simple-to-use booking engine to compare car hire deals at Montreal. Type in your pickup and drop off locations & other information required and we'll immediately provide you with some quotations. Whether you're after an economy Montreal car hire, or a luxury Montreal rental vehicle, we have the perfect deal for you. Our low cost car rentals are provided by well-known suppliers such as Avis, Hertz and Europcar, but we can often provide better car hire rates!
Avis, Budget, Thrifty, Dollar, Hertz, Europcar, Sixt, Alamo, National & More!
---
Montreal Rental Locations
---
I have used Udrive many times and ..finally !!! my review: Great job guys. Thanks for good pricing and reliable services. See you soon!