Great Prices
We challenge you to find cheaper! Our rates include unlimited mileage, one-way fees and roadside assist*. Why pay more?
Wide Selection
We have around 20,000 depots around the world. We offer a great range of vehicles at competitive prices, from the most reputable suppliers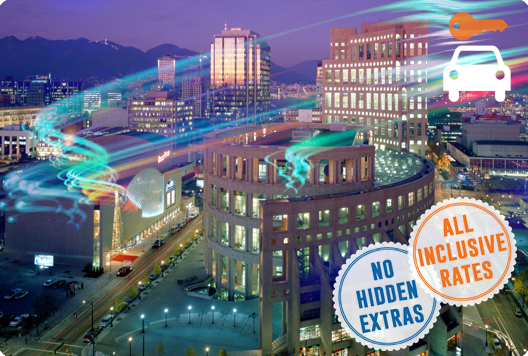 Vancouver is a coastal city located in the Lower Mainland of British Columbia, Canada. It is named for British Captain George Vancouver, who explored the area in the 1790s. The name Vancouver itself originates from the Dutch "van Coevorden," denoting somebody from Coevorden, a city in the Netherlands.
The largest metropolitan area in Western Canada, Vancouver ranks third largest in the country and the city proper ranks eighth.
Logging sawmills established in 1867 in the area known as Gastown became the nucleus around which the townsite grew, and Vancouver was incorporated as a city in 1886. By 1887, the transcontinental railway was extended to the city to take advantage of its large natural seaport, which soon became a vital link in a trade route between the Orient, Eastern Canada, and London. The Port Metro Vancouver is now the busiest and largest in Canada, as well as the fourth largest port (by tonnage) in North America. While forestry remains its largest industry, Vancouver is well known as an urban centre surrounded by nature, making tourism its second largest industry. It also is the third largest film production centre in North America after Los Angeles and New York City, earning it the nickname Hollywood North.
Vancouver has ranked highly as "most livable city" in the world for more than a decade according to business magazine assessments. It has hosted many international conferences and events, including the 1976 United Nations Conference on Human Settlements and the 1986 World Exposition on Transportation and Communication. The 2010 Winter Olympics and 2010 Winter Paralympics will be held in Vancouver and nearby Whistler, a resort community 125 km (78 miles) north of the city.
For more information, visit http://en.wikipedia.org
Compare Cheap Vancouver Car Hire
Try our simple-to-use booking engine to compare car hire deals at Vancouver. Type in your pickup and drop off locations & other information required and we'll immediately provide you with some quotations. Whether you're after an economy Vancouver car hire, or a luxury Vancouver rental vehicle, we have the perfect deal for you. Our low cost car rentals are provided by well-known suppliers such as Avis, Hertz and Europcar, but we can often provide better car hire rates!
Avis, Budget, Thrifty, Dollar, Hertz, Europcar, Sixt, Alamo, National & More!
Vancouver is served by Vancouver International Airport (YVR), located on Sea Island in the City of Richmond, immediately south of Vancouver. Vancouver's airport is Canada's second busiest airport, and the second largest gateway on the west coast of North America for international passengers. HeliJet and float plane companies operate scheduled air service from Vancouver harbour and YVR south terminal. The city is also served by two BC Ferry terminals. One is to the northwest at Horseshoe Bay (in West Vancouver), and the other is to the south, at Tsawwassen (in Delta).
We had a fantastic experience with U Drive. Booking through the web page was easy and we received our voucher with all the details with no problems. We received an awesome brand new Mustang! The car we hired was from Alamo at Vancouver airport and we were assisted by Tarek and he was just brilliant. I'd highly recommend both Udrive and Alamo to my friends.