Great Prices
We challenge you to find cheaper! Our rates include unlimited mileage, one-way fees and roadside assist*. Why pay more?
Wide Selection
We have around 20,000 depots around the world. We offer a great range of vehicles at competitive prices, from the most reputable suppliers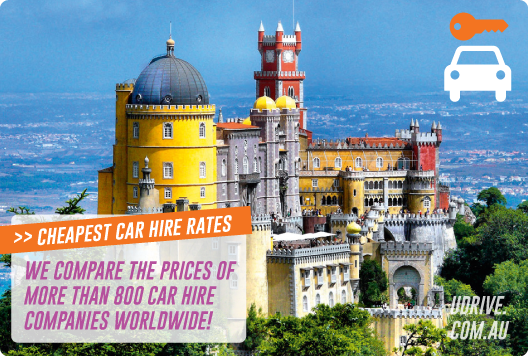 Portugal is small enough to explore easily, particularly if you have your own, great-value Portugal rental car. The landscape varies from charmingly forested mountains dotted with dilapidated stone villages to the big city charms of Porto and Lisbon. Porto is the home of port wine, retains a mediaeval charm, and provides a wonderful starting place for exploring northern Portugal and north-western Spain. Lisbon is flashy and better for the party people, though it can have a few rough edges. The Algarve has year-round appeal with its warm climate always attracting sun-worshippers. The rural hinterland retains a quintessentially Portuguese charm, and there are still plenty of places where you can't get a full English breakfast and you need your phrase book to order a drink.
Driving around
To rent a car in Portugal you must have held the license of your home country for at least one year. Drivers under 25 are likely to find rental prices a little more expensive than for older drivers. Driving in Portugal is on the right hand side of the road and it is compulsory to wear seatbelts. There are also prohibitions on using a mobile phone while driving. Drink driving laws and strict and the limit on blood alcohol concentration is 0.05%. A great value Portugal car rental really allows you to get out of the major cities and away from the crowded holiday resorts to explore the Portugal less known, experience the charming countryside and try some traditional regional Portuguese dishes.
Climate and When to Go
The midsummer heat on the Algarve, the Alentejo and in the upper Douro Valley are quite unbearable, but the summer heat is tolerable elsewhere. The prices on the Algarve in July in August also soar, and it is best avoided at this time for a more favourable period (June, September) when discounts of up to 50% may be had. The north is chilly and wet in winter, with some snow in the mountains.
Food
Seafood in Portugal generally offers excellent value, particularly caldeirada (seafood stew) and sardinhas assadas (grilled sardines.) The omni-present bacalhau must be tried. This dried cod can be prepared in a multitude of different ways, and when blended and fried with potato makes a delicious croquette. In many of its other incarnations it is equally delicious. Indeed, you would be well rewarded to stay away from some more common European meat dishes which can be disappointing in Portugal, and try the bacalhau, which everyone does well. Salads commonly accompany meals, and meals or menu deals are often kicked off with vegetable soup, or sopa de legumes.
Portuguese cake and pastry shops are everywhere, this is not the place for a diet. Portuguese coffee is reliable even in tiny coffee shops which do not appear promising at all. Portuguese wine also offers exceptional value. Try the young vinho verde, which is semi-sparkling and usually white – it complements a light, grilled seafood lunch on a hot day perfectly, without giving you the headache of the heavier varieties! Restaurants frequently offer jugs or carafes of the house wine at incredibly low prices, and they are generally drinkable, though the really low priced house wines can be a little rough.
Don't forget to try the ports of Porto in the north. They are drunk as tawny, ruby or white. Meals are not necessarily formally structured into breakfast lunch and dinner, or held at morning, noon and early evening. Rather, snacking is common, particularly at bars and cafes, and lunch is frequently taken up to 3pm, with dinner at 10pm not unusual, particularly in summer. Look out for the dish of the day, or prato do dia, which generally represents great value. The ementa turistica, or tourist menu is often provided in English, but rarely represents either good value, authenticity or haute cuisine. A couvert, or dish of bread, butter, olives, cheese or combination of small tasty things provided to the table at the beginning does cost extra and will appear on the bill, unless you send it back immediately, which is completely acceptable.
Airports and Air Travel
Portugal is incredible well served by budget airlines such as Easyjet (www.easyjet.com) and Ryanair (www.ryanair.com), particularly into Lisbon, Porto and Faro on the Algarve. In summer, unbelievable package holiday deals can be had ex-London and out of many German and French cities, on charter flights. They commonly include accommodation and meals. They can be such excellent value that it's worth taking the package even if you only want the flights.
If you are coming from outside Europe, Lisbon is the major international airport, though Porto sees fairly heavy international traffic as well. Lisbon airport is modern and comfortable. We have suppliers represented at all airports in Portugal, so collecting your bargain Portugal car rental is always easy and convenient.
We have 116 pick up locations in Portugal (See below). Please select your car rental pick up location from our booking engine or by clicking on the 'Book Now' link above.
Praia de Luz | Avenida da Liberdade | Faro - Montenegro | Lisbon - Carnaxide | Lisbon - Cidade | Lisbon - Amadora | Oeiras | Arganil | Lamego | Ponte de Sor | Tarouca | Ponta Delgada - Airport Azores | Ilha Terceira - Airport Azores | Ilha Terceira - Azores | Monte Gordo | Praia Da Rocha | S. Joao Da Madeira | Santarem | Estoril | Amadora | Vila Franca Xira | Quarteira | Setubal | Tomar | Torres Novas | Torres Vedras | V.N. Famalicao | Viana Do Castelo | Vila Real | Viseu | Abrantes | Amarante | Arcos De Valdevez | Armacao De Pera | Barcelos | Beja | Braganca | Caldas Da Rainha | Carvoeiro | Mem Martins | Mirandela | Moimenta Da Beira | Montegordo | Oliveira Do Hospital | Pacos De Ferreira | Penafiel | Peso Da Regua | Portimao | Carnaxide | Sesimbra | Lisbon - SEDE AAC | Lisbon - R. Bolhao Pato | Alporchinhos | Lisbon | Lisbon - Airport | Gaia | Porto - Zona Industrial | Tondela | Sangalhos | Agueda | Faro - Edificio | Manta Rota | Porto - GV Ram. | Moita | Lisbon - Rua Castilho | Portimao/Alvor | Vilamoura | Lisbon - North | Elvas | Montijo | Sines | Altura | Tavira - Pedras Rainha | Almancil | Ferragudo | Pombal | Alfagar | Almada | Covilha | Porto - Airport | Fundao | Guarda | Castelo Branco | Faro - Campinas | Maia | Miraflores | Canico De Baixo - Madeira | Funchal - Downtown Madeira | Villa da Calheta - Madeira | Funchal - Airport Int Madeira | Cascais | Braga | Albufeira | Faro - Airport | Leiria | Lisbon - Gare Do Oriente | Porto - Ave Boavista | Aguiar da Beira | Alcobaca | Tavira - PEDRAS D'EL REI | Chaves | Coimbra | Espinho | Evora | Felgueiras | Figueira Da Foz | Lisbon - Prior Velho | Aveiro - Downtown | Aveiro - Esgueira | Faro - Downtown | Guimaraes | Lagos | Lisbon - Downtown | Lisbon - Santa Apolonia | Porto - Downtown | Trofa | Sta. Maria da Feira
Udrive.com.au offers instant car rental bookings for vehicles from budget or economy options through to 4WD, luxury &minivans all around Europe. Udrive.com.au compares rates from reputable & reliable car hire providers to find you the best deal for your car hire in Portugal.
Compare Cheap Portugal Car Hire
Try our simple-to-use booking engine to compare car hire deals in Portugal. Type in your pickup and drop off locations & other information required and we'll immediately provide you with some quotations. Whether you're after an economy Portugal car hire, or a luxury Portugal rental vehicle, we have the perfect deal for you. Our low cost car rentals are provided by well-known suppliers such as Avis, Hertz and Europcar, but we can often provide better car hire rates!
Avis, Budget, Thrifty, Dollar, Hertz, Europcar, Sixt, Alamo, National & More!
Portugal is one of the most beautiful countries on the Iberian Peninsula. It has a very rich history, as apparent in the sceneries that tourists see as they drive their Portugal car rental. Portugal also helped shape the history of many other nations, with credits to famous Portuguese explorers like Vasco de Gama, Diogo Dias and Luis Pires.
A car-renting vacationer in Portugal will have the time of his life driving through medieval castles, picturesque villages and gold sand beaches. Because of the exquisiteness of Portugal, driving a car rent in and around the country beholds surprises after surprises. Among the famous cities that constantly attract tourists are the country's capital Lisbon, Porto and Madeira.
Going around Portugal
Airports are found in the major cities of Portugal. It is a big convenience to fly from one city to another, although there are also economical options like buses, trains and car rental. Many travelers who visit Portugal opt to drive a rent a car in order to see and enjoy the whole expanse of loveliness that Portugal offers. Portugal is a driver-friendly country, implementing the basic traffic laws as most countries do. In order to hire a car rent in Portugal, tourists have to present a valid driver's license and be of legal age.
From the Airport
Airports in key cities of Portugal connect the different towns with one another and with the rest of Europe and other continents as well. Portugal's major airport is the Lisbon Portela Airport, which is found in the capital city of Lisbon. Airport shuttle, train and buses can take you from the airport to the city; you just need to choose what is convenient to you and your luggage. You may also pick up your Portugal car rental at the Lisbon Airport so you can go straight from your flight to seeing cobblestoned streets and gothic churches.
Places to See
It is difficult to pick only a few places to drive your Portugal rent a car because each town has one too many great spots to see. To make the most of your Portugal car rental vacation, plan your holiday ahead of time by considering the activities you would want to partake in, such as surfing, museum-hopping, food-tripping. If you are flying directly to Lisbon, head straight to the district center once you get the keys to your Portugal car hire. Make it a point to see the Castelo de Sao Jorge, which is sure to make you forget the muscle cramps you developed from your flight. The vista at Castelo de Sao Jorge is breathtaking as it affords you an unadulterated view of the city.
If you're a big fairy tale fan, fill up your car rental with fuel and make a road trip to Sintra to appreciate a sleepy and laidback town where majestic palace and Moorish castle ruins draw the attention of travelers. Portuguese cuisine is something you must never pass on; fill your tummy with Tripas a la Porto, Arroz de Marisco and Cozido a Portuguesa, all of which are national delicacies.
Nearby Countries
From Portugal, the magnificent country of Spain may be accessed via car rental. It will not be a waste to drive your Portugal rent a car all the way to Spain as the country has the second most number of UNESCO World Heritage sites among all countries.
Car Rental Services Directory in Spain
Avis
9 R. Julio C Machado
1250 135 Lisbon
Europcar
24 Av Antonio Aguisto Aguiar
1050 000 Lisbon
Hertz
72 Rua Castilho
1250 135 Lisbon
---
Top Car Hire Locations in Portugal
---