Great Prices
We challenge you to find cheaper! Our rates include unlimited mileage, one-way fees and roadside assist*. Why pay more?
Wide Selection
We have around 20,000 depots around the world. We offer a great range of vehicles at competitive prices, from the most reputable suppliers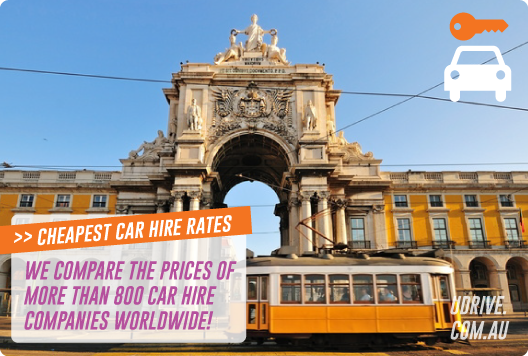 Lisbon is the capital and largest city of Portugal. It is considered an alpha global city and is the seat of the district of Lisbon and the main city of the Lisbon region. Its municipality, which matches the city proper excluding the larger continuous conurbation, has a municipal population of 564,477 in 84.8 km2 (33 sq mi), while the Lisbon Metropolitan Area in total has around 2.8 million inhabitants, and 3.34 million people live in the broader agglomeration of Lisbon Metropolitan Region.
Due to its economic output, standard of living, and market size, the Grande Lisboa (Greater Lisbon) subregion is considered the third most important financial and economic centre in the Iberian Peninsula. The Lisbon region is the wealthiest region in Portugal and it is well above the European Union's GDP per capita average - it produces 37% of the Portuguese GDP. It is also the political centre of the country, as seat of government and residence of the Head of State.
The city was under Roman rule from 205 BC, when it was already a 1000 year old town. Julius Caesar made it a municipium called Felicitas Julia, adding to the name Olissipo. Ruled by a series of Germanic tribes from the 5th century, it was captured by Moors in the 8th century. In 1147, the Crusaders under Afonso Henriques reconquered the city for the Christians and since then it has been a major political, economic and cultural center of Portugal. Unlike most capital cities, Lisbon's status as the capital of Portugal has never been granted or confirmed officially - by statute or in written form. Its position as the capital has formed through constitutional convention, making its position as de facto capital a part of the Constitution of Portugal.

Driving your Lisbon car rental through Portugal's celebrated capital city in 2010 is a lot like driving a rent-a-car in the 1930s. Overlooking the Atlantic Ocean, the surroundings look as glamorous as they did in the glorious era. Even the Lisbon locals have an old-world aura to them as though they were not in any hurry to catch up with the rest of the world. As you park your car hire to see what Lisbon is all about, you see Lisboetas trading stories in public baths or in quaint cafes. Lisbon draws tourists to marvel at their centuries-old gothic cathedrals, museums and monasteries.
At night, the place comes alive as the people gather to party over electro, reggae and jazz music. Chance upon one of their clubs when you take your rent a car for a spin and you'll witness the convergence of the 18th and 21st centuries.
Going around in Lisbon
Buses, trams and ferries are the most popular transportation options for Lisboetas. A rechargeable card called 7 Colinas can be used on buses and trams. Most of the locals use public transportation so, if you wish to avoid being crammed into one vehicle, hiring a car rental in Lisbon is a viable option. With full command of the steering well, you get to control which sites to see and which to spend the most time in. When getting a Lisbon car rent, be mindful of time as punctuality is one of Lisbon's assets.
From the airport
The Lisbon Portela Airport is among the biggest airports in Southern Europe. It is a crucial part of Portugal's transportation and is also a main European hub. An airport shuttle takes passengers with luggage to the city center. There are buses that stop at the airport, but if you are bringing bulky luggage with you, it may not be such a good idea. Driving a car rent is a good option for tourists of big groups and those with large luggage. Car rentals may be picked up at the Lisbon Portela Airport.
Places to see
For a genuine feel of old-world Lisbon, take your Lisbon car hire up the cobblestoned lanes of Alfama. Have a chat with the friendly locals who are often spotted lounging in backstreet cafes. The Castelo de Sao Jorge will give you one of the most breathtaking views of Lisbon and also one of the most chilling experiences. The Castelo was built in the 5th century by the Visigoths, and had always been the target of different groups like the Moors and the Christians. Setting foot in one of the oldest royal residences and large prison dungeons is sure to get your spine tingling. A car rental tourist is spoiled for choice as every turn of the wheel offers spectacular Lisbon sights, such as the Museo de Chiado, Nucleo Arqueologico (believed to have been built in the 1st century) and the Panteao Nacional.
Nearby Cities
Once you get your fill of the exquisite city of Lisbon, you can fill up the tank of your Lisbon rent-a-car and drive to the captivating town of Sintra, declared a UNESCO World Heritage Site for the wonderful castles and palaces that abound. It is only a 30-minute drive with your great deal car rental. Mafra is also a town you might want to check out, if only for their very famous bread called "Pao de Mafra".
Car Rent Services Directory in Lisbon
Avis
9 R. Julio C Machado
1250 135 Lisbon
Europcar
24 Av Antonio Aguisto Aguiar
1050 000 Lisbon
Hertz
72 Rua Castilho
1250 135 Lisbon
Udrive.com.au offers instant car rental bookings for vehicles from budget or economy options through to 4WD, luxury &minivans. Udrive.com.au compares rates from reputable & reliable car hire providers to find you the best deal for your car hire in Lisbon.
Compare Cheap Lisbon Car Hire
Try our simple-to-use booking engine to compare car hire deals in Lisbon. Type in your pickup and drop off locations & other information required and we'll immediately provide you with some quotations. Whether you're after an economy Lisbon car hire, or a luxury Lisbon rental vehicle, we have the perfect deal for you. Our low cost car rentals are provided by well-known suppliers such as Avis, Hertz and Europcar, but we can often provide better car hire rates!
Avis, Budget, Thrifty, Dollar, Hertz, Europcar, Sixt, Alamo, National & More!
Lisbon, the capital city of Portugal is a global city specializing in commerce, arts, entertainment, international education and tourism. It is culturally and historically rich, enabling it to please every type of traveller from the budget conscious to the elite. As one of the oldest cities in the world, the lure is historic landmarks, charming landscapes, a warm climate and delicious cuisine. If you are headed to Lisbon, you have chosen a marvellous city to visit and here are our suggestions of where to go and what to do.

Places to visit in Lisbon
Belem Tower is a UNESCO world heritage site located in the Santa Maria de Belém region of Lisbon. Built in the early 16th century, it sits on the banks of the Tagus River and displays unique architectural style as well as interior décor.

Jerónimos Monastery is also called Hieronymites Monastery and it is another UNESCO heritage site strongly recommended for a visit. Built in 1459, the building is a marvellous example of religious housing and pioneering architecture. It has received extensive restoration work and is now one of the top visited attractions in the city.

Tram 28 is a tour of the city throughout all the major areas and neighbourhoods. It highlights the main attractions to see and is ideally done on your first day in Lisbon. The tram is used by locals as well as tourists so it is also a great insight into the people of Lisbon.

There are many museums within Lisbon but the Nacional de Arte Antiga is one of the most popular. It houses a national art gallery going right back to the 14th century. Remember that it is closed on Monday and does not open until two p.m. on a Tuesday.

Kids will enjoy a visit to the Jardim Zoológico which houses a variety of exotic animals. It is open from 10 am to 8 p.m. every day. Opportunities are available to feed sea lions and spend time with pelicans. Please refer to their official website for scheduled activities.

Still on the theme of animals, we recommend a day spent in the Parque das Nações which has its own aquarium, housing a variety of sea animals. There are also other activities regularly happening throughout the park and it makes a great family day out.

If you love botanical gardens head to either Ajuda or Lisbon gardens. Both are spectacular and showcase a large variety of plants, flowers and trees from around the world. The former is especially popular for family picnics.

The Belem Culture Centre hosts permanent exhibitions from a variety of different artists including Picasso

Get Around Lisbon
Car hire: This option is suitable for short periods of time. Compare prices from all major suppliers here.
Car leasing: Provided by Renault, Peugeot or Citroen, this choice is ideal if you want to tour other areas within Portugal.