Great Prices
We challenge you to find cheaper! Our rates include unlimited mileage, one-way fees and roadside assist*. Why pay more?
Wide Selection
We have around 20,000 depots around the world. We offer a great range of vehicles at competitive prices, from the most reputable suppliers
24/7 Hotline
We provide 24/7 service while you're on the road. You can also call 1800 761 192 , leave a message, and we'll return your call.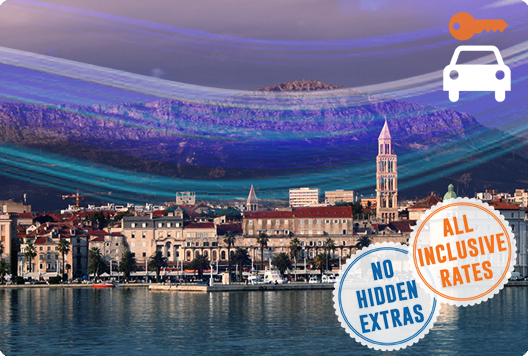 Because of its ideal climate, with 2,800 hours of sunlight each year, local people have a few nicknames for Split: "The most beautiful city in the world" and "Mediterranean flower". Many famous Croatian sports people are born in Split, so locals often nicknamed their city as "The sportiest city in the world". The most popular sport institution is the football club Hajduk. The whole city is painted with the club's colors and logo. This is done by Torcida, the oldest supporters group in Europe, established in 1950. Beside bell tower of St. Duje, the symbols of city are the Dalmatian dog and a donkey. Locals have a high place for the donkey because of its past indispensable place in field work and transport across Dalmatian mountains.
Winters in Split are generally mild, with temperatures above 0°C, but despite the popular saying that the city experiences snowfall once every 30 years, there is actually at least one snowy day nearly every winter, usually in January or early February. If you find yourself in Split on a day with significant snowfall, expect serious traffic disruption.
Split is the largest Dalmatian city, the second-largest urban centre in Croatia, and the seat of Split-Dalmatia County. The city is located on the shores of the Mediterranean, more specifically on the eastern shore of the Adriatic Sea, spreading over a central peninsula and its surroundings, with its metropolitan area including the many surrounding seaside towns as well. An intraregional transport hub, the city is a link to the numerous surrounding Adriatic islands and the Apennine peninsula, as well as a popular tourist destination.
Split is also one of the oldest cities in the area, and is traditionally considered just over 1,700 years old, while archaeological research relating to the ancient Greek colony of Aspalathos (6th century BC) establishes the city as being several hundred years older.
Compare Cheap Split Car Hire
Try our simple-to-use booking engine to compare car hire deals at Split. Type in your pickup and drop off locations & other information required and we'll immediately provide you with some quotations. Whether you're after an economy Split car hire, or a luxury Split rental vehicle, we have the perfect deal for you. Our low cost car rentals are provided by well-known suppliers such as Avis, Hertz and Europcar, but we can often provide better car hire rates!
Avis, Budget, Thrifty, Dollar, Hertz, Europcar, Sixt, Alamo, National & More!
Split Car Hire - UDrive is the best
We would like to thank your company for the excellent service we received and the appearance and comfort of the car. The ease to pick it up and deliver makes a huge difference to us. Thanks again!