Great Prices
We challenge you to find cheaper! Our rates include unlimited mileage, one-way fees and roadside assist*. Why pay more?
Wide Selection
We have around 20,000 depots around the world. We offer a great range of vehicles at competitive prices, from the most reputable suppliers
24/7 Hotline
We provide 24/7 service while you're on the road. You can also call 1800 761 192 , leave a message, and we'll return your call.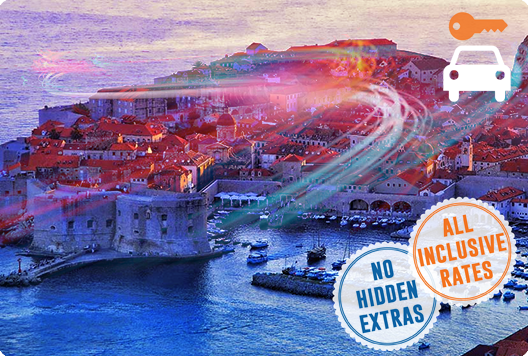 The Adriatic coast is stunning. The blue of the glittering sea provides an incredible backdrop to the old walled city of Dubrovnik, with its marble streets and historic, baroque buildings. It has a population of around 45,000, but is stuffed with many, many more visitors year round, and especially in summer. A walk along the city walls is awesome. Within the walls are plazas, fountains, monasteries and a museum. Check out the clock towers, churched and cathedrals, and take it all in while drinking local wine or coffee outside a charming cafe.
Accommodation
While there are many charming hotels in Dubrovnik, there are also plenty of lovely private rooms and apartments. Ignore the pesky touts hanging around at the ferry terminal and bus station, and arrange a room through the tourist information offices which are dotted around town, including at the airport, ferry terminal, bus station and in the old town.
Transport
Public transport in Croatia is generally effective and reliable. Note that ferries maintain very limited timetables in winter, and on some islands, bus routes are restricted and run infrequently. Trains and intercity buses are reliable and safe, but don't provide the same flexibility as your own great value Croatian rental car!
Food
There are some average, over-priced restaurants in Dubrovnik, particularly in the old town. Avoid those with big boards out front with menus in English, German and Italian, especially if the prices are advertised in Euros. These are likely to be tourist traps, with average quality food and service. In Korčula town, north of Dubrovnik, you can soak up exquisite views of the Adriatic from the terrace while enjoying delicious, fresh, grilled seafood at Adio Mare.
In the old town, try Atlas Club Nautica – dress to impress. It's pricey, but no rip off. For something more homely, try Dubrovački kantun, at Boškovićeva 5. It has hearty stews and great vegetarian options.
Dubrovnik Airport
The airport is 23km southeast of Dubrovnik. There are currently enormous plans for expanding the airport, with construction due for completion in 2011. It may be under construction when you travel through, however the airport should still provide a range of passenger services, including a number of our car rental suppliers for you to collect your bargain Dubrovnik rental car.
Compare Cheap Dubrovnik Car Hire
Try our simple-to-use booking engine to compare car hire deals at Dubrovnik. Type in your pickup and drop off locations & other information required and we'll immediately provide you with some quotations. Whether you're after an economy Dubrovnik car hire, or a luxury Dubrovnik rental vehicle, we have the perfect deal for you. Our low cost car rentals are provided by well-known suppliers such as Avis, Hertz and Europcar, but we can often provide better car hire rates!
Avis, Budget, Thrifty, Dollar, Hertz, Europcar, Sixt, Alamo, National & More!
Driving around
If you rent your vehicle outside Croatia and drive in to Dubrovnik, fromMontenegro for example, make sure you have the car registration papers and the Green card insurance (European document attesting to a minimum acceptable level of insurance.) Croatian law also requires you to carry a fluoro vest in the car at all times (not in the boot or trunk.)
In Dubrovnik, parking can be tricky, and you can see the old town and surrounds on foot anyway. Check out the parking situation with your accommodation (hotel or private room), in advance. Park the car and forget it. If your hotel doesn't provide parking, or you're just passing through for the day, set your GPS for the multi-storey car-park at Ilijina Glavica (Zagrebačka ulica bb, K-4). It costs around $12US per day, and there's a free shuttle bus to one of the old town gates, or a 10 minute walk.
Your Dubrovnik car rental will really come into its own when you want to get out and explore the nearby countryside. Driving to and parking at the Dubrovnik airport is also easy. In fact, the airport is a great pace to pick up your Dubrovnik rental car on arrival.
Generally, a great value Croatia car rental is a good option for a relaxing holiday, which allows you to access some cheaper accommodation, more beautiful villages, and take pleasure in scenic drives along coastal roads.
---
Dubrovnik Rental Locations
---
Dubrovnik Car Hire - Excellent website / trouble free car rental in Northern and East Europe
Spent a lot of time researching rental car companies in Europe.This website promising the BEST rates, which is true in reality. Also we found the website easy to use , and although initially having misgivings about how far out we had booked the car from the date of our trip - we were impressed with all the follow up we received and how truly trouble free it was. The Car rental firm in Europe couldn't have been more helpful and polite. Our overall view is that we would use this booking company again if we ever needed a rental car while on our travels.