Great Prices
We challenge you to find cheaper! Our rates include unlimited mileage, one-way fees and roadside assist*. Why pay more?
Wide Selection
We have around 20,000 depots around the world. We offer a great range of vehicles at competitive prices, from the most reputable suppliers
24/7 Hotline
We provide 24/7 service while you're on the road. You can also call 1800 761 192 , leave a message, and we'll return your call.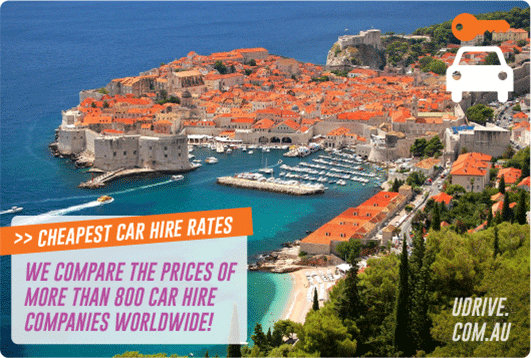 Europeans have always known of Croatia's gems, and the rest of the world is finding out. The Adriatic coast is stunning. The sapphire blue of the sea attracts those wanting the peace and charm of a quiet fishing village, as well as the glamorous and fashionable yacht types. Dubrovnik's beautiful walled town, combined with the food and wine wealth of Istria and the hopping club scene of Split and Zagreb mean there's definitely something for everyone in Croatia. It's a great self drive destination, with all the benefits of Western Europe, at slightly reduced prices.
Driving around
If you rent and drive a car within Croatia, you'll have no problems at all. If you rent your vehicle outside Croatia and drive in, make sure you have the car registration papers and the Green card insurance (European document attesting to a minimum acceptable level of insurance.) Croatian law also requires you to carry a fluoro vest in the car at all times (not in the boot or trunk.) You are also required to carry ID, such as a passport, at all times in Croatia, whether driving or not. Traffic in coastal areas on summer weekends can be quite heavy, though several new motorway extensions have dramatically reduced travel times between major cities, though they are toll roads which attract fees. The blood alcohol limit for driving on Croatian roads is 0.05%, and police frequently do random checks. Drive on the right hand side of the road, and keep your headlights on during the day, or else risk a fine. Generally, a great value Croatia car rental is a good option for a relaxing holiday, which allows you to access some cheaper accommodation, more beautiful villages, and take pleasure in scenic drives along coastal roads.
Accommodation
Accommodation in Croatia ranges from affordable back-packer accommodation and camping grounds to five star luxury hotels. Note that many hotels along the coast are completely closed during winter. Most hotels, but particularly those in coastal areas, have seasonal rates. Large discounts are usually available between November and May, while June, September and October are a little more expensive, and prices in July and August can be astronomical. Minimum four-night stays can sometimes be required in peak times, and booking ahead is strongly recommended. Hotels in Zagreb tend to maintain the same prices year round. Hotels are graded between one and five stars, and tariffs generally include breakfast. Another option is to rent a room in a private house, or a privately owned apartment. These can be rented through the local tourist information centre, and often provide a charming and good value alternative. They are generally well kept. While touts approach people arriving from trains, buses and ferries, it is really more reliable to take a private room via the tourist office or a local, reputable looking travel agency, to be sure the accommodation is registered and safe.
Transport
Public transport in Croatia is generally effective and reliable. Note that ferries maintain very limited timetables in winter, and on some islands, bus routes are restricted and run infrequently. Trains and intercity buses are reliable and safe, but don't provide the same flexibility as your own great value Croatian rental car!
Food
Eating in Croatia is generally a pleasure. While cuisines are strongly distinguished according to region, there is a Croatia-wide emphasis on very fresh, high quality produce, well prepared. Apart from in trendy coastal resorts in summer, you can generally eat in high quality establishments at very reasonable prices, relative to Western Europe. In coastal areas, the Mediterranean influences of olives, oil and fresh vegetables prevail, along with a strong emphasis on grilled or roasted seafood. Freshness is valued, and many seaside restaurants have their own fishing boats, or allow customers to select their fish from those displayed. In northern Croatia, influences from Austria and Hungary are apparent. You can find meat fried in bread crumbs, as well as hearty goulashes and yummy winter dishes of stuffed cabbage leaves and other vegetables. Croatia offers a variety of cheeses, wines and pastries. The famous borek or burek is everywhere. With a cheese or meat filling it makes a great breakfast or lunch, with apple it's a lovely dessert. Get off the beaten track. Take a chance on a place that doesn't offer its menu in English and priced in Euros. Go inside and point to what others are having that looks good. Outside the tourist traps, you'll be surprised, and rarely disappointed.
You can book your Croatia car rental in three easy steps with Udrive.com.au. We provide a large range of vehicles from budget or economy options through to luxury, 4WD & Vans. Udrive.com.au will compare the top car hire agencies to find you the very best deal on your car hire in Croatia. Some of our popular rental locations include; Dubrovnik, Pula, Rijeka, Split and Zagreb.
Compare Cheap Croatia Car Hire
Try our simple-to-use booking engine to compare car hire deals in Croatia. Type in your pickup and drop off locations & other information required and we'll immediately provide you with some quotations. Whether you're after an economy Croatia car hire, or a luxury Croatia rental vehicle, we have the perfect deal for you. Our low cost car rentals are provided by well-known suppliers such as Avis, Hertz and Europcar, but we can often provide better car hire rates!
Avis, Budget, Thrifty, Dollar, Hertz, Europcar, Sixt, Alamo, National & More!
Even with its reputation of being a choice tourist destination, Croatia doesn't feel the pressure of keeping up with the current travel trends. Instead of building skyscraper hotels and swanky resorts to accommodate Croatia car rental holiday tourists, the country pushes its natural wonders and historical landmarks as its selling points. The locals do not pressure themselves with impressing their foreigner guests, either. You often see them going on unhurriedly with their daily routine; the children playing around, diving into the rich waters without care. Festivals are events that Croatians and car rental vacationers look forward to; locals don their colorful traditional wear, go out on the streets and perform customary dances.
Going around Croatia
The recent years have seen great improvements in Croatia's rail system. The trains connect the major cities although buses are a more reliable option since they have almost nationwide coverage. When using the public transport system, try to keep your luggage to minimum as it may be highly inconvenient to bustle through the crowds. You may also opt to hire a great deal car rental in Croatia as the roads are well-maintained. The price of car hire in Croatia is within the usual range of European rental car although it may have a more lenient rule in using the car rental to crossing the borders to other countries.
From the Airport
The Zagreb Airport, found in the country's capital city, is the main airport of Croatia. It is a 17-kilometer distance from the main area of Zagreb. There is a regular bus that transports tourists from the airport to the city center; the ride takes about 20-25 minutes. There are car hire companies in Croatia's main airport, which may be highly convenient when visiting Croatia.
Places to See
When in Croatia, you won't have to drive your car hire far to appreciate the country. As soon as you get out of the Zagreb Airport, wonderful infrastructures beckon at the city of Zagreb. The medieval streets of the town are interesting to maneuver your rental car around; the place is teeming with old world charm yet resonates loudly of modern energy. You may also drive your Croatia car hire to the country's old capital, Varzadin. The baroque architecture prevailing in Varzadin does a wonderful job of taking you back in time as their buildings are well-preserved. Another great place to bring your car rental is the old town of Dubrovnik, which is undergoing conservation efforts with the UNESCO. This UNESCO heritage site features Gothic, Renaissance and Baroque palaces and churches complemented by the beauty of the pristine Dalmatian coast.
Nearby Countries
From Croatia, you may jump off to Italy for yet another eventful car rental holiday. Italy is a must-see country as it has the biggest number of UNESCO World Heritage Sites.
Car Rental Services Directory in Croatia
Avis
Zagreb Airport
Pleso
Zagreb 10150
Europcar
Zagreb Hotel I
Hotel I, Remetinacka
Cesta 106
Zagreb 10000
Hertz
Zagreb Airport
Pleso BB Velika Gorica
0 false 18 pt 18 pt 0 0 false false false
Zagreb
We have a whopping 24 pick up locations in Croatia (See below). Please select your car rental pick up location from our booking engine or by clicking on the 'Book Now' link above.
Cavtat | Malinska | Split - Port | Opatija | Osijek | Zadar | Dubrovnik | Makarska | Sibenik | Rijeka- Downtown | Rijeka Airport | Porec | Pula | Pula Airport | Zadar - Airport | Tapanj | Dubrovnik - Airport | Split - Downtown | Split - Airport | Zagreb | Zagreb - Airport | Karlovac | Varazdin | Slavonski Brod | Hvar
---
Top Car Hire Locations in Croatia
---
We would like to thank your company for the excellent service we received and the appearance and comfort of the car. The ease to pick it up and deliver in Split makes a huge difference to us. Thanks again.
UDrive Car Hire - Recommended
Overall we were very happy with our recent car hire experience. We would use Udrive again and recommend the site to our friends.
Active Rent A Car rental - great customer service. The car was ok but then it was a reasonably priced auto that was large enough to fit our luggage, so that makes it OK. Online booking and payment process - excellent - very easy.
Selection of vehicles available in Croatia was a bit limited, for automatics that would fit luggage for three people. However, the selection of vehicles on Udrive was better than what my local travel agent was able to find, so overall the selection was fine.
Thanks for your service and we'll be back when we next need to hire a car.