Great Prices
We challenge you to find cheaper! Our rates include unlimited mileage, one-way fees and roadside assist*. Why pay more?
Wide Selection
We have around 20,000 depots around the world. We offer a great range of vehicles at competitive prices, from the most reputable suppliers
24/7 Hotline
We provide 24/7 service while you're on the road. You can also call 1800 761 192 , leave a message, and we'll return your call.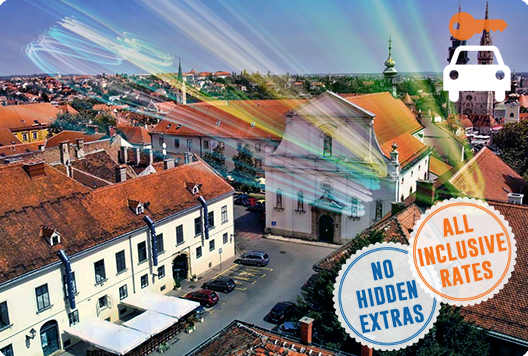 Zagreb is the capital and the largest city of the Republic of Croatia. Zagreb is the cultural, scientific, economic and governmental center of Croatia. It is situated between the southern slopes of the Medvednica mountain and both northern and southern bank of the Sava river at an elevation of approximately 122Â m (400Â ft) above sea level.
Its favorable geographic position in the southwestern part of the Pannonian Basin, which extends to the Alpine, Dinaric, Adriatic and Pannonic regions, provides an excellent connection for traffic between Central Europe and the Adriatic Sea.
Zagreb Airport (IATA: ZAG, ICAO: LDZA), known as 'Pleso Airport' is the main Croatian international airport, a 20 km (12 mi) drive southeast of Zagreb in the suburb of Pleso.
Compare Cheap Zagreb Car Hire
Try our simple-to-use booking engine to compare car hire deals at Zagreb. Type in your pickup and drop off locations & other information required and we'll immediately provide you with some quotations. Whether you're after an economy Zagreb car hire, or a luxury Zagreb rental vehicle, we have the perfect deal for you. Our low cost car rentals are provided by well-known suppliers such as Avis, Hertz and Europcar, but we can often provide better car hire rates!
Avis, Budget, Thrifty, Dollar, Hertz, Europcar, Sixt, Alamo, National & More!
Almost all highways in Croatia start or end in Zagreb.
Travellers from Vienna can pass by Graz and Maribor and then take the A2 highway upon entering Croatia. Mind the toll in Slovenia.
Travellers from Budapest can pass by Szekesfehervar and then use the Croatian A4 motorway. It also connects Varazdin.
Travellers heading from Serbia, Bulgaria, Macedonia, Greece and Turkey can use the Croatian A3 motorway to reach Zagreb.
Travellers heading from Ljubljana can use the A3.
Travellers coming from the west - Italy, as well as Rijeka or Istria - can use the A7 motorway (near and bypassing Rijeka), A6 motorway (Rijeka-Bosiljevo) and then the A1 (Bosiljevo-Zagreb).
Those travelling from Italy can bypass the expensive motorway toll in Slovenia by using the state route SS21 through Trieste, route E61 through Slovenia (in a bad shape) and then A7 south to Rijeka, then Rijeka bypass, then A6 east to Bosiljevo and A1 northeast to Zagreb.
Travellers heading from the south - Dalmatian coast or from Montenegro - can use the A1 highway, often combined with the state roads D8 (by the coastline) and D1 (through the hinterland).
To use highways in Croatia you must pay a toll either in Croatian national currency, the Kuna, or in Euro. One may also pay by credit card- American Express, Diners, Master Card, Maestro or Visa cards. A third option is to use the HAC Smart Card, which can reduce the cost of travelling on the Croatian highways by 10-25%. It is issued by Hrvatske Autoceste, but pays off only if travelling more than 500 km (that's a return trip Zagreb-Zadar or Zagreb-Serbia) or 250 km for a seasonal Smart Card (a return trip Zagreb-Rijeka or two return trips to Zagreb from Austrian border). You can find a toll calculator here (click Calculator on the left navigation bar).
Zagreb Car Hire - UDrive is simply the best!
Mostly I'm happy about prices. I've booked a car through Udrive already twice. Rates are very competitive. But also Locations, Udrive coverage is quite wide. Good job, thanks for that!