Great Prices
We challenge you to find cheaper! Our rates include unlimited mileage, one-way fees and roadside assist*. Why pay more?
Wide Selection
We have around 20,000 depots around the world. We offer a great range of vehicles at competitive prices, from the most reputable suppliers
24/7 Hotline
We provide 24/7 service while you're on the road. You can also call 1800 761 192 , leave a message, and we'll return your call.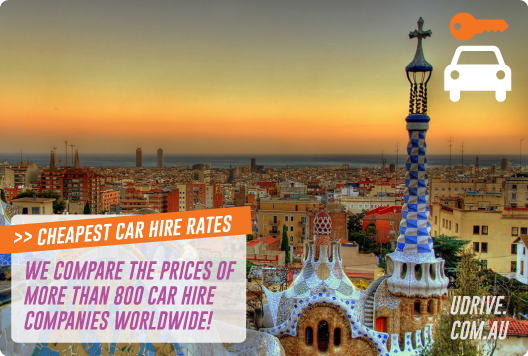 Barcelona Information
Barcelona is the capital and the most populous city of the Autonomous Community of Catalonia and the second largest city in Spain, with a population of 1,615,908 in 2008. It is the 11th-most populous municipality in the European Union and sixth-most populous urban area in the European Union after Paris, London, Rhine-Ruhr Area, Madrid and Milan, with a population of 4,185,000.
Barcelona is recognised as a global city because of its importance in finance, commerce, media, entertainment, arts and international trade. Barcelona is a major economic centre with one of Europe's principal Mediterranean ports, and Barcelona International Airport is the second largest in Spain after the Madrid-Barajas Airport (handles about 30 million passengers per year). Founded as a Roman city, Barcelona became the capital of the Counts of Barcelona. After merging with the Kingdom of Aragon, it became one of the most important cities of the Crown of Aragon. Besieged several times during its history, Barcelona is today an important cultural centre and a major tourist destination and has a rich cultural heritage. Particularly renowned are architectural works of Antoni Gaudi and Lluis Domenech i Montaner that have been designated UNESCO World Heritage Sites. The city is well known in recent times for the 1992 Summer Olympics. The headquarters of the Union for the Mediterranean are located in Barcelona.
As the capital of Catalonia, Barcelona houses the seat of the Catalan government, known as the Generalitat de Catalunya; of particular note are the executive branch, the parliament, and the Supreme Court of Catalonia. The city is also the capital of the Barcelonès comarca (shire).
For more information, visit http://en.wikipedia.org
Compare Cheap Barcelona Car Hire

Try our simple-to-use booking engine to compare car hire deals in Barcelona. Type in your pickup and drop off locations & other information required and we'll immediately provide you with some quotations. Whether you're after an economy Barcelona car hire, or a luxury Barcelona rental vehicle, we have the perfect deal for you. Our low cost car rentals are provided by well-known suppliers such as Avis, Hertz and Europcar, but we can often provide better car hire rates!
Udrive.com.au provide budget rent a car with the latest promotional car hire rates from the world's top 450 car hire companies. Book your car hire online in three easy steps. Choose from a large range of vehicles, budget vehicles through to vans and 4WD four wheel drives. Choose from our large list of pickup locations in Spain. Udrive.com.au will compare rates for all the top car rental suppliers to find you the very best deal on your Barcelona car hire.

Barcelona is a thriving city full of attractions for visitors. As the second largest city in Spain, it has also become a popular destination for city breaks. These days, it can count itself as a major leader in the tourism, fashion, entertainment and media industries. You may find yourself in Barcelona at one point because it is a major transport hub so today we look at what attractions are available for families to enjoy.

Four Family Orientated Tourist Attractions in Barcelona
Parks in Barcelona
The first place to start is at one of Barcelona's many parks. It may come as a surprise to discover that this bustling city has sixty eight of them. The largest of them all is the Montjuich but Park Güell is favoured by most families. It is in the Gracia district and also a UNESCO world heritage site. Entrance to the park is free and there is also a wide range of wildlife existing within it.
Barcelona Aquarium
Barcelona aquarium is another children's favourite. Located in Port Vell, the aquarium is home to over 11,000 animals. The centre is spread over three floors and there is large 80 meter glass tunnel running through the main displays. Any child above the age of eight can join qualified divers in some of the tanks to observe the marine life up close. It is open all year round from 9.30am and prices vary for ages from 5 euros to 19.
Barcelona Zoo
Still staying on the theme of animals, our next recommendation is Barcelona Zoo. Specifically aimed at educating children in a fun way, the zoo includes animals such as hippopotamus, orangutans, Gazelles and gorillas. There is also a large variety of exotic birds like the pink flamingo and African grey parrot. The zoo opens every day of the year from 10am and they also have regular scheduled activities for the children to join in with. Further details can be found on their website.
Tibidabo theme park
This theme park is enjoyed by children of all ages. There are 25 rides for the family to jump on such as the water flume, Hurakan and Viking spin. The Tchu Tchu Tren is suitable for young children while the older teenagers will enjoy the thrill and view seen from the Piratta. The park opens at 12 noon every weekday apart from when there are school holidays. The Sky walk section of the park is open every day. Further details can be found on their website.
---
Barcelona Rental Locations
---
Just to say thanks and all going well. Collection was very easy.
User Friendly Spain Car Hire
This is not exactly going to be a mountain of information, but the pick-up and processing was seemless and welcoming. The vehicle didn't miss a beat, was easy to drive, and very economical. Drop-off was a reprise of the pick-up.
All in all, user friendly!