Great Prices
We challenge you to find cheaper! Our rates include unlimited mileage, one-way fees and roadside assist*. Why pay more?
Wide Selection
We have around 20,000 depots around the world. We offer a great range of vehicles at competitive prices, from the most reputable suppliers
24/7 Hotline
We provide 24/7 service while you're on the road. You can also call 1800 761 192 , leave a message, and we'll return your call.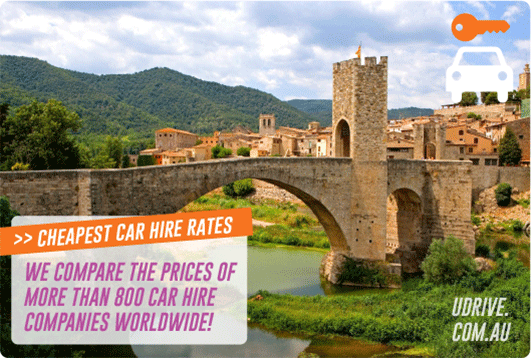 Driving in Spain
It is super easy to collect your great value car rental in Spain. Udrive.com.au has suppliers all over Spain, and pickup locations in airports, railway stations and in multiple destinations throughout towns and cities, making your Spain car rental easy and convenient. Spanish roads are well made, well signposted and easy to drive on. Driving is on the right hand side of the road. It is recommended that you take public transport in major cities, and possibly use the great intercity train network for long distance travel, but rental vehicles really come into their own for exploring small towns within a region, such as Basque country, or Andalucia. Wearing seatbelts is compulsory for all passengers and the blood alcohol limit is 0.05%. It is compulsory to carry visibility vests and hazard warning triangles in every car, so check this before setting off from the pick-up point. Children under 12 are not permitted to ride in the front seat unless in a suitable child restraint.
Food
Food is one of the main attractions of Spain. Spain has several of the best restaurants in the world, such as El Bulli, El Celler de Can Roca and Mugaritz, which are known for their innovation and molecular gastronomy. These restaurants should definitely be booked months ahead of time, and take a fat cheque book!
On the other hand, more traditional Spanish fare needn't break the bank. A bocadillo with jamon y queso (ham and cheese roll) and a cafe con crema (white coffee) standing up in a cafe, bar or jamon deli won't set you back more than a few euros, and is a totally authentic Spanish breakfast experience. You'll note from the businessmen and tradesmen around you that it's not unusual to wash down such a breakfast with a cana of cerveza, or small glass of draught beer, but most tourists (other than young, British party goers) tend to leave the cerveza until later in the day.
Visit gorgeous fresh food markets such as the Mercat de la Boqueria just off the Ramblas in Barcelona offers dried fruit, fresh fruit, and a dazzling array of olives, cheeses and jamon - from quite affordable varieties to the very luxurious jamon Serrano and jamon iberica, which start from around 80 euros per kilogram. You can put together delicious picnics in such markets, with fresh, high quality and traditional Spanish food, again, without breaking the bank.
Tapas is as Spanish as Gaudi, and can be enjoyed in all manner of bars. While tapas are very small plates of nibble food for sharing, raciones are slightly larger plates, still meant for sharing. It's very Spanish to have a drink and a tapas or two in one bar, and then move on with friends to another bar for another tapas, and to while away the evening in such a manner. Bear in mind that Spaniards eat late, late, late. No-one would consider dinner before 8pm, with 10pm considered a more civilised hour for eating. Similarly, lunch at 3pm is de rigueur. If you're travelling and can't hold out, then a sandwich in a bar, or a tapas or three early in the evening will keep you looking cool and knowledgeable, while keeping hunger at bay.
Paella
A few words on paella. If you want to eat Spanish paella, and you want it to be a good experience, follow these hints. Don't order seafood paella away from the coast. Don't order paella in heavily touristy neighbourhoods, or from places which have a commercially produced English menu offering 10 different kinds of paella. These places have pre-packaged, frozen rice dishes approximating the idea of paella. It's diabolical stuff, and all for around 9 or 10 euros. Instead, find a small restaurant, with a simple blackbard, in Spanish, away from the main drags (such as the Ramblas). A good place will probably only serve one variety according to the region. Be prepared to share between a minimum of two or three people, and pay at least 20-25 euros. For one person or less than 20 euros, it's not worth anyone's while to make it fresh, so you'll be definitely getting a re-heat. Arroceria are restaurants specialising in rice dishes, and should be a good place to start.
Take note that paella is pronounced, 'pah-yeh-ya,'as all "lls" are pronounced with a 'y' sound in Spanish, as in Seville - Seh-vi-yeh. Don't get fixated on seafood rather than meat in your paella - the region will determine the ingredients and style. Don't necessarily expect yellow saffron rice studded with prawns, and be disappointed if you get beans and garlicky sausage. Paella is a traditional peasant dish, prepared in the fields with rice, and whatever else was handy, with everyone eating from the same pan with a wooden spoon. Consequently, in Valencia where seafood is rare, you are more likely to find rabbit or chicken or even snails in the paella.
We have a whopping 366 pick up locations in Spain. Please select your car rental pick up location from our booking engine or by clicking on the 'Book' link above.
The land of sun, sangria and Serrano ham will be sure to delight. While the Costa del Sol is the land of sunburned Brits, and Ibiza is the party-hard island of clubbing and world-famous DJs, Spain has so much more. For thrill seekers there's bull-fighting and the annual running of the bulls in Pamploma from 6-14 July, at a festival called San Fermine. The same crowd would probably enjoy La Tomatina in Bunol, 40km from Valencia. La Tomatina is a wild, frenzied crowd of 20,000 hurling over-ripe tomatoes at each other. The party insanely good fun, and takes place on the last Wednesday in August.
Apart from rollicking partying and tomato hurling, Spain offers many more sedate and refined pleasures for those after a more relaxing time. A stroll through Parque del Buen Retiro on a Sunday afternoon with the rest of Madrid gives an insight into Spanish family life and the heart of the capital. You'll see buskers, puppet shows, friends playing music together while onlookers spontaneously break into dance and parents taking their children paddle-boating on the ornamental lake. Where the capital is dignified and stately, Barcelona is a treasure trove of Antoni Gaudi's fabulous, organic-inspired architecture, with the famously incomplete La Sagrada Familia as its central masterpiece.
Andalucia provides incredible scenery of rolling ranges of hills, all covered in olive groves, for kilometre after kilometre. This is the perfect countryside through which to drive your best value Spanish rental car. The Islamic history is evident in numerous historical treasures, including the Catholic cathedrals in some places. Spend at least a few quiet days soaking up the orange tree-lined streets of Seville, and make sure you book well in advance to tour Alhambra in Granada, especially in the summer months. There are quotas for the number of daily visitors to Alhambra, and without a booking, you may miss out.
Climate and Weather
Most of Spain is sun-drenched year round. Even the north in mid-winter enjoys very mild temperatures, though the Pyrenees can see snow, and some northern towns can be very wet between November and early March. The west coast winds blowing in from the Atlantic can make mid-winter somewhat unpleasant for touring. Along coastal areas, the summer season runs all the way from May to September, and indeed, July and August can be too hot for comfort.
Transport
Public transport in Spain is generally effective and reliable. The subways in Madrid and Barcelona are easy to understand, cheap and a very efficient way to get around the major sites. However, remember that these are also cities which reward walkers - soak up the architecture, the squares and the street vibe. Stroll along the Ramblas in Barcelona, stroll the Parque del Buen Retiro in Madrid, or take one of the excellent and very cheap walking tours organised by the main tourist office on Plaza Mayor.
The intercity train system is incredible. You can travel the 600km from Madrid to Barcelona in less than 3.5 hours, in incredible comfort. Buying tickets from the station is possible, although booking in advance is wise in summer months or during peak business hours. You can also make very good savings by buying tickets at least six weeks in advance - otherwise this train travel can be extremely expensive if you rely on snapping up last minute tickets - think up to 200euros per person, one way! Visit http://www.renfe.es/horarios/english/index.html or http://www.raileurope.com for more information.
Ferry travel around Spain is easy, but most who go to islands take charter flights direct to their island from the UK, or wherever they're coming from. International ferries to Morocco, the UK, and southern France are also quite simple. Outside July and August, you can often just turn up to the port on the day or the day before, and compare prices and timetables between the different companies.

Udrive.com.au provide budget rent a car with the latest promotional car hire rates from the world's top 450 car hire companies all around Europe. Book your car hire online in three easy steps. Choose from a large range of vehicles, budget vehicles through to vans and 4WD four wheel drives. Choose from our large list of pickup locations in Spain. Udrive.com.au will compare rates for all the top car rental suppliers to find you the very best deal on your Spain car hire.
Try our simple-to-use booking engine to compare car hire deals in Spain. Type in your pickup and drop off locations & other information required and we'll immediately provide you with some quotations. Whether you're after an economy Spain car hire, or a luxury Spain rental vehicle, we have the perfect deal for you. Our low cost car rentals are provided by well-known suppliers such as Avis, Hertz and Europcar, but we can often provide better car hire rates!
In the south of Spain, there is a region called the Costa Del Sol. Non-Europeans may not be familiar with the name but it has been a long-time favourite holiday destination for Europeans, especially British families who enjoy cheap deal packages on their flights and accommodation. The region now also accommodates many ex-pats.
The name literally translates to "coast of sun", and although the summer months receive more tourism, it is open all year round for visitors. There are many popular resorts including Torremolinos and Fuengirola but in my opinion, the jewel sits on the east of the coastline and it is the small but luring resort of Nerja
Getting There
The nearest airport to fly into is Malaga. You can pre-order car hire pick-up from the airport because the coastline is popular as a road trip destination. Do not land at the airport and get straight into a taxi because the costs are hefty. By car, the transfer from Malaga to Nerja is 45 minutes.
Accommodation
During winter months, it is possible just to arrive and choose accommodation because this is low season, however in summer, pre-book to avoid disappointment. Nerja is more of an exclusive destination so prices are a little higher than average. Expect to pay around 55 euros a night for one room. If you are a large group or family intent on staying for more than a week, also consider self-catering apartments.
Eating Out and Drinking
There is every type of restaurant open; serving many international dishes so all tastes are catered for. If you have rented self-catering accommodation, the supermarket, although not large, stocks many goods and there are a few shops in the centre selling expat items and brands. The Plaza Tutti Fruitti is the main place to gather at nighttime for karaoke bars and nightclubs.
Things to Do in Nerja
• The Caves of Nerja are the number one attraction, mainly for their stunning beauty and acoustics. Historians estimate the skeleton remains and ancient paintings that were discovered date from the Bronze Age.
• Carabeillo and Burriana Beach are popular and the latter is well known for its delicious paella served by beachfront restaurants.
• The hillside and traditional village of Frigiliana is renowned for its landscape beauty, artisans selling handicrafts and regional cuisine. It is a short ten-minute drive by car.
• Scuba diving and water sports will keep fidgety teenagers happy.
• Explore the much larger city of Malaga, an hour's drive away. It is especially favoured for its trendy seaport with upper-class establishments.

---
Top Car Hire Locations in Spain
---
User Friendly Spain Car Hire
This is not exactly going to be a mountain of information, but the pick-up and processing was seemless and welcoming. The vehicle didn't miss a beat, was easy to drive, and very economical. Drop-off was a reprise of the pick-up.
All in all, user friendly!