Great Prices
We challenge you to find cheaper! Our rates include unlimited mileage, one-way fees and roadside assist*. Why pay more?
Wide Selection
We have around 20,000 depots around the world. We offer a great range of vehicles at competitive prices, from the most reputable suppliers
24/7 Hotline
We provide 24/7 service while you're on the road. You can also call 1800 761 192 , leave a message, and we'll return your call.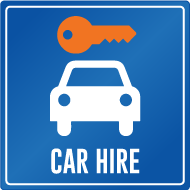 Malaga Information
Malaga is a city in the Autonomous Community of Andalusia, Spain. It is the second most populous city of Andalusia, the sixth largest in Spain and 43rd-most populous municipality in the European Union, with a population of 566,447 in 2008. It is the 8th largest European city above the Mediterranean Sea and experiences the warmest winters of any European city with a population over 250,000, with a Mediterranean-Subtropical climate. It lies in southern Spain, on the Costa del Sol (Coast of the Sun), about 100 km east of the Strait of Gibraltar.
The archaeological remains and monuments from the Phoenician, Roman, Arabian and Christian epochs convert the historic center into an 'Open Museum' displaying its rich history of more than 3,000 years. Malaga is the birthplace of artist Pablo Picasso and was the port city for Spanish military leader Bernardo de Galvez, who served as Louisiana Governor.
For more information, visit http://en.wikipedia.org
Udrive.com.au provide budget rent a car with the latest promotional car hire rates from the world's top 450 car hire companies. Book your car hire online in three easy steps. Choose from a large range of vehicles, budget vehicles through to vans and 4WD four wheel drives. Choose from our large list of pickup locations in Spain. Udrive.com.au will compare rates for all the top car rental suppliers to find you the very best deal on your Malaga car hire.
Compare Cheap Malaga Car Hire
Try our simple-to-use booking engine to compare car hire deals in Malaga. Type in your pickup and drop off locations & other information required and we'll immediately provide you with some quotations. Whether you're after an economy Malaga car hire, or a luxury Malaga rental vehicle, we have the perfect deal for you. Our low cost car rentals are provided by well-known suppliers such as Avis, Hertz and Europcar, but we can often provide better car hire rates!
In the south of Spain, there is a region called the Costa Del Sol. Non-Europeans may not be familiar with the name but it has been a long-time favourite holiday destination for Europeans, especially British families who enjoy cheap deal packages on their flights and accommodation. The region now also accommodates many ex-pats.
The name literally translates to "coast of sun", and although the summer months receive more tourism, it is open all year round for visitors. There are many popular resorts including Torremolinos and Fuengirola but in my opinion, the jewel sits on the east of the coastline and it is the small but luring resort of Nerja
Getting There
The nearest airport to fly into is Malaga. You can pre-order car hire pick-up from the airport because the coastline is popular as a road trip destination. Do not land at the airport and get straight into a taxi because the costs are hefty. By car, the transfer from Malaga to Nerja is 45 minutes.
Accommodation
During winter months, it is possible just to arrive and choose accommodation because this is low season, however in summer, pre-book to avoid disappointment. Nerja is more of an exclusive destination so prices are a little higher than average. Expect to pay around 55 euros a night for one room. If you are a large group or family intent on staying for more than a week, also consider self-catering apartments.
Eating Out and Drinking
There is every type of restaurant open; serving many international dishes so all tastes are catered for. If you have rented self-catering accommodation, the supermarket, although not large, stocks many goods and there are a few shops in the centre selling expat items and brands. The Plaza Tutti Fruitti is the main place to gather at nighttime for karaoke bars and nightclubs.
Things to Do in Nerja
• The Caves of Nerja are the number one attraction, mainly for their stunning beauty and acoustics. Historians estimate the skeleton remains and ancient paintings that were discovered date from the Bronze Age.
• Carabeillo and Burriana Beach are popular and the latter is well known for its delicious paella served by beachfront restaurants.
• The hillside and traditional village of Frigiliana is renowned for its landscape beauty, artisans selling handicrafts and regional cuisine. It is a short ten-minute drive by car.
• Scuba diving and water sports will keep fidgety teenagers happy.
• Explore the much larger city of Malaga, an hour's drive away. It is especially favoured for its trendy seaport with upper-class establishments.
We just arrived back home and we wanted to say how please we were with the car we've rented by UDrive. We've rented our car from Malaga airport. Staff at the airport spoke perfect English and very helpful. I could not fault their service. It was also pleasant to book through a local company in Australia as well. We will use your service again.