Great Prices
We challenge you to find cheaper! Our rates include a brand new vehicle, unlimited mileage, insurance and roadside assist*. Why pay more?
Wide Selection
We offer a great range of vehicles at competitive prices, from the most reputable suppliers.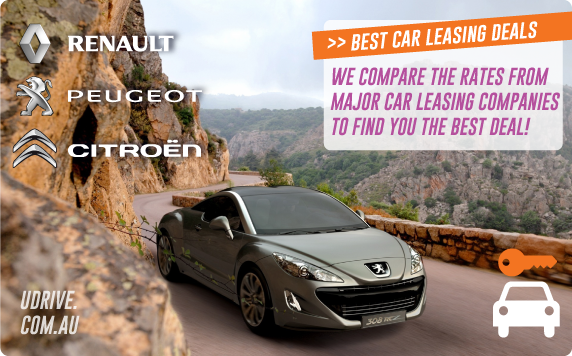 Car leasing is a fantastic alternative to long term car rental in Calais. The insurance included is certainly a highlight, covering many European countries! Leasing is a tax free buy back programme endorsed by the French government to encourage tourism.
There are only 3 companies you can lease from in Calais and these are; Renault, Peugeot and Citroen. The variety of vehicles offered by these three companies are extensive and selection of the best deal can be an overwhelming experience. Udrive takes the hassle from our customers and compare the rates from these three companies to suit your needs. We will simply compare and provide you with the best possible quote from one of these companies within 24 hours of receiving your quote request. We're confident that once you've compared our prices to those elsewhere, you'll find that our deals are unbeatable.
Udrive has also come to enjoy a well-deserved reputation for client service. We have operators available to answer your email enquiries seven days a week, so you can be sure of a prompt reply.
Udrive is 100% Australian owned. It was founded by a group of Australians with extensive international experience in the travel industry. We understand that today's travellers want to take advantage of a competitive market to get the greatest possible deal. Together with our partner UK and Europe Travel, we can offer fantastic European car, 4WD & mini van deals.
Why Book Your Lease With Udrive.com.au?
- Most reputable companies
- Simple bookings
- Great internet-only prices
- No hidden extras
- Australian customer service centre
- Prompt customer support
Benefits of European Car Leasing
- Receive a brand new vehicle
- 24 hour roadside assistance *
- Unlimited kilometers
- Over 30 European pick up and drop off locations *
- Full insurance with no excess *
- Coverage in 42 countries *
* Conditions apply.
Specifically designed for non-European residents and travellers planning an extended holiday in Calais between 17 and 175 days, all vehicles are left-hand drive. It is a great alternative to car hire allowing you to explore the best of Calais as soon as you arrive.
Please note that most vehicles include insurance with no vehicle excess, full factory warranty, personal accident insurance, free additional drivers, unlimited kilometres and 24 hour roadside assistance in 8 countries throughout Calais.
Europe Car Leasing - Who is Eligible?
To be eligible for car lease, you must meet all of the following conditions:
- Your country of residence must be outside the European Union;
- You must spend less than 185 consecutive days in Europe in a year;
- You must not be in Europe for business purposes;
- You must be over 18 the day the vehicle is delivered; and
- Have held a driving licence for more than one year.
Located in Northern France, Calis is one of the country's most important cities, mainly because of its ferry routes and operations. Officially called Pas-de-Calais, it also holds the status of being the nearest French town to England.
There is no doubt that if you are on a driving holiday of Europe, you will at some point pass through the region so we have listed some interesting information to enhance your visit. Most people just drive through but there are plenty of reasons to consider spending the night there.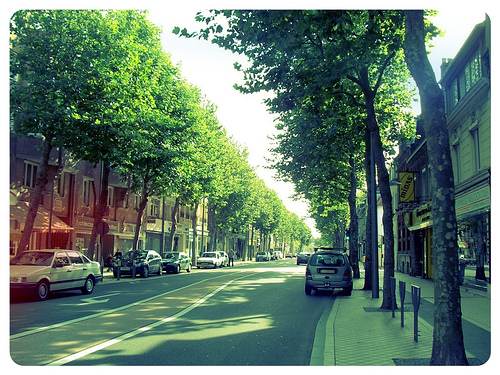 (Picture by Carawah)
Facts and Information about Calais in France
On a clear day, the white cliffs of Dover in England can be seen from Calis
The town was controlled by British rule from 1356 to 1558 until the French captured it. The British were eager to hold onto it due to its position on major trading routes.
An estimated 24 million people pass through the town every year
It is a great base to explore the French Flanders, a historical Dutch speaking region
The old part of the town, situated on an artificial island is known as Calais-Nord
Calis is also known as a major fishing point
Its current population is roughly 4 million
In addition to fishing and ferries, the long established trade of lace has always earned Calis a reputable name
During German occupation it was heavily fortified because of its close position to England
The Second World War more or less flattened the city leading to major rebuilding plans after the war ended
The hottest months are historically July and August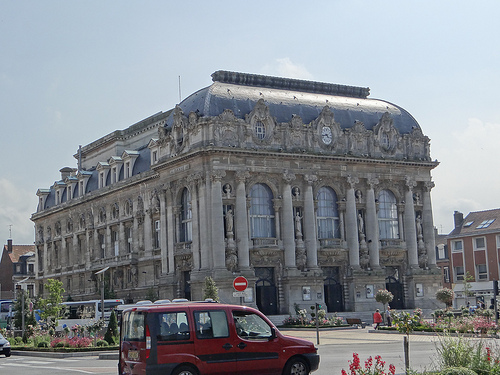 (Picture by Gary Bembridge)
The most recognised landmarks of Calais are…
Place d'Armes, a town square which holds a busy market on a Wednesday and Saturday
The Hôtel de Ville is a town hall which is also listed as a UNESCO site and one of the most visited attractions in the region
The Église Notre-Dame is a cathedral dating back to the 13th century
The Dentelle museum is a lace and fashion museum
The Musee de Guerre is dedicated to artefacts from World War Two and set in an old Nazi bunker
Calis beach is long and sandy, perfect for anyone who likes swimming or sunbathing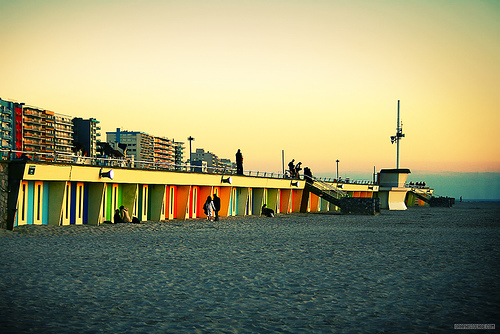 (Picture by Graphlistlage)
If time is no object, drive 50 minutes along the D940 coastal road and you will reach a lovely little town called Le Touquet Paris-Plage which is known as Paris by the sea. Most of the houses date back to the 1930s and it has become known as popular seaside retreat.
This quaint destination is perfect for an overnight family stay while on your way to other destinations in France. Take time to explore the promenade which also has mini golf and a water park that the kids will enjoy
Just wanted to let you know what a great trip we've made through Europe. But most importantly how seamless the organisation was by you. I called Calais as instructed prior to collection, and spoke with Stanislas, who's use of English was very helpful for me. He arranged to collected me from the ferry terminal. Delivered me to my car, and went through all the relevant items before sending me on my way. It couldn't have gone more smoothly especially the fact, passport issues for my wife, meant I travelled ahead on my own to collect the car. Meeting Kate a few days later in Hamburg. The car performed perfectly, and was quite comfortable for the trip. SatNav a godsend! Drop off was equally as simple, calling Rome a few days prior. Again staff there made it easy with the use of English. Ten minutes later we were being transferred to the airport. Again, all too easy. I'm so pleased to say that the entire trip went without a drama.
Our family recently enjoyed a fantastic holiday driving through Europe. A highlight was leasing our car through Udrive. The staff were extremely helpful. The car was brilliant. The picking up and dropping off of the vehicle was easy and we were even provided with a free shuttle service to our ferry terminal at the end of our lease. We were very appreciative of the staff and their efforts at U Drive.
Just wanted to let you know that are now safely home in Australia. We were away 6.5 months in total! Thanks for all your help with the car, it all went to plan. The car was good, the perfect size for us. Pick and delivery were both easy and fast.
We leased a Peugeot from Calais, though in retrospect should have had it delivered to London. Returned it in Frankfurt, had it for total 88 days. Carolyn at Udrive was very smart about how to take advantage of all the specials on offer, and gave us really detailed briefings. Once we arrived, everything went exactly as she said. It was nice to have our own, brand new car rather than a rental which sometimes smells, or isn't clean.
We've recommended car leasing and Udrive to other people. If we were to take another big European trip we would definitely consider this. Even if we only needed car rental, we wouldn't hesitate to use Udrive again. Thanks.