Great Prices
We challenge you to find cheaper! Our rates include a brand new vehicle, unlimited mileage, insurance and roadside assist*. Why pay more?
Wide Selection
We offer a great range of vehicles at competitive prices, from the most reputable suppliers.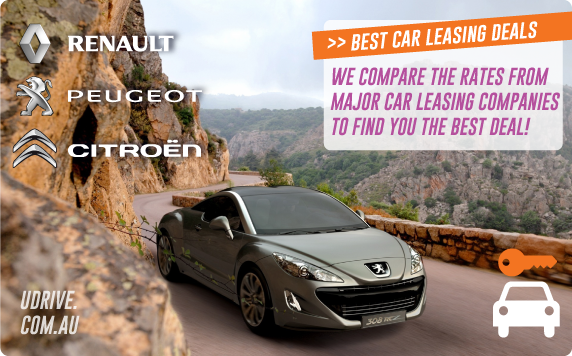 Car leasing is a fantastic alternative to long term car rental in France. The insurance included is certainly a highlight, covering many European countries! Leasing is a tax free buy back programme endorsed by the French government to encourage tourism.
There are only 3 companies you can lease from in France and these are; Renault, Peugeot and Citroen. The variety of vehicles offered by these three companies are extensive and selection of the best deal can be an overwhelming experience. Udrive takes the hassle from our customers and compare the rates from these three companies to suit your needs. We will simply compare and provide you with the best possible quote from one of these companies within 24 hours of receiving your quote request. We're confident that once you've compared our prices to those elsewhere, you'll find that our deals are unbeatable.
Udrive has also come to enjoy a well-deserved reputation for client service. We have operators available to answer your email enquiries seven days a week, so you can be sure of a prompt reply.
Udrive is 100% Australian owned. It was founded by a group of Australians with extensive international experience in the travel industry. We understand that today's travellers want to take advantage of a competitive market to get the greatest possible deal. Together with our partner UK and Europe Travel, we can offer fantastic European car, 4WD & mini van deals.
Why Book Your Lease With Udrive.com.au?
- Most reputable companies
- Simple bookings
- Great internet-only prices
- No hidden extras
- Australian customer service centre
- Prompt customer support
Benefits of European Car Leasing
- Receive a brand new vehicle
- 24 hour roadside assistance *
- Unlimited kilometers
- Over 30 European pick up and drop off locations *
- Full insurance with no excess *
- Coverage in 42 countries *
* Conditions apply.
Specifically designed for non-European residents and travellers planning an extended holiday in France between 17 and 175 days, all vehicles are left-hand drive. It is a great alternative to car hire allowing you to explore the best of France as soon as you arrive.
Please note that most vehicles include insurance with no vehicle excess, full factory warranty, personal accident insurance, free additional drivers, unlimited kilometres and 24 hour roadside assistance in 8 countries throughout France.
Europe Car Leasing - Who is Eligible?
To be eligible for car lease, you must meet all of the following conditions:
- Your country of residence must be outside the European Union;
- You must spend less than 185 consecutive days in Europe in a year;
- You must not be in Europe for business purposes;
- You must be over 18 the day the vehicle is delivered; and
- Have held a driving licence for more than one year.
There is no doubt that France is a popular country. Foreigners intrigued by weird cuisine, a lispy, yet romantic language, and well-known touristic sites, attract millions of visitors every year. The culture, history and high standards of living, enable French citizens to treat their guests, with hospitality and courtesy. Any first time visit to France can be a little daunting, especially if you are not well travelled, so we have collected this list of fun facts to get you in the mood.
Fun Facts about French Food, Travel, Culture and History

Food and Drink
French people place great importance on food. If you are travelling there for a business meeting, do not be surprised for lunch to last two or more hours. A traditional saying before starting a meal is to wish other guests, an enjoyable meal. Do this by saying Bon appétit
Traditional cuisine that often seems strange to foreign visitors includes frogs legs, snails and horse meat. It is estimated that yearly, over 500,000,000 snails are consumed.
The French are the largest cheese consumers in the world. Wine and cheese lovers will certainly enjoy tasting the variety on offer. Did you know there are more than 350 different types of cheeses? Popular ones to sample include Brie, Beaufort, and Camembert.
The British dish of quiche, actually originated from France.
Try le foie gras, which is the liver of a fat goose or duck. It is a regional delicacy.
Paris lists more than 5000 restaurants serving food from all around the world.
Truffles are a favourite food for the French and are often cited for their aphrodisiac qualities.
American author Julia Child is widely credited for introducing French cuisine to America
French liquors to try include Cointreau, Cognac, Armagnac, and Pastis.
Culture and Traditions
French people call the English "les rosbifs", which refers to the traditional Sunday lunch of roast beef
The Capital is Paris and the currency is euros
The total population is 65 million people of which a majority are Christian
Claude Monet was a famous painter who is now honoured for his work
The three musketeers, is one of the most popular books ever sold
The Tour De France started in 1903
French people greet each other by kissing on the cheeks
History
The Celtic Gauls ruled from approximately 700 to 500 BC
The Romans ruled from 50 BC to 476AD
The French revolution happened in 1789
The same engineer, who designed the statue of liberty, built the Eiffel tower in Paris
From 1804 to 1815, Napoleon Bonaparte ruled the country
It was only in 1964, that women were legally allowed to open a bank account without their husband's permission
The French have invented many ground-breaking techniques and objects including cinema, photography and the hot air balloon
Travel
Recommended attractions to see in Paris are the Eiffel Tower, Notre Dame, Louvre, and the Arc de Triomphe.
Everyone heads to the French Alps for good skiing opportunities
France has 24 rivers that are more than 300 kilometres long
Be careful if you head to Brittany or Normandy because they have the strongest tides in Europe
Many French people speak English as a second language, particularly in the tourist destinations
Estimations are that France has over 40,000 castles, palaces, and stately buildings
The Louvre is the largest palace in the world, covering 210,000 square meters
France has 28 sites on the UNESCO world Heritage list
Tourism figures for 2012 suggest more than 81 million foreigners entered the country
---
Car Leasing Locations in France
---
We leased a Citroen in France this summer, and took it into several neighbouring countries. We had done a bit of research into leasing, but still had quite a few questions. Udrive offered a good discounted rate, but their service was second to none.
All questions answered quickly and accurately, and they made good suggestions about things we hadn't considered. It was our 'trip of a lifetime,' but now we're trying to work out how to do another lease in a couple of years, driving around UK and Ireland! Will use Udrive again.
Udrive provided a great deal on our most recent car lease through Citroen. We do this every couple of years, but will make Udrive our first stop when planning the next one. Rates and inclusions were better than anyone else offered.
Our car lease in France ran smoothly. Everything was as promised, and straightforward. Well done.