Great Prices
We challenge you to find cheaper! Our rates include a brand new vehicle, unlimited mileage, insurance and roadside assist*. Why pay more?
Wide Selection
We offer a great range of vehicles at competitive prices, from the most reputable suppliers.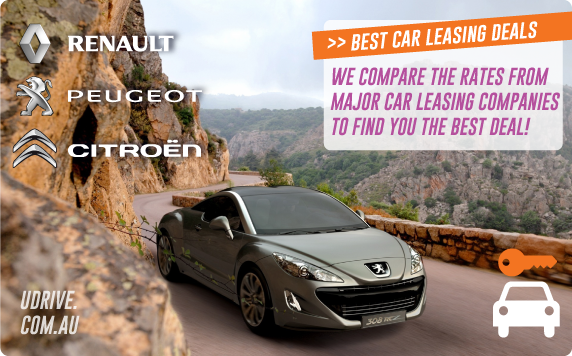 Car leasing is a fantastic alternative to long term car rental in Lyon. The insurance included is certainly a highlight, covering many European countries! Leasing is a tax free buy back programme endorsed by the French government to encourage tourism.
There are only 3 companies you can lease from in Lyon and these are; Renault, Peugeot and Citroen. The variety of vehicles offered by these three companies are extensive and selection of the best deal can be an overwhelming experience. Udrive takes the hassle from our customers and compare the rates from these three companies to suit your needs. We will simply compare and provide you with the best possible quote from one of these companies within 24 hours of receiving your quote request. We're confident that once you've compared our prices to those elsewhere, you'll find that our deals are unbeatable.
Udrive has also come to enjoy a well-deserved reputation for client service. We have operators available to answer your email enquiries seven days a week, so you can be sure of a prompt reply.
Udrive is 100% Australian owned. It was founded by a group of Australians with extensive international experience in the travel industry. We understand that today's travellers want to take advantage of a competitive market to get the greatest possible deal. Together with our partner UK and Europe Travel, we can offer fantastic European car, 4WD & mini van deals.
Why Book Your Lease With Udrive.com.au?
- Most reputable companies
- Simple bookings
- Great internet-only prices
- No hidden extras
- Australian customer service centre
- Prompt customer support
Benefits of European Car Leasing
- Receive a brand new vehicle
- 24 hour roadside assistance *
- Unlimited kilometers
- Over 30 European pick up and drop off locations *
- Full insurance with no excess *
- Coverage in 42 countries *
* Conditions apply.
Specifically designed for non-European residents and travellers planning an extended holiday in Lyon between 17 and 175 days, all vehicles are left-hand drive. It is a great alternative to car hire allowing you to explore the best of Lyon as soon as you arrive.
Please note that most vehicles include insurance with no vehicle excess, full factory warranty, personal accident insurance, free additional drivers, unlimited kilometres and 24 hour roadside assistance in 8 countries throughout Lyon.
Europe Car Leasing - Who is Eligible?
To be eligible for car lease, you must meet all of the following conditions:
- Your country of residence must be outside the European Union;
- You must spend less than 185 consecutive days in Europe in a year;
- You must not be in Europe for business purposes;
- You must be over 18 the day the vehicle is delivered; and
- Have held a driving licence for more than one year.
In the East Central region of France stands the magnificent city of Lyon. With a population of over 484,000, it is the capital of the Rhones-Alps region. It is an ideal destination for travel because it presents a variety of interesting landmarks, beautiful places and delicious cuisine. Here are some fun facts to get your travel plans to Lyon started.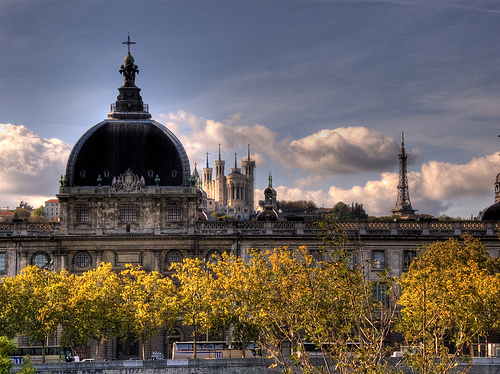 (Picture by Nicolas)
Facts and Places to see in Lyon, France
Citizens of the city are called Lyonnais
The city is a UNESCO world heritage site known for its historical buildings.
In history, it was an important area for silk production
These days, it is the delicious cuisine that has earned it a well-deserved reputation
The cinematograph picture camera was invented in Lyons
Every December, the city gets busy when the four day "Festival of lights" starts
The local football team is called Olympique Lyonnais
As well as being occupied by German forces during World War Two, it also had a strong resistance presence
The city is the headquarters of Interpol, the international police federation
The hottest months for travel are generally June to August
The coldest months are usually December and January
Two famous wine growing areas are located near Lyons; the Beaujolis and Cotes De Rhone
A favourite local dish is Gras double which is tripe cooked with onions.
It is the second richest city in France, succeeded only by Paris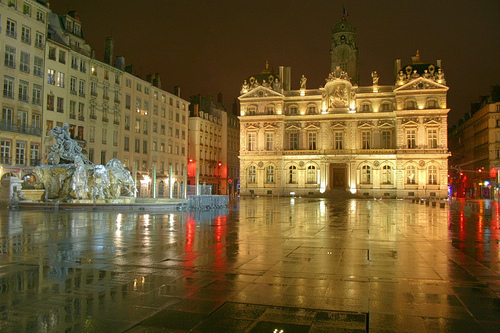 (Picture by Cepren)
Places to see in Lyon, France
There are a wide range of tours and attractions to visit, many of them being historical landmarks. They include
Roman ruins near Fourvière Basilica
The Cathedral of Saint John with elements that date back to the 13th century
The African museum of Lyon is one of the oldest in the city and dedicated to stories of missions in Africa
The Golden Head Park covers 117 hectares and is the largest urban park in France
The word famous chef Paul Bocuse bases himself in Lyon. At his restaurant, a client can pay anything from 148 Euro upwards for a three course meal.
A Lyon city card will save you money on the major attractions and sites to see
Guided walking tours of the districts of Lyon and cultural places are popular with visitors
Book a boat cruise up the river Rhone
The Passage Thiaffait is a variety of workshops dedicated to creative fashion
Photographers should head to the photo gallery of Galerie le Réverbère
Although not French, the Supermarché Asieius a great little Chinatown with a blend of Asian influences
Hi Michael could not fault Udrive experience again had the car for 83 days and had no problems returned the car in as new condition and would recommend udrive to all our friends who travel Regards Baz and Jen