Great Prices
We challenge you to find cheaper! Our rates include a brand new vehicle, unlimited mileage, insurance and roadside assist*. Why pay more?
Wide Selection
We offer a great range of vehicles at competitive prices, from the most reputable suppliers.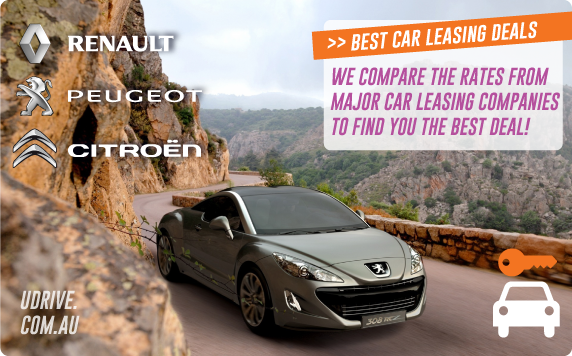 Car leasing is a fantastic alternative to long term car rental in Milan. The insurance included is certainly a highlight, covering many European countries! Leasing is a tax free buy back programme endorsed by the French government to encourage tourism.
There are only 3 companies you can lease from in Milan and these are; Renault, Peugeot and Citroen. The variety of vehicles offered by these three companies are extensive and selection of the best deal can be an overwhelming experience. Udrive takes the hassle from our customers and compare the rates from these three companies to suit your needs. We will simply compare and provide you with the best possible quote from one of these companies within 24 hours of receiving your quote request. We're confident that once you've compared our prices to those elsewhere, you'll find that our deals are unbeatable.
Udrive has also come to enjoy a well-deserved reputation for client service. We have operators available to answer your email enquiries seven days a week, so you can be sure of a prompt reply.
Udrive is 100% Australian owned. It was founded by a group of Australians with extensive international experience in the travel industry. We understand that today's travellers want to take advantage of a competitive market to get the greatest possible deal. Together with our partner UK and Europe Travel, we can offer fantastic European car, 4WD & mini van deals.
Why Book Your Lease With Udrive.com.au?
- Most reputable companies
- Simple bookings
- Great internet-only prices
- No hidden extras
- Australian customer service centre
- Prompt customer support
Benefits of European Car Leasing
- Receive a brand new vehicle
- 24 hour roadside assistance *
- Unlimited kilometers
- Over 30 European pick up and drop off locations *
- Full insurance with no excess *
- Coverage in 42 countries *
* Conditions apply.
Specifically designed for non-European residents and travellers planning an extended holiday in Milan between 17 and 175 days, all vehicles are left-hand drive. It is a great alternative to car hire allowing you to explore the best of Milan as soon as you arrive.
Please note that most vehicles include insurance with no vehicle excess, full factory warranty, personal accident insurance, free additional drivers, unlimited kilometres and 24 hour roadside assistance in 8 countries throughout Milan.
Europe Car Leasing - Who is Eligible?
To be eligible for car lease, you must meet all of the following conditions:
- Your country of residence must be outside the European Union;
- You must spend less than 185 consecutive days in Europe in a year;
- You must not be in Europe for business purposes;
- You must be over 18 the day the vehicle is delivered; and
- Have held a driving licence for more than one year.
Milan, the fashion capital of Italy is a large multicultural city with a lot to offer visitors. As the second largest metropolis in the country, its population has exceeded 5 million. Founded by the Celtics, it was also ruled by the Romans, Spanish, Austrians, and French. After a harsh period and extensive bombing under German rule in World War 2, the city flourished in terms of economic and educational success. As well as being the home of two major football teams, it is also the proud host of international festivals and historical sites.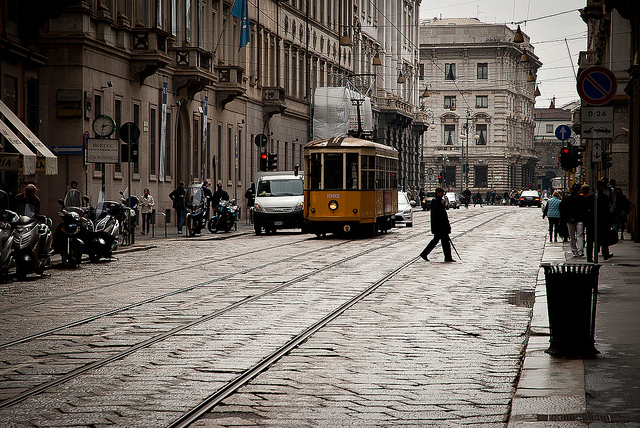 (Milan streets – picture by Fernado)
Best Places to Visit in Milan, Italy
La Scala is the most prestigious opera house in the country. It opened in 1778
Quadrilatero della moda is not for the budget conscious. It is considered the fashion capital of Milan with its many side streets hosting exclusive shops. If you can spend 500 dollars on the plastic, simply for a pair of shoes, this is for you. Otherwise, it still makes for interesting window-shopping.
Restaurants serving traditional Italian cuisine can be found in the Brera and Navigli neighbourhoods. The city is famous for its Cotoletta that is breaded veal
The famous painting of Leonardo, the Last Supper can be seen at the Santa Maria Delle Grazie. This attraction is extremely popular and entrance is limited to a few people at any time. To avoid disappointment, you may want to buy your ticket online before your planned visit.
Get a fantastic panoramic view from the roof of the Duomo, a large church boasting of equally impressive neo-gothic and baroque architecture.
Famous Landmarks
The cathedral of Milan took nearly six centuries to complete and it is the fifth largest in the world. The architecture of outside is worth admiring but artefacts inside the cathedral are equally as impressive. They included ancient statues and sarcophagus.
The Galleria Vittorio Emanuele is a large glass covered dome walkway consisting of a variety of shops and restaurants.
The public gardens are a spacious green centre in the heart of the city. Within the parks, there is a lake and it makes a great day out for a family picnic.
The Via Dante is a long street showing the diversity of the city. From shops to sidewalk performers, it makes for interesting exploration.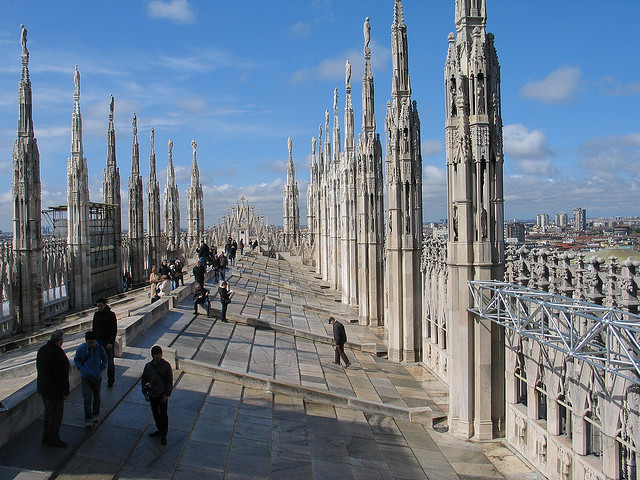 (roof of the Duomo – picture by Batigolix)
Milan has excelled in terms of preserving its history and artefacts of notable citizens. There are many museums and buildings of research located throughout the city. A few of the best include..
Pinacoteca di Brera is a large collection of paintings by Italian artists including Raphael
The Costello complex houses separate museums including ancient art, musical instruments, furniture, and Egyptian history
The Museum of Risorgimento focuses on the history of Italian unification
Museo del Novecento concentrates on showcasing 20th century art
We are now back in Australia after spending 3 months in Europe. The car lease with Peugeot was the highlight of our holiday.
The arrangements you made for us for the second time in 2 years was perfect and the all procedure was as easy as you told us to be.
The Peugeot 2008 was the right size and we did 12000 Km around Europe in different countries effortless, and also when we needed to fix some electronic problems, a Peugeot dealer in Italy, promptly fix the problem at no cost to us. So, thank you once again UDrive.

I must say that on the whole our experience with the lease car was excellent, and I thank you for establishing a seamless process which meant we got the car we expected, and as expected. This is in contrast with our experience with Avis for a hire car in Sicily. The process before we left for europe was painless, and left us confident that we would have a trouble free time on arrival. This however was not the case. Once we arrived at the depot, the process was comfortable, with minimal fuss as most of the paperwork was completed through you prior to leaving Australia. The car we received as lease vehicle was just as specified, if anything maybe upgraded, as the model had some features like a sunroof and upgraded seats which were not expected. The handover process was simple and fuss free, and we had the representative set up the electronics in a way that we could operate without technical glitches, as I am unfamiliar with some of the newer technology. Choosing an automatic vehicle was certainly a benefit, as driving on the wrong side of the road was enough challenge without having to fuss over gearing as well. Overall the car was a lovely choice, easy to drive, with great handling and comfortable interior. We did manage to return the vehicle undamaged despite the best efforts of Italian drivers who thought my driving was too slow. The return process was much better handled, as we had to simply drop the vehicle off, have it checked over, which took all of 5 minutes, sign a form then we were taken to the train to catch our ride to Munich. Nothing could be more simple. Overall our experience with leasing was positive, and if we had not experienced the frustrating wait at Rome, we would say that we had the perfect experience. I am pleased that we chose to lease the Peugeot 208, and could confidently recommend others consider a similar choice. Thanks for your assistance.
The leasing arrangement organised through Udrive, went extremely well. Booking through Udrive was easy and very quick. Michael was very quick to respond when we had questions. All the information provided was clear and the leasing and pick-up process was straight forward. We had the car for the maximum period possible and it would have been impossible to have had one for as long with a standard hire car – and much more expensive. We had a Peugeot and whilst we had no problem whatsoever with the car, we had feedback from other people we met who had also leased a Peugeot that the support provided from Peugeot when they had an accident was first class.