Great Prices
We challenge you to find cheaper! Our rates include a brand new vehicle, unlimited mileage, insurance and roadside assist*. Why pay more?
Wide Selection
We offer a great range of vehicles at competitive prices, from the most reputable suppliers.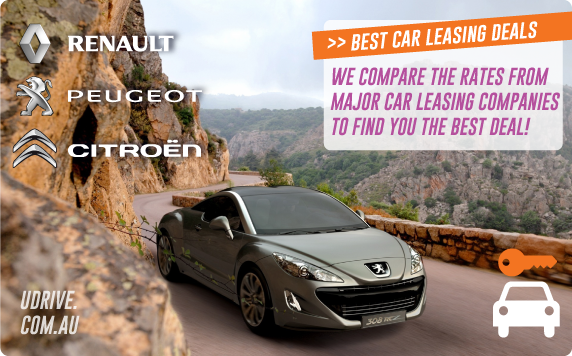 Great Savings For Your Long Term Italy Vehicle Needs. Car leasing is a fantastic alternative to long term car rental in Italy. The insurance included is certainly a highlight, covering many European countries! Leasing is a tax free buy back programme endorsed by the French government to encourage tourism.
There are only 3 companies you can lease from in Italy and these are; Renault, Peugeot and Citroen. The variety of vehicles offered by these three companies are extensive and selection of the best deal can be an overwhelming experience. Udrive takes the hassle from our customers and compare the rates from these three companies to suit your needs. We will simply compare and provide you with the best possible quote from one of these companies within 24 hours of receiving your quote request. We're confident that once you've compared our prices to those elsewhere, you'll find that our deals are unbeatable.
Udrive has also come to enjoy a well-deserved reputation for client service. We have operators available to answer your email enquiries seven days a week, so you can be sure of a prompt reply.
Udrive is 100% Australian owned. It was founded by a group of Australians with extensive international experience in the travel industry. We understand that today's travellers want to take advantage of a competitive market to get the greatest possible deal. Together with our partner UK and Europe Travel, we can offer fantastic European car, 4WD & mini van deals.
Why Book Your Lease With Udrive.com.au?
- Most reputable companies
- Simple bookings
- Great internet-only prices
- No hidden extras
- Australian customer service centre
- Prompt customer support
Benefits of European Car Leasing
- Receive a brand new vehicle
- 24 hour roadside assistance *
- Unlimited kilometers
- Over 30 European pick up and drop off locations *
- Full insurance with no excess *
- Coverage in 42 countries *
* Conditions apply.
Specifically designed for non-European residents and travellers planning an extended holiday in Italy between 17 and 175 days, all vehicles are left-hand drive. It is a great alternative to car hire allowing you to explore the best of Italy as soon as you arrive.
Please note that most vehicles include insurance with no vehicle excess, full factory warranty, personal accident insurance, free additional drivers, unlimited kilometres and 24 hour roadside assistance in 8 countries throughout Italy.
Europe Car Leasing - Who is Eligible?
To be eligible for car lease, you must meet all of the following conditions:
- Your country of residence must be outside the European Union;
- You must spend less than 185 consecutive days in Europe in a year;
- You must not be in Europe for business purposes;
- You must be over 18 the day the vehicle is delivered; and
- Have held a driving licence for more than one year.
In the attractive region of Tuscany, Italy, one area shaped the form of travel throughout the country. That is the city of Florence. The once extremely wealthy metropolis was the birthplace of the Renaissance movement in the 14th century and in 1982, was declared a world heritage site. As well as an established trade for city break holidays, it is also a fashion centre for the world. However, what is there to do, while visiting? Many free and paid attractions are available to visitors. Here are our favourites.
Top Five Attractions of Florence, Italy
The Piazza della Signoria is the centre of activity in both daytime and night. A local meeting place, an ideal spot for people watching and the most popular choice for festivals and fairs. The L-shaped Square is also called the Palazzo Vecchio and consists of numerous ancient buildings of which the architectural aspect is interesting. Also worth looking for are numerous old statues of which one is a replica of the famous David statue by Michelangelo. To see the original sculpture, visit the Galleria dell'Accademia.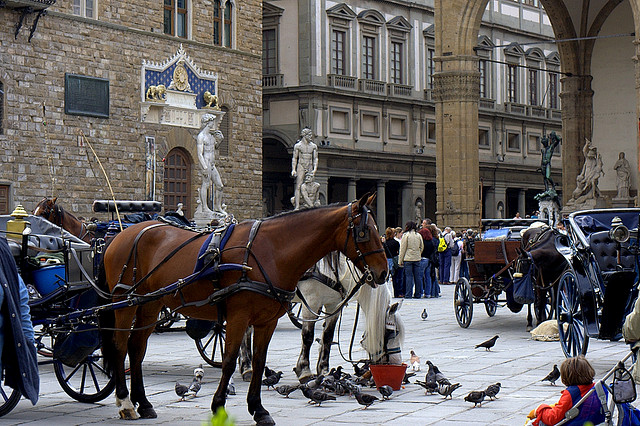 The Cathedral of Santa Maria del Fiore – Il Duomo receives many visitors daily, who all want to admire the historic landmark because it is one of the largest churches in Italy and its dome, is the largest of its kind in the world. The cathedral is especially busy during Christian festivals.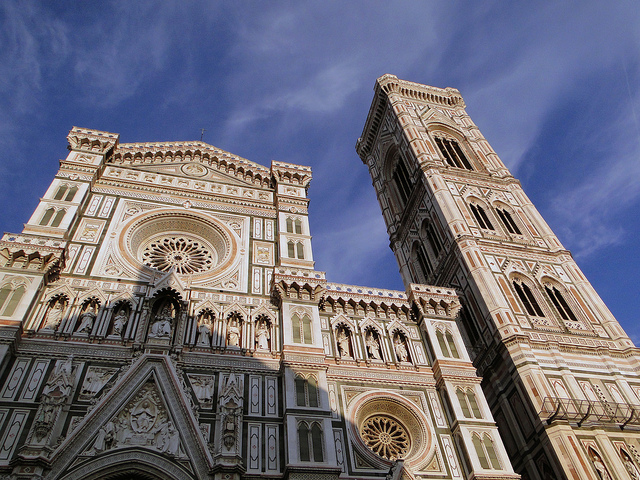 The Ponte Vecchio Bridge is where every traveller heads to, for a holiday photograph of the city. Believed to have been built during Roman times, it has been reconstructed repeatedly, now housing shops and merchants, particularly jewellers and souvenir sellers.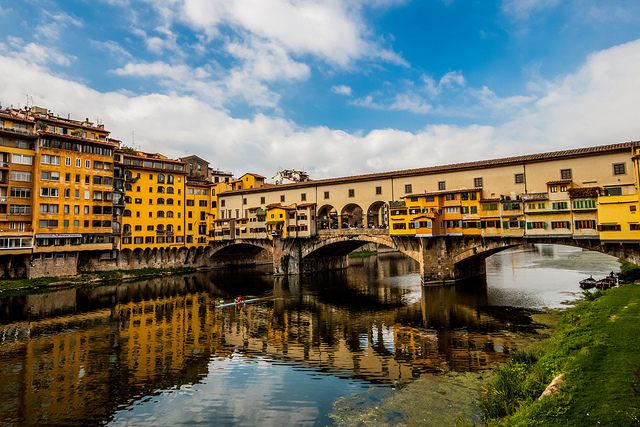 Uffizi Gallery is notorious for its large collection of artwork including pieces by Leonardo da Vinci, Michelangelo, Botticelli, and Raphael. Just three hours is needed to explore it at a leisurely place but book tickets before hand because it does receive many visitors. Its masterpiece collection is from the Renaissance period.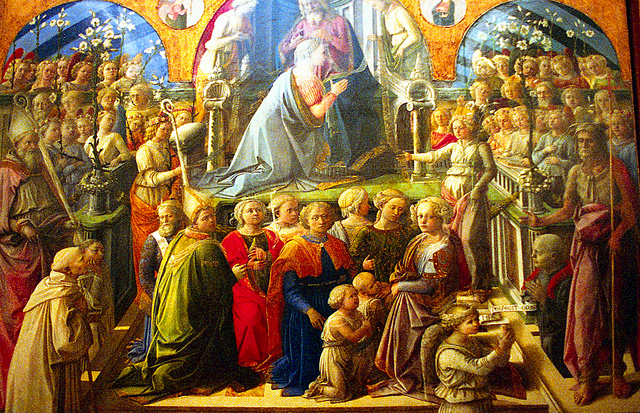 (Photo credit – Russell McNeil)
The Santa Maria district is perfect if you are looking for brand name clothing from Italian designers. However, it is the outdoor markets in the San Lorenzo district that prove the most popular. For artsy shopping such as vintage clothing and antiques, head to the Piazza Santo Spirito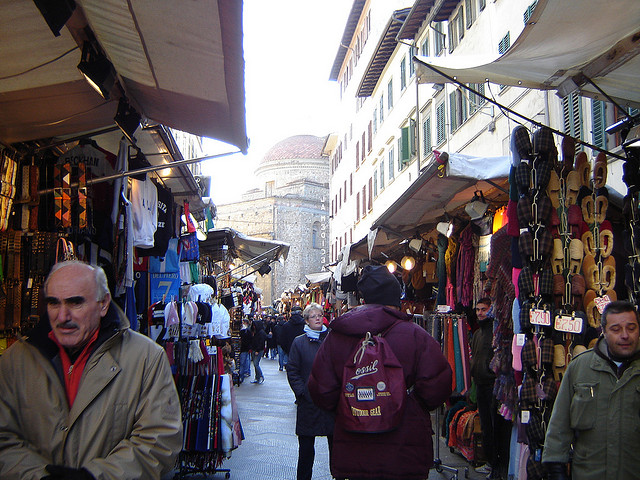 (Photo Credit – Kelly Willson)
Travel Tips: A museum pass, also giving free access to public transport is available here.
Further Reading: Whether you plan to visit just Florence or are completing a road trip of other places in Italy, our search engine sources all local suppliers to bring you the best deals on car hire and rental.
---
Car Leasing Locations in Italy
---
I wanted to write to tell you how impressed we are with the car, and particularly the service by Citreon over here. We are currently in a little house on a hill outside Spoleto and woke yesterday to find that one of the headlights was on. I attempted to start the car and had no joy. I had a friend visiting from Rome who had to catch a train so I immediately called the Assistance line. The man I spoke with couldnt have been more helpful and went into action immediately. In the meantime another member of our group realised that i had inadvertently put the auto wand in R and when moved back to P the car started! What joy! The battery was low-ish but all was fine and i was able to find the same gentleman to cancel the call out. There Was also a follow up later in the day to make sure all was okay.
I would have no hesitation in recommending the Citroen lease service to my friends.

Our car lease went extremely well. Thank you for your assistance in arranging it. The car (Citroen Space Tourer) was great, an excellent fit for our family of 6. It was very reliable for our long 3 month trip across Europe. The pick up in Rome and drop off in Paris were both quick and easy, and communication with you and the 2 car rental companies was always prompt and helpful. We would not hesitate to recommend Udrive to others and we would definitely employ your services again. Thank you very much for your help.
Hi Michael, I found everything so easy dealing with you. You were always prompt with your response to my questions and everything went smoothly when we actually picked up and dropped the car off. I would highly recommend you to others and intend to use you again when I do another trip to Europe.
We've just returned from our 10 week road trip in Europe.
The car leasing arrangements were seamless. We were met at Rome airport by the leasing representative and within 1/2hr we were on our way. The drop off was just as easy. Thanks for organising this for us, leasing is a great way to go for an extended trip.