Great Prices
We challenge you to find cheaper! Our rates include a brand new vehicle, unlimited mileage, insurance and roadside assist*. Why pay more?
Wide Selection
We offer a great range of vehicles at competitive prices, from the most reputable suppliers.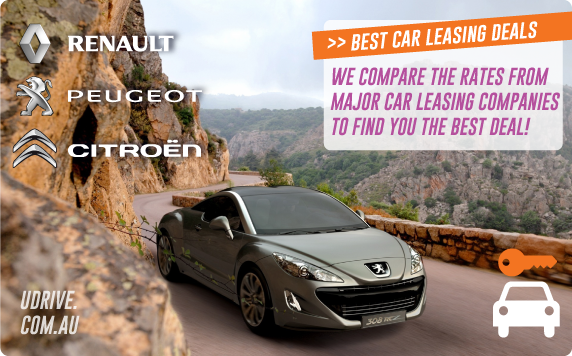 Great Savings For Your Long Term Portugal Vehicle Needs. Car leasing is a fantastic alternative to long term car rental in Portugal. The insurance included is certainly a highlight, covering many European countries! Leasing is a tax free buy back programme endorsed by the French government to encourage tourism.
There are only 3 companies you can lease from in Portugal and these are; Renault, Peugeot and Citroen. The variety of vehicles offered by these three companies are extensive and selection of the best deal can be an overwhelming experience. Udrive takes the hassle from our customers and compare the rates from these three companies to suit your needs. We will simply compare and provide you with the best possible quote from one of these companies within 24 hours of receiving your quote request. We're confident that once you've compared our prices to those elsewhere, you'll find that our deals are unbeatable.
Udrive has also come to enjoy a well-deserved reputation for client service. We have operators available to answer your email enquiries seven days a week, so you can be sure of a prompt reply.
Udrive is 100% Australian owned. It was founded by a group of Australians with extensive international experience in the travel industry. We understand that today's travellers want to take advantage of a competitive market to get the greatest possible deal. Together with our partner UK and Europe Travel, we can offer fantastic European car, 4WD & mini van deals.
Why Book Your Lease With Udrive.com.au?
- Most reputable companies
- Simple bookings
- Great internet-only prices
- No hidden extras
- Australian customer service centre
- Prompt customer support
Benefits of European Car Leasing
- Receive a brand new vehicle
- 24 hour roadside assistance *
- Unlimited kilometers
- Over 30 European pick up and drop off locations *
- Full insurance with no excess *
- Coverage in 42 countries *
* Conditions apply.
Specifically designed for non-European residents and travellers planning an extended holiday in Portugal between 17 and 175 days, all vehicles are left-hand drive. It is a great alternative to car hire allowing you to explore the best of Portugal as soon as you arrive.
Please note that most vehicles include insurance with no vehicle excess, full factory warranty, personal accident insurance, free additional drivers, unlimited kilometres and 24 hour roadside assistance in 8 countries throughout Portugal.
Europe Car Leasing - Who is Eligible?
To be eligible for car lease, you must meet all of the following conditions:
- Your country of residence must be outside the European Union;
- You must spend less than 185 consecutive days in Europe in a year;
- You must not be in Europe for business purposes;
- You must be over 18 the day the vehicle is delivered; and
- Have held a driving licence for more than one year.
After Lisbon, Porto is the second largest city in the cosmopolitan country of Portugal. Settlement in the city dates back thousands of years and in 1996, its history was recognised when it was added to the UNESCO World Heritage Site list. It has a typical Mediterranean climate with the hottest months lasting from June to August. Lonely Planet listed Porto as the fourth best destination for value for money and it certainly makes an attractive option on the list of places to visit for a holiday.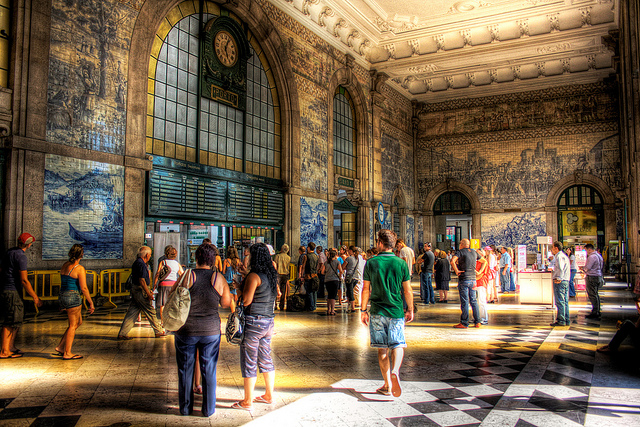 (Train Station Hall : Picture by Carlos)
Tips for Travel in Porto, Portugal
The St John festival happens on the 23rd to 24th of June every year. If you find yourself in the city during this time be sure to pre-book your accommodation. The streets will also be extremely busy with concerts, flame eating, and Barbecues.
Food and drink: The city is famous as the production centre of traditional Portuguese port wine and it is typically drunk at dessert time. If you want to take the experience one-step further, sign up for a port wine tour throughout the city. The recommended snack dish to sample is Francesinha, a sandwich with several combinations of meats, topped with cheese and a home-made sauce.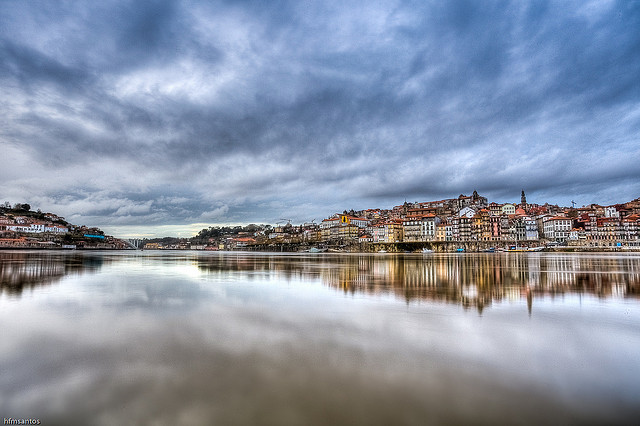 (Ribeira District – Picture by HFMSantos)
Famous landmarks and places to go include Oporto Cathedral: Located in the city centre, much of the construction dates from the 13th century. While the exterior looks rather stark, the interior receives much admiration.
Church of Cedofeita: It is estimated this church dates from the 11th century although much re-construction has taken place over thousands of years.
Take a river cruise to see the landscape from a different view. Cruises last for approximately 1 hour
The National Museum Soares dos Reis is dedicated to Portuguese art from the 16th century onwards
The Mercado do Bolhao area is worth exploring for its food market and handicraft stalls.
Families should take a day trip to the Geres National park that has amazing landscape scenery and a variety of animal species.
The Neoclassical building of Palácio da Bolsa dates from the 19th century and is one of the top visited landmarks in the city. The Arabian room is the most admired of all attractions although the Chairman's and Portrait room is equally as exquisite. Called the Stock Exchange Palace in English, it is open every day from 9am to 6.30pm.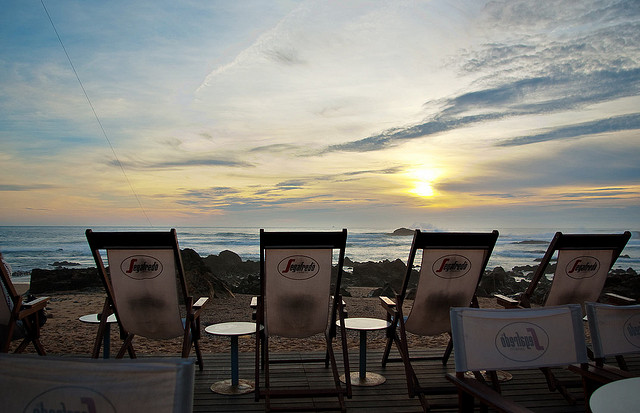 (Picture by Pedrojoper)
Get Around Porto
Car hire is available for airport transfers and general transportation around the region. Source prices from all the local suppliers here
If you plan to visit other places in Portugal or stay in Porto for an extended length of time, car leasing is a good option.
---
Car Leasing Locations in Portugal
---
Great Car Lease from Portugal
We recently organised a car lease in Europe through UDrive which went extremely well from start to finish. The ability to select exactly the car you wanted was a big attraction and completion and management of the pre-trip paperwork was well supported by UDrive making that a much less daunting task than it could have been. We picked our car up in Porto and dropped it off in Milan which was very convenient for us and the trip we had planned. Pick-up and delivery of the car was seamless and a pleasant exercise. Paperwork was quick and the agents were very good - setting up the GPS in English and explaining the rest of the car to you. Then the car itself – brand new of course and exactly as specified, not 'or equivalent'. On the whole the leased car was a cheaper option for us and then there is the benefit of the car itself – we will certainly be doing this again when next we go to Europe for more than a couple of weeks.

We really loved the leasing arrangement and we are recommending it to friends because we think it is incredibly good value for what you get, particularly in circumstances where we were able to pick up in one country (Portugal) and drop it off in another (Italy). The rate for that service was incomparable with the same service with a car hire company. By comparison they charge a flat 1500 Euro fee I think for returning the vehicle to the airport of origin. It was brilliant to be given a new car and it performed very well. The pick-up arrangements at Lisbon were great. The agent explained everything to us, including details of emergency and mechanical assistance. Critically, he also made sure that the GPS was in English and explained how it was used. The drop off arrangements in Rome were also easy. The drop off location was easy to find. The shuttle arrangement to the airport was helpful and prompt.