Great Prices
We challenge you to find cheaper! Our rates include unlimited mileage, one-way fees and roadside assist*. Why pay more?
Wide Selection
We have around 20,000 depots around the world. We offer a great range of vehicles at competitive prices, from the most reputable suppliers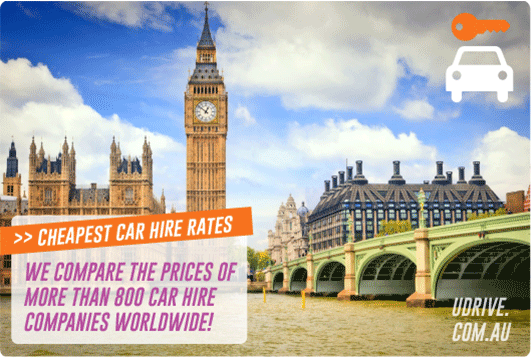 United Kingdom is home to contradicting lifestyles. Hopping on your United Kingdom rent-a-car opens the door to a hodgepodge of extremes - classy and eccentric, flagrant and deprived, punk rockers and celebrity wannabes. It is a very interesting place to see as you will probably not encounter any of these in your hometown. The places do not pale in comparison, either. Drive your car hire along the sprawling hills of England, park your rental car on the shores and crash into the waves of the seas that surround the eight hundred islands that comprise United Kingdom. Immerse yourself in local culture and watch indie bands in hole-in-wall pubs or watch cricket or join the revelry in one of the local festivals.
Travelling around United Kingdom
With almost eight hundred islands making up the entire United Kingdom, it is best to experience the place by drenching yourself in its sights and wonders than just giving a quick look-over, which tour operators often do. Getting a United Kingdom car rental enables you to indulge in the experience rather than content yourself with rehearsed travel guide explanations and a few photo ops. Make it a point to pick up a map once you get to the airport. When booking for a rent-a-car in United Kingdom, specify if you prefer a manual or an automatic or you will get the standard manual rent-a-car.
From the Airport
You may pick up your United Kingdom car hire at the airport, but it is more advisable to ride avail of an airport transfer to the train station. This allows you to have a feel of the traffic and condition your mind on the roads you will be tackling once you drive your United Kingdom rental car.
Places to See
Do not leave United Kingdom without driving your rental car up the county of Wiltshire to see the Stonehenge. The Stonehenge was built around 3100 BC, for a reason that remains a mystery to historians and scientists. Weave your U.K. car rental through the Tower Bridge, London's most prominent landmark. It is a collaboration of 50 architects and is renowned for its imposing stature and intricate detail. Visit Northern Europe's largest Gothic cathedral, the York Minster. Its construction started in 1230 and was finished more than 200 years later. The largest island, Great Britain, is linked to France by the Channel Tunnel.
Of course, no visit to United Kingdom is complete without parking your car outside one of their pubs to try their national dish, the famous fish and chips.
Don't overexcite yourself with thinking about nearby cities to take your United Kingdom rental car as United Kingdom has enough places to fill your U.K. itinerary. Enjoy all the cathedrals, museums, castles and lakes in England, London, Ireland and Scotland.
For more information, visit http://en.wikipedia.org
Udrive.com.au offers efficient and reliable car hire service in United Kingdom. We have many pick up locations all around United Kingdom for your convenience. There are many vehicles to choose from online, including mini, hatch, sedan and station wagon cars, 4WDs, minibuses and minivans. We welcome clients from all over the world and you are able to obtain a United Kingdom car rental quotation through our web site in 27 different currencies and 11 languages.
Compare Cheap UK Car Hire
Try our simple-to-use booking engine to compare car hire deals in UK. Type in your pickup and drop off locations & other information required and we'll immediately provide you with some quotations. Whether you're after an economy UK car hire, or a luxury UK rental vehicle, we have the perfect deal for you. Our low cost car rentals are provided by well-known suppliers such as Avis, Hertz and Europcar, but we can often provide better car hire rates!
Avis, Budget, Thrifty, Dollar, Hertz, Europcar, Sixt, Alamo, National & More!
Three Weekend Driving Holiday Ideas in the UK
So, you have the weekend off work and your feet are itching to get out and about. The perfect way to do this is by hiring a car and exploring sites and attractions of the UK. Here are our top three suggestions of where to go when you get behind the wheel.
Weekend Driving Holiday Ideas in the UK
The Windermere District
This area is home to England's largest lake called Windermere. The lake is ideal as a family destination or for couples. Hit the road and take a short drive to the surrounding villages of Ambleside, Waterhead, Bowness and Fellfoot. All are traditional English villages with small teahouses, quaint cottages, and scenic views.
For accommodation stay overnight in the village of Windermere situated a mile inland from the lake. When you set off the next morning, take a short detour off the main lake road, and visit the magnificent gardens of Holehird. Then head to the lake to marvel at its pure size and beauty.
Many say the best way to see it is via a short cruise if the weather permits it. If you are traveling as a family, on the way back home visit the Zip lining center in Brockhole. Kids will enjoy swinging through the trees and completing the adventure course.
Liverpool and Southport
Combine a trip to ones of England's most iconic cities with a short break in the seaside resort of Southport. Liverpool has many attractions and museums. Fans of the Beetles will enjoy following a trail that includes visits to the childhood homes of Paul McCartney and John Lennon.
amous buildings to visit include St George's hall and the Anglican cathedral. At the end of your first day in Liverpool, take the short drive to Southport and book overnight into a bed and breakfast establishment.

The next morning head to the pier and eat traditional English fish and chips. Then attempt go-karting and crazy golf. The quirky British lawnmower museum will amuse and you can follow the Southport treasure trail that is a great way to discover the hidden attractions that only the locals know about. On the way out of this quaint seaside resort, stop by the model railway village.

Stonehenge and Wiltshire

Stonehenge has baffled historians for many years and it continues to be one of the UK's biggest attractions. You can visit in the daytime however; a sunset tour will provide perfect holiday photographs.

Stay overnight in the one of the many bed and breakfast hotels located close to the magnificent landmark and then head off the next morning to explore the rest of the Wiltshire countryside including Salisbury cathedral, the National Trust property of Stourhead, Longlet Zoo and Avebury Manor.

Fans of the old railways will love the steam museum but if it is a lovely summer's day spend the rest of your time relaxing and strolling around the Caen locks. At the end of your walk, indulge in a traditional British pub lunch.

---
Top Car Hire Locations in United Kingdom
---
The Best Car Hire Deals I've Ever had.
found the 2 hires we had in Oahu and Hawaii (Big Island) absolutely trouble free and well priced; the cars were what we ordered (or better); the cover was comprehensive and there was no need to take out any extra cover at the counter (which always happened with previous rentals direct with the hire company (and their sales pitch often lures you into paying for something you don't need.
I've used all sorts of car hire options for US, UK, Singapore/Malaysia, NZ and Vanuatu (+ others I can't recall) over the years and UDrive has been by far the best. Why shop around when they do it for you - just compare with rental direct deals AND don't forget to factor in all the insurance extras!!!
This is the second time I have used Udrive.com.au this year and with two separate car rental vendors. Both were great experiences. Well done and thank you and your team. Seamless and professional to the last detail.
The service was very good and professional!
The service was very good and professional - we enjoyed booking here in Australia and showing up on the other side of the world with our car waiting - the booking system worked well and we would use it again in the future. Many thanks, JM.