Great Prices
We challenge you to find cheaper! Our rates include unlimited mileage, one-way fees and roadside assist*. Why pay more?
Wide Selection
We have around 20,000 depots around the world. We offer a great range of vehicles at competitive prices, from the most reputable suppliers
24/7 Hotline
We provide 24/7 service while you're on the road. You can also call 1800 761 192 , leave a message, and we'll return your call.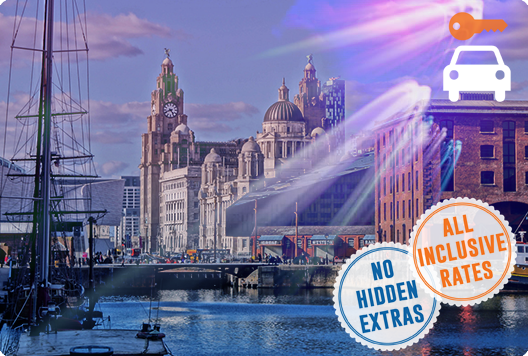 Liverpool Information
Liverpool's most important contribution to the world is the most famous foursome, the Beatles. Imagine driving your Liverpool car hire on the streets that John, Paul, George and Ringo used to walk. This is definitely a remarkable feat, especially for die-hard music fans. The Beatles aren't the only source of Liverpool pride as the city has undergone some major touch-ups in the recent years, which gained them the award of being the European Capital of Culture in 2008. A great portion of the town, specifically the waterfront and the docks, was touted a Unesco World Heritage Site. Make sure that you drive your Liverpool rent-a-car all over town as it has the second most number of handsome buildings in Europe. And, of course, being the hometown of the legendary Beatles, music is a big thing in Liverpool.
Going around Liverpool
As with most cities in Europe, public transportation can give you headaches. It is highly suggested that you hire a Liverpool rent-a-car for a smooth and cost-efficient way of moving around the city. If you wish to drive in style, a luxury car hire may be picked up at the airport. But, if you wish to keep more pennies in your pockets for extra drinks, the older models translate to cheaper deals.
From the Airport
The Beatles are so big in Liverpool that their airport is named after one member, John Lennon. If you dare to brave Liverpool's public transportation, buses, trains and taxis will take you from the John Lennon Airport to the Liverpool town proper. Should you wish for a seamless holiday in Liverpool, get in your Liverpool car rental as you step out of the airport and drive your rent-a-car down M57 to get to Liverpool's main area.
Places to See
A Beatles fan on a Liverpool rent-a-car holiday will definitely be a happy camper when he visits the Beatles Story. Understandably, the Beatles Story houses the widest collection of Beatles memorabilia. More popular than the Beatles museum is the Albert Dock, a 2.75-hectare body of water that is fronted by imposing warehouses of elaborate cast iron detail. You should also take your car hire to St. George's Hall, the first European building to ever use neoclassical architecture. The purpose of this building raises some very intriguing questions as it was to serve as a courthouse and a concert hall at the same time.
A Liverpudlian delicacy you must remember to try is the scouse, a local type of lamb stew. The Malmaison is believed to have the best scouse as it uses only the best and freshest ingredients that are found in the region, so leave your Liverpool rental car to the valet and make your tummy happy with this scrumptious dish.
Nearby Cities
If you're daring enough, drive your Liverpool car hire all the way to London for a chilling Jack the Ripper day tour and re-trace the steps of the world's most notorious serial killer. Or, get wholesome and devour some Devon cream tea in Topsham, Devon.
Car Rental Services Directory in Liverpool
Avis
113 Mulberry Street
L7 7EE Liverpool
Europcar
8 Brownlow Hill
L3 5RE Liverpool
Hertz
141 Vauxhall Road
L3 6BN Liverpool
Compare Cheap Liverpool Car Hire

Try our simple-to-use booking engine to compare car hire deals in Liverpool. Type in your pickup and drop off locations & other information required and we'll immediately provide you with some quotations. Whether you're after an economy Liverpool car hire, or a luxury Liverpool rental vehicle, we have the perfect deal for you. Our low cost car rentals are provided by well-known suppliers such as Avis, Hertz and Europcar, but we can often provide better car hire rates!
Avis, Budget, Thrifty, Dollar, Hertz, Europcar, Sixt, Alamo, National & More!
The French are known for small portions, the Indians rely heavily on spice, and any substantial American dish has to consist of a big slab of meat. We are of course, talking about cuisine, the food that defines a country. Although many nations' cuisines have been influenced over history, the British have always relied on two things when it comes to serving up the main meal. It has to be hearty and filling. Here are some well-known dishes to put on your bucket list.
British Food To Put on Your Bucket List
Black pudding: A mixture of wheat mixed with the blood of an animal and slowly fried. Traditionally eaten for breakfast, this dish stems from the days of the poor when every bit of an animal was used. Any establishment serving a proper English breakfast will dish up a slice of black pudding with it.
Haggis: From the highlands of Scotland, this is a mixture of offal and herbs, although these days, Haggis has become somewhat of a special dish and pure lamb or beef can be used. Traditionally cooked in a sheep's stomach, you do not have to eat that! It is emptied out after cooking. Just think of it as a tasty meatloaf!

Yorkshire Puddings: In days gone by, when meat was a luxury, people used to serve Yorkshire puddings as a starter. Made from flour, water, and eggs, the aim was to fill up the stomach of the guest so they would eat less of the main course consisting of meat. These days, it is an essential ingredient of a typical Sunday lunch.

Battered fish, chips, and mushy peas: Food of the working man, this meal was always served wrapped in newspaper however new health and safety standards laid that tradition to rest. Before the trend of Indian takeaways and kebab shops in the UK, this was the standard meal when mom did not have time to cook or after a night out down the local pub.

Bangers and Mash: If the previous food dishes have turned your stomach, this one will instead make you feel hungry. It is simply sausages, mashed potato, fried onions, and juicy, thick gravy. If the consistence is just right, then you should be able to wipe your plate clean.

Toad in the Hole: Pork sausages are a staple ingredient of the British diet and this dish requires them to be cooked in crispy and fluffy pastry. Of course, this is then covered with the traditional British gravy of which the most popular brand has always been Bisto!

Finishing our list with a dessert seems appropriate so we are choosing Spotted Dick. The name often draws many giggles from young children but it is simply a suet pudding filled with raisons and sultanas. The essential ingredient is a hearty topping of yellow custard.
---
Liverpool Rental Locations
---
Our car rental from the airport turned out to be from National rent a car. Shuttle picked us up within ten minutes and the car Nissan Versa. Adequate base model with no frills. Drop off was also fast and easy. I am happy to recommend Udrive to others, value for money was also great. R. Musco, VIC