Great Prices
We challenge you to find cheaper! Our rates include unlimited mileage, one-way fees and roadside assist*. Why pay more?
Wide Selection
We have around 20,000 depots around the world. We offer a great range of vehicles at competitive prices, from the most reputable suppliers
24/7 Hotline
We provide 24/7 service while you're on the road. You can also call 1800 761 192 , leave a message, and we'll return your call.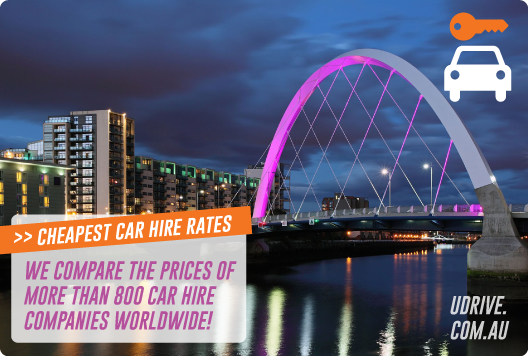 Glasgow Guide - Information
Glasgow is the sanctuary of beer drinkers, home to many brands of Scottish beers. Just be sure to not drink too much when driving your Glasgow car rental back to the hotel. Victorian is the prevailing architectural design so expect to see plenty of intricate and majestic cathedrals and museums. Music is a big thing in Glasgow so make it a point to park your car hire in their quaint bars and cafes and catch a live band. Among Glasgow's contribution to the international music scene are Franz Ferdinand, Snow Patrol and Belle & Sebastian.
As you stroll in your Glasgow rent-a-car, notice how the Glaswegians have a passion for beauty, looking their best in classy designer wear. They also have a fondness for the fine things in life, such as food, art and culture. A tourist might feel lost in a sea of eccentric, mod-ish individuals yet feel ironically right at home as the locals are fast-talking but very friendly and accommodating.
Going around Glasgow
Buses and trains are a norm in a Glaswegian's daily routine. For tourists, however, a car rental is a convenient way of avoiding the rush of commuters and setting a comfortable pace for your exploration. Acquaint yourself with street smarts before picking up your Glasgow rental car in the airport. You need to have an international license for you to drive your Glasgow car rent. 70mph is the maximum for motorways; 30mph is for streets; do not speed as traffic patrol put a premium on traffic discipline, even from tourists.
From the Airport
The designated Glasgow car hire pickup point is at Car Park 2, which is opposite the terminal. It is a distance of 10 miles from the Glasgow Airport to the city center, which takes 20-30 minutes by rental car. Instead of booking your Glasgow rental car at the airport office on your arrival date, book online a few weeks before your trip to get better deals.
Places to See
Tourists and locals alike flock to the Barras on Gallowgate, a flea market that plays a significant role in the lifestyle of the city. Do as the locals do and steer your Glasgow car rental to the Barras and shop til you drop from over a thousand stalls of clothes, trinkets and local delicacies.
You must visit the Glasgow Cathedral, the lone Scottish cathedral to have remained after the Reformation. The gothic interiors of the cathedral are guaranteed to give you the chills and take you back to the medieval times. Opposite the Glasgow Cathedral is the Provand's Lordship, the oldest house in Glasgow. It was built in 1471 and its current structure and interiors are reminiscent of the 1700s.
Nearby Cities
If you decide to drive your Glasgow rent-a-car outside the city, prepare your jaw to drop at the sceneries that will welcome you. Drive your car hire into the dramatic cosmopolitan of Edinburgh and get awestruck with the undulating sceneries of rocky crags and extinct volcanoes. You may also bring your Glasgow car rental to see Big Ben at the Palace of Westminster in London.
Compare Cheap Glasgow Car Hire

Try our simple-to-use booking engine to compare car hire deals in Glasgow. Type in your pickup and drop off locations & other information required and we'll immediately provide you with some quotations. Whether you're after an economy Glasgow car hire, or a luxury Glasgow rental vehicle, we have the perfect deal for you. Our low cost car rentals are provided by well-known suppliers such as Avis, Hertz and Europcar, but we can often provide better car hire rates!
Avis, Budget, Thrifty, Dollar, Hertz, Europcar, Sixt, Alamo, National & More!
It may not be the capital; but Glasgow is the largest city in Scotland and the third largest in the United Kingdom. Travelling into the city is very easy; whether it is from Glasgow airport, from Edinburgh via the M8, or along the M74 if you are travelling from England.
Glasgow offers vast and varied cultural experiences for people of all ages. There are more than 20 museums and art galleries in Glasgow with many offering free admission. The most popular of these is said to be the Kelvingrove Art Gallery and Museum. The banks of the River Clyde is home to the Riverside Museum; another hit with locals and visitors.
Exploring the west end of the city can keep you busy for hours. Byres Road is a cosmopolitan shopping area which claims to rival any other outside of London. Lined with a countless range of shops; from stylish boutiques to special vintage stores; it is easily an example for the phrase, 'shop till you drop'.
The Botanic Gardens in Glasgow are home to the internationally famous glass houses and the stunning plant collections from all around the world. They are easily accessed from the city centre and are an excellent excuse if you need a little time away from the bustling centre!
A short drive for football fanatics will enable you to experience a tour from the Rangers or Celtic Football stadium, or to participate in The Hampden Experience. Trophies, changing rooms and more are to be explored; a must for footie fans visiting Glasgow.
If football is not your thing; then less than an hour's drive from the centre of Glasgow and you can witness the picturesque Loch Lomond. Perfect photo opportunities present themselves here at Britain's largest expanse of fresh water. 2013 has been named as the Year of Natural Scotland. This is a perfect chance to experience this by taking a drive through the National Park to witness the stunning scenery.
Maybe you would like to appreciate how another type of water was formed; yes it's the water of life! Just 20 minutes from Glasgow's centre is the Auchentoshan Whiskey Distillery. They offer a range of tours with a frequent 60 minute tour for just £6 per person. However if you are driving mind to stay away from the free sample!
As the sun sets in Glasgow; the night life awakens and sparkles. A drive through the Royal Exchange Square will see you be covered with a twinkling blanket of lights that light up Glasgow throughout the year. Glasgow is famous for its nightlife; catering for all with countless restaurants, cafes and bars.
Many of these are open till the early hours and you can find a range of venues for all genres of music you can think of. Areas such as Bath Street are famous for the student crowd; whilst Merchant City is popular for those wanting style and sophistication.
Glasgow offers something for everyone; the city is alive and waiting to be explored by its visitors. To get around easily, have a look at car hire suppliers operating in the area.

Everything went well, no problems at any stage (except finding the Heathrow drop-off point - we got a little lost). We can recommend as the price was very competitive. B. Horton, QLD - Australia