Great Prices
We challenge you to find cheaper! Our rates include unlimited mileage, one-way fees and roadside assist*. Why pay more?
Wide Selection
We have around 20,000 depots around the world. We offer a great range of vehicles at competitive prices, from the most reputable suppliers
24/7 Hotline
We provide 24/7 service while you're on the road. You can also call 1800 761 192 , leave a message, and we'll return your call.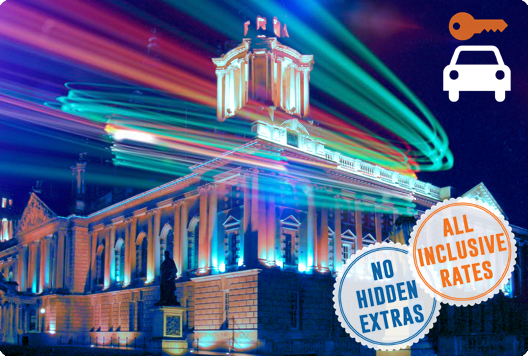 Belfast car-renting vacationers will understand the significance of the iconic Titanic on the life of the Belfast locals. Being the birthplace of the legendary luxury ship, the city manifests how it has risen from being sunk deep into what they feared was oblivion. Belfast is now touted as the party central of Northern Ireland. As prestigious as the Titanic was on its maiden voyage, the Belfast now stands proud with its enormous shopping malls, quaint hotels, attractive Victorian architecture, loud music and modern art.
Going around Belfast
Unless you are willing to ride rickety trains and buses; carpooling taxis or costly private taxis, public transportation in Belfast is not such a good idea. Avoid the hassle and book yourself a Belfast car rental as soon as you have mapped out your Belfast itinerary. It is fairly easy to drive a Belfast car hire as all roads lead to the city center, unless you're driving the opposite way, of course.
From the Airport
The Belfast International Airport is a hub for European and North American flights. As soon as you land on the airport, take a Belfast map and pick up your pre-booked rental car at the terminal building and head to your hotel in the city center. It is only 10 minutes away and you will have a hard time getting lost as you only need to read the signs that lead to the Belfast main district.
Places to See
The wide waters that surround the town of Belfast made a significant contribution to its history and economy. It provided income to the municipality that it was able to build Lanyon's Custom House, Queen's University of Belfast and the City Hall. These are all wonderful sights, but, step out of your reliable Belfast rent-a-car and get to know some locals around town as you will some of the most educated, cultured and friendliest people you'll ever know. Join them as they celebrate culture in the Grand Opera House for some classical music. On the next day, park your car at the club where the hippest DJ's spin the freshest Irish music. Let your Belfast car rental take you to the always-packed Belfast Bap for some gourmet Belfast meals. End the hectic day with a pint of beer at McHughs Pub, which is located in Belfast's oldest building, the Queen Square. Leave some room 'for the road' as you drive your rent-a-car back to the hotel.
Nearby Cities
Load up on picnic items and drive your Belfast car hire to the rural town of Limerick, where Ireland's most expansive river, Shannon, meets the Atlantic Ocean. If you have more time on your hands and fuel in your rental car's gas tank, get awestruck with old-world charm of Dublin.
Car Rental Services in Belfast
Avis
Belfast City Airport
Sydenham Bypass, Belfast
Antrim, BT3 9JH
Europcar
Belfast City Airport
Sydenham Bypass, Belfast
Antrim, BT3 9JH
Hertz
Terminal Building
Belfast International Airport
Belfast
Compare Cheap Belfast Car Hire
Try our simple-to-use booking engine to compare car hire deals in Belfast. Type in your pickup and drop off locations & other information required and we'll immediately provide you with some quotations. Whether you're after an economy Belfast car hire, or a luxury Belfast rental vehicle, we have the perfect deal for you. Our low cost car rentals are provided by well-known suppliers such as Avis, Hertz and Europcar, but we can often provide better car hire rates!
Avis, Budget, Thrifty, Dollar, Hertz, Europcar, Sixt, Alamo, National & More!
Suggestions for a Driving Holiday in Ireland

Ireland, the land of scenic landscapes and friendly locals has become a favourite holiday destination in the last ten years. Devoid of troubles that blighted it throughout history, its historical attractions and local traditions lure thousands of foreign visitors every year.

A particular favourite type of holiday is a self-drive tour of the most popular destinations. This allows people to travel at their own pace, adapt to a flexible schedule and of course, gives them time to experience travel memories that are not listed in any guidebooks.

Points to Remember About Driving in Ireland
In the Republic of Ireland, all distances are measured in Kilometres while in the north, they use miles
An international or national driving licence is required
Drive on the left hand side
Always wear your seatbelt
Drink driving is strictly forbidden and there are strong penalties for this.
Speed Limits in Republic of Ireland
50kph or 30mph in urban areas
80kph or 50mph on open roads
100kph or 60mph on national roads
Speed Limits in Northern Ireland
30mph or 50kph in urban areas
60mph or 96kph on single carriageways
70mph or 112kph on dual carriageways and motorways
Suggested Areas For Driving Holidays in Ireland. The South West
This area is one of the most scenic in the country and it offers a large diversity of attractions and things to do. Mainly covering the counties of Cork, Kerry, and Claire, the focus of a driving holiday in this area would be ancient history and folklore. Traditions are still alive and kicking! Places to visit include…
Blarney Castle which is home of the mystical blarney stone
The coastal village of Kinsale, that is renowned for its delicious seafood dishes
The Dingle Peninsula, where the old language of Gaeltecht is still used. This area is also great for hiking and trekking
The Dubeg fort is nearby which is an iron age construction with a massive stone rampart
The Northeast
The focus of the northeast has to be Belfast, which these days has become the top most visited destination in Ireland. Home of the doomed Titanic, and one of the finest universities, it has also become a mass of swish hotels and traditional pubs.
One of the most talked about attractions in this area is the Titanic Belfast, which opened in 2012, to mark the 100th year following its sinking. It tells the story of the liners history and industrial development in Belfast. Walk a short distance from this attraction to the actual dock where 500 men built the Titanic over seven years.
The Botanical gardens were created in 1889, house many festival, and events over the year, including the Tennents Vital festival
On the outskirts of Belfast is the Giant's Causeway dating from 1692. The Basalt columns are a geographical mystery and a walk along this stretch of coastline is pleasant and calming
Antrims Glen is a collection of traditional farming landscape that would ideally suit anyone with a passion for trekking and photography
Belfast Car Hire - about UDrive.
Booked with Udrive "guaranteed lowest rates, no hidden fees". Pritty happy with my booking. Recommended 100%.