Great Prices
We challenge you to find cheaper! Our rates include unlimited mileage, one-way fees and roadside assist*. Why pay more?
Wide Selection
We have around 20,000 depots around the world. We offer a great range of vehicles at competitive prices, from the most reputable suppliers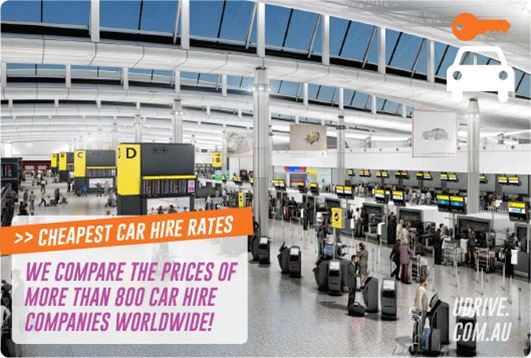 Heathrow Airport Information
London Heathrow Airport or Heathrow, located in the London Borough of Hillingdon, is the world's busiest airport in terms of international passenger traffic. It is the world's second busiest airport in total passenger traffic and the United Kingdom's largest and busiest airport. It is also the busiest in the European Union in terms of passenger traffic and the second busiest in terms of traffic movements. Heathrow is the primary hub of British Airways, BMI and Virgin Atlantic.
To the east are Hounslow and Hatton, and to the south are East Bedfont and Stanwell. To the west, the M25 motorway separates the airport from Colnbrook in Berkshire.
The airport's location to the west of London, and the east-west orientation of its runways, means that airliners usually approach to land directly over the city. Other leading European airports, such as those at Madrid, Frankfurt and Paris, are located north or south of their cities, to minimise the overflying problem.
Heathrow is one of six airports serving the London area, along with Biggin Hill, Gatwick, Stansted, Luton, Southend and City although only Heathrow, Biggin Hill and City Airports are located within Greater London.
The transport network around the airport has been extended to cope with the increase in passenger numbers. A dedicated motorway spur has been built from the M25 between junctions 14 and 15 to the terminal, which includes a 3,800 space multi-storey car park. A more distant long-stay car park for business passengers will be linked to the terminal by a personal rapid transit system, which will become operational in late Spring 2010. New branches of both the Heathrow Express and the Underground's Piccadilly Line serve a new shared Heathrow Terminal 5 station.
Heathrow is accessible via the nearby M4 motorway and A4 road (Terminals 1–3), the M25 motorway (Terminals 4 and 5), and the A30 road (Terminal 4). There are drop off and pick up areas at all terminals and short and long stay multi-storey car parks. Additionally, there are car parks just outside the airport; these are connected to the terminals by shuttle buses.
Four parallel tunnels under one of the runways connect the M4 motorway and the A4 road to Terminals 1–3. The two larger tunnels are each two lanes wide and are used for motorised traffic. The two smaller tunnels were originally reserved for pedestrians and bicycles; to increase traffic capacity the cycle lanes have been modified to each take a single lane of cars, although bicycles still have priority over cars. Pedestrian access to the smaller tunnels has been discontinued, with the free bus services being the alternative.
Many people assume London to be an expensive place to visit. After all, it is one of the busiest cities in the world.
However, while there are some paid for amenities, there are also many attractions and sites with no charge so it is possible to do London on the cheap.
We list our favorite places that you can visit on a low budget. From parks to museums to galleries, there is an attraction for everyone.
Free Places to Visit in London
Founded in 1753, the British Museum has an impressive collection of historic treasures from all over the world and it is a great place for the children to learn while having fun.
Throughout the year, they also have a variety of different exhibitions and displays so check schedules. The museum is open every day from 10 am to 5.30pm. Entrance is free for adults and children but donations are gratefully accepted.
Hyde Park is the place to head to when the weather is great. It covers a huge 142 hectares and has over 4000 trees. It is ideal as a family destination because of the various activities on offer including boating, cycling, and a large children's playground.
On a Sunday, head to speakers corner to listen to many London citizens air their voice and opinion on today's hot topics. There are cafes within the park but you can also take along your own picnic.
Children will love the Bank of England Museum that tells the story of the bank from its beginnings in 1694 to present day. The museum is on Bartholomew Lane and it is open from 10 am to 5 p.m. on weekdays.
Even adults will like exploring the museum to view old paperwork from notable customers and ancient pistols used to defend the bank from attack. Throughout the year, special exhibitions and events do take place.
The British Postal Museum and Archives will delight those who have a nostalgic passion for the old days. The museum is a ten-minute walk from Farringdon tube station and items on display include old post-boxes. The displays are split between two sites but guided tours are available.

The Museum of London is one of the best for delving into the history of this prolific city. Tracing its path through Roman and Saxon rules, it also delves into the medieval period and turbulent years when parts of the city were ravaged by fire and plagues. The museum is open 10 am to 6pm every day and is located at 150 London Wall.

The National Gallery is for anyone with a passion for art. It displays thousands of paintings from the Middle Ages to present day and includes many pieces by famous artists including Leonardo De Vinci, Rembrandt, and Van Gogh.
The museum is open from 10 am to 6pm every day apart from Friday when it extends it closing time to 9pm. Entrance is free but there may be some charge for special events or displays.
Borough Market is for food lovers. Its nickname is London's larder and on display for viewing and tasting is traditional London and British food. Just walking around is a revelation but if you do fancy a spot of lunch, choose from many cheap and delicious establishments. Look around and ask the locals as well because there are lots of London markets that are great fun and cost nothing to explore.
Walk the Thames to see many of the city's famous landmarks including the Houses of Parliament and the London Eye. St Pauls cathedral and the famous Tower Bridge can also be seen without spending any money at all.
The final recommended free activity while you are in London is to see the changing of the guard and this cost nothing at all. It happens in front of Buckingham palace every day at 11.30am. Enjoy London.
London is a city that has adapted with change, faced turmoil, and destruction in World Wars, and attracted visitors of all nationalities, constantly throughout the decades. It has a lot to offer from shopping, nightlife, and attractions. We particularly favour the historic landmarks existing all over the region and here are our suggestions of where to go first.
Historic Landmarks to Visit in London
The Tower of London was previously used to hold traitors against the Royal monarchy, including two of Henry the 8th, six wives! It was also at one stage used for executions and we can only wonder about the ghosts that roam its corridors. On display are various items from history including torture instruments and armoury.
Opening Times: Tuesday to Saturday from 9am to 5.30pm. Sunday & Monday from 10am to 5.30pm. Ticket booths shut half an hour before closing time.
Hampton Court Palace dates from the Tudor period and various kings have lived there including Henry the 8th, and William the Third. Explore the maze gardens, marvel at the intricate architectural style, so typical of that time in history. See the kitchens with large fireplaces that could cook food, for hundreds of people in an instant. Throughout the year, festivals and exhibitions are regularly held and staff dress in Tudor style clothing to enhance your visit.
Opening Times: Every day from 10am to 16.30 in the winter and extended to 6pm in the summer.
Used by the Royal family for weddings, and coronations, Westminster Abbey has stood for over 800 years. It has also been used as a burial place for many royals, scientists, and literature figures throughout history, including Charles Dickens and Sir Isaac Newton. Its Gothic like appearance does not resemble the original construction, but neither does it deflect from the grandeur and majestic atmosphere.
Opening Times: Closed on Tuesday and Sunday. Open from 9am to 15.30, Monday, Thursday, Friday, and Saturday but closing at 13.30 on Wednesdays.
The Spencer House has not been occupied since 1926 but its importance lies in the connection to Diana, Princess of Wales. Built in 1756, it also served as accommodation for the medical profession, during the Second World War.
Opening Times: From 10.30 to 17.45. Closed during the months of January and August.
Buckingham Palace is the official residence of the royal family, although the rooms they use are not open to the public. A tour will take people all around the state rooms, that are used for receiving prominent guests including the previous Nelson Mandela. There are also some marvellous historical paintings on show. Do not forget, that in front of Buckingham palace, the changing of the guards regularly takes place.

A former palace, the Houses of Parliament are now the decision making base of the UK. Visitors can watch debates and on Wednesday afternoon, tickets can be purchased for Prime Ministers question time. As well as the houses, visit the iconic landmark of London, attached to the building; Big Ben and the largest clock face in the country.
Heathrow Airport Car Hire
The selection of vehicles available were very good. We received a Hyundai i30 wagon, better than expected and ideal for two people on a long holiday trip. The level of support from EASIRENT during the rent was outstand as any good as any premium hire company. They hand delivered at some distance  a replacement key for one that failed. N. Lawrence, Australia
This is the second time I have used Udrive.com.au this year and with two separate car rental vendors. Both were great experiences. Well done and thank you and your team. Seamless and professional to the last detail.
Excellent service from UDrive. Have just this morning returned a car to the company and it was the second time that I used them during the past 3 weeks. Will certainly make use of the company again in the future.
Regards