Great Prices
We challenge you to find cheaper! Our rates include unlimited mileage, one-way fees and roadside assist*. Why pay more?
Wide Selection
We have around 20,000 depots around the world. We offer a great range of vehicles at competitive prices, from the most reputable suppliers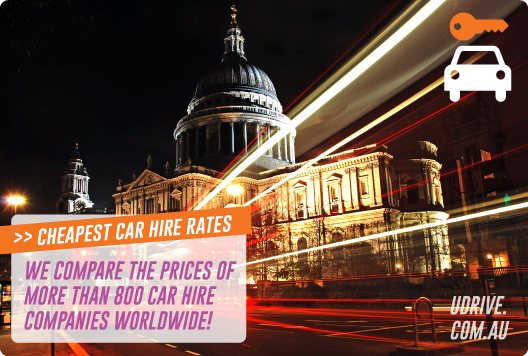 Pick up locations in London:
London City Airport | London Gatwick Airport | London Heathrow Airport | London Battersea | Bayswater | Bow | Canary Wharf | Chelsea | Croydon | Docklands Ealing | London East | Edgware High Street | Edgware Road | Enfield | Euston | Finchley | Fulham | Hainault | Hampton | Ilford | Kennington | Kensington | Kings Cross | Kingston Upon Thames | Lewisham | Marble Arch | North Cheam | Orpington | Palmers Green | Park Royal | Putney Bridge | Richmond | Stansted Airport | Stratford | Streatham | Vauxhall | Victoria Train Station | Walthamstow | Wandsworth | Waterloo | Wembley | West Hampstead | Woodford Green | London World Trade Centre
London Information
Wedging your rental car into the British streets of the London megalopolis makes for a fascinating experience. You encounter a population of many different races and find restaurants of various cuisines, yet, for the most brilliant reason, London doesn't lose its British roots. The injection of other cultures adds an interesting dimension that is solely London in orientation.
London is paradise to tourists who wish to go on a car rental vacation as every curb yields beguiling architectural wonders. Even the locals are an arresting sight in their hipster-modish fashion.
Going around London
The quintessential double decker buses of London will take you to the best museums and seediest pubs, if you can follow their routes very closely. Spare yourself the hassle of public commute by getting a London rental car and you can take as much or as little time as you wish in any place that you visit. This is a great advice considering that London is one of the most populated cities in the world. For you to be able to save on parking your London car hire, plan your itinerary wisely by hitting as many spots in one area.
From the Airport
Be kind to your wallet by booking a London rent-a-car days before you make your flight. Once you get to Heathrow Airport, you may pick up your car rental and make your way to the main district of London, which is about an hour away. Buses, trains and taxis also take tourists to their next stop for a certain fee.
Places to See
Your London rental car should take you to see art, history, culture and the quirky - as these are what London is about. The Tower of London has all these components in one structure that art buffs, history geeks and gore junkies will definitely get their fix in here. Its history spans 900 years and has been used as a prison and execution grounds, a palace, an arsenal, and the weirdest of all, as a zoo. There's a very slim chance that your car rental will take you to see the Queen, but if you insist, head over to Madame Tussaud's wax museum where the world's most famous vie for tourists' attention.
Of course, fish and chips is obligatory; so is shopping, shop til your money allows it as there are over 40,000 shops all worth a look. Do not miss the Big Ben at the Westminster, the Buckingham Palace and the London Eye.
Nearby Cities
If eating and shopping in London still leave you with some pound sterling, keep driving your London rent-a-car to see William Shakespeare's birth town, the Stratford-upon-Avon in the countryside of Warwickshire. Sporting a fun spirit? Don a Renaissance costume and join a medieval festival near the Warwick Castle.
London is the Uk's busiest city so anyone who does not know the streets maybe nervous at the thought of driving in central London.
Reaching your chosen destination may seem an ordeal because of the amount of traffic but there are hints and tips from experienced London drivers that will help you drive confidently and safely in the city.
Hints and Tips for Driving in Central London
As with any busy city in the world, there are three characteristics needed to navigate the streets of central London like a pro.
• Do your research. A well-planned journey will prevent delays, hassle, and unnecessary stress
• Stay calm at all times. Road rage gets you nowhere
• Be confident of your driving skills.
Research Your Journey
Before departing, get the map or GPS and plan the journey. Relaying on road signs for directions is not a guaranteed tactic especially when you are navigating lanes of busy traffic.
Remember to find the address of numerous car parking spaces in your chosen destination, instead of finding them when you get there. Use the highways agency site to check your planned route for congestion or serious road accidents that can hold-up traffic.
Congestion Charge
To enter central London, you will have to pay a congestion charge. At the time of publishing this article, the charge is 10 UK pounds a day, Monday to Friday, starting at 7am and finishing at 6pm. You can pay this charge online or consider using the park and ride system instead. Disabled blue badge holders are exempt from the congestion charge.
Park and Ride
There are several Park and Ride stations around the London Burroughs. You can park your car there for the day and use the tube or bus to access central London. More information on the park and ride systems of London is on the official website.
Parking
While parking may seem the easiest task of all, this is far from the truth. Find more than one car parking space in your chosen destination before you depart on your journey, because it is not unusual for all spaces to be taken.
Also, do not assume that parking rules are the same from street to street. Check lampposts for parking times and payment because some streets place a charge of 7 UK pounds per hour and if you do not return to your car inside the designated times, you will probably find it towed away. Some parking spaces operate on a pay and display basis, while others request that you pay via mobile phone.
Driving and other traffic
Most certainly, the hardest task is navigating around other traffic. Remember at all times to check your mirrors formotorcycle couriers and scooter riders driving in between lanes.
Most bus lanes are closed during the day but do check the times of use as outside of rush hour, some of them open. Inside these hours, cameras are present above the lane so you will be fined if driving inside them.
Basic Rules
Drivers must be over 21 and a non-UK driver's license is valid for 12 months after date of entry into the country. Inner road speed limits are 30mph but expect traffic to be slower than this. Remember that everyone drives on the left and seatbelts rules are also strictly adhered to. Finally yet importantly, plan your journey to avoid the early morning rush.
London is the capital of the United Kingdom and a sprawling metropolis offering endless opportunities to anyone traveling within her boundaries. From traditional English food to historical landmarks to modern attractions, it is not possible to see the whole of London within a week. It was at one time, the world's largest city and although it no longer holds that title, it is still a popular destination for over 14 million international travelers each year.
10 Travel tips for London
• London has an oceanic climate so snow usually appears between December to February and the hottest months are between June to September. Rainfall typically happens from October to January.
• The vast landscape of London is split into districts; central areas are classed as the City of London, City of Westminster, Chelsea and Kensington
• Canary wharf is established as the financial and commercial hub of London
• The West End is the place to head to for shopping and entertainment
• The Mayfair district has the largest amount of luxury hotels and restaurants.
• There is no typical style of architecture in London because of an influx of foreign influences throughout the centuries. Many buildings were also rebuilt after the great fire in 1666
• The largest parks in the area are Hyde, Regent and Kensington.
• Regent Park is also home to London Zoo. While you are in the area, check out the nearby attraction of Madam Tussaurds Wax Museum.
• London is one of the most expensive cities in the world so anyone traveling on a budget, will need to be careful with daily allowances.
• Cycling in central London has made a comeback and it is often quicker to get around the city using this method than normal transport.
Top Five Most Visited Attractions in London
• The British Museum focuses on human history around the world. It is the largest collection totalling over eight million artefacts. It opened in 1759 and mainly followed the path of British colonization. These days it is also a national library holding over 150 million books.
• The Tate Modern Gallery receives over 4 million visitors every year. Located in the Bankside area of London, works of art held within the walls date from 1500 to present day.
• Located at Trafalgar square, the National Gallery is an art museum that opened in 1824 and to date is home to over 2000 works of art from the mid-13th century to present day.
• The Natural History Museum is in South Kensington and its focus is on the life that inhabits our planet. They have over 70 specimens from the field of Zoology, Botany and Palaeontology.
• The London Eye is the tallest viewing point from which to see the city of London. Even though it only opened in 1999, it has become one of London's most popular attractions. Officially called the millennium wheel, it was built to mark the end of the last century.


Fantastic trip from London
Micheal The car lease was as near to perfect as I could have hoped for and I would book again if staying in Europe for more than 6 weeks. We drove Ireland Then Ferry to France drove through France to Spain Across Spain from Segovia to Barcelona, Girona, Marseille, Provence, Nice, Monaco, Florence, Pisa, Rome, Pompey, Tuscany, Venice, Munich, Sinsheim, Speyer, Mulhouse, Paris, Caen, London. 15,000 Klms. The car was a perfect size for the narrow old town,s and narrow roads, and was equally at home on the motorways and the autobahn. The booking- Pick up and drop off were fantastic. My only change I would make for the next time wold be to book an automatic. Fabulous way to make the best of expensive flights and see the real countryside. As a treat to ourselves we stayed in Air BnB Castles and Chateaux. Not much more needed to say 14 weeks of fun friends and family. I don't know how they can do it but I hope it continues.
Ripper way to go.
Thank you for your invitation to give feedback on our car rental experience. We have rented cars for many years in the UK and elsewhere, We found the online booking process good. The pickup location for Green Motion was very convenient and the Payment & online voucher process worked well. The car we were given was also in very good condition. - R. RIchardson, Sydney - Australia