Great Prices
We challenge you to find cheaper! Our rates include unlimited mileage, one-way fees and roadside assist*. Why pay more?
Wide Selection
We have around 20,000 depots around the world. We offer a great range of vehicles at competitive prices, from the most reputable suppliers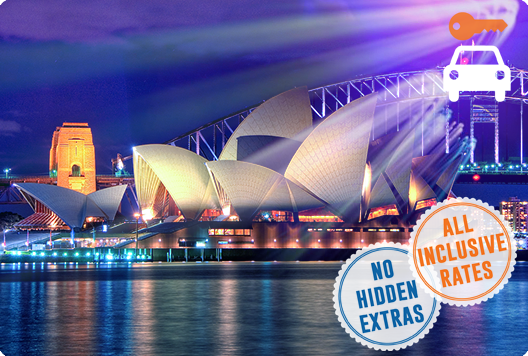 Sydney Guide - Visit Sydney
Quick! Book your great Sydney car hire deal now and don't waste any more time! Sydney offers Australian and international travellers so many wonderful opportunities, and it is just perfect for a self-drive holiday. Sydney is famous for its shopping, iconic Harbour Bridge and the Sydney Opera House as well as the beautiful harbour. Leave the rental car parked at the hotel, and take ferries across to Manly, lie on the beach checking out the lifesavers at Bondi, or savour exquisite seafood in a world class restaurant down in the Rocks area.
Sydney Car Hire Tip
It may actually be cheaper to rent your car at the airport! Compare our airport rates to the city centre rates as you may be better off picking up from the airport location.
Self-Drive Sydney
There are so many great sights around Sydney. You'd be crazy not to take advantage of our quick, easy on-line booking engine to snap up a great car rental deal. Drive to the Blue Mountains to enjoy breathtaking scenery and birdlife. Visit Wollongong or drive down to the Central Coast for expansive views of the South Pacific Ocean, so blue it will take leave you gasping.
Got a bit more time? Drive to the Canberra, Australia's national capital. It's only three hours from Sydney, and a fascinating look at the short history of this 'young' country. Check out the Parliament House, or take in some indigenous art at the National Gallery, to give perspective on this 'ancient' country.
Sydney Airport
Sydney Kingsford Smith Airport is Sydney's international airport. The domestic airport is a short shuttle bus ride away, but make sure you leave a bit of time for transits from international to domestic flights. There are several car rental agencies on site, so collecting your Sydney car rental will always be quick and easy.
Food and Wine
Sydney is famous for its fish markets. Make an early morning visit and marvel at the size, freshness and affordability of fish and shellfish of the highest quality. Also enjoy great wines from the Hunter Valley, and fine dining from the country's greatest chefs. Don't miss some unusual dining opportunities, such as the revolving restaurant, harbour dining on sailing boats or a picnic at Tooronga zoo.
Sydney Adventures
Make sure you don't drive your Sydney rental car out of town too quickly! You don't want to miss your chance to climb the harbour bridge, take surfing lessons in Manly or go jet boating past the Opera House!
Emergencies
If you are planning a road trip from Sydney to Melbourne, preparation is vital to avoid any unwanted surprises or problems. The distance between these two big Australian cities is about 877Km and ideally, it is worth exploring all the attractions mid route so make it a three to four day holiday.
The route from Sydney to Melbourne is nothing less than a beautiful dream. Drive on the coastline with a fantastic ocean view, sight of crystal water leading up the horizon and surrounding flora. It all makes for dramatic scenery that has appeared in many well-known travel publications. The road trip will also take you through the capital of Australia that, despite common thinking, it is not Sydney but it is Canberra.
Preparation tips for a Sydney to Melbourne Road Trip
Australia is well known for wet and dry weather which can cause trouble if you don't plan your trip ahead of time. The summer season runs from December to February and this is the best time so you can stop off for swimming breaks at many of the renowned beaches on the route. Spring from September to November is also ideal but the wet season kicks in from March to August.
It goes without saying that a map is essential and also be aware that it is possible to drive many miles without seeing any road side stops. Prepare by stocking up on snacks and water before departing. Also make sure the petrol tank is full. Everyone must wear seat belt and refrain from drink driving. The allowed blood alcohol content is 0.05% however there are certain restrictions which change the law to zero tolerance.
Wildlife jumping out on the road is also a possibility. This country is famous for its many wild animals and if you run into a red kangaroo, for example, it will cause intense damage to the vehicle, as well as put the driver and passenger's safety into jeopardy. Keep a sharp eye out and if there is more than one driver in the group, change frequently.
Last but not least, do some research before leaving so you do not miss out on well-known landmarks and attractions. If you take the coastal road, sites to see include whale watching at Jervis Bay, craft shops showcasing aboriginal art and many museums. It is also worth mentioning that in summer, accommodation is in high demand so pre-book to avoid disappointment.
Source Car hire Suppliers in Australia
We list all the major car hire suppliers throughout Australia including Melbourne and Sydney. Get the best deals by using our search engine tool to find car rental agencies.

In an emergency, call 000 for police, fire and ambulance services. Foreign visitors to Australia need private health insurance, and there are public hospitals in all capital cities and most regional centres.
Compare Cheap Sydney Car Hire
Try our simple-to-use booking engine to compare car hire deals in Sydney. Type in your pickup and drop off locations & other information required and we'll immediately provide you with some quotations. Whether you're after an economy Sydney car hire, or a luxury Sydney rental vehicle, we have the perfect deal for you. Our low cost car rentals are provided by well-known suppliers such as Avis, Hertz and Europcar, but we can often provide better car hire rates!
Avis, Budget, Thrifty, Dollar, Hertz, Europcar, Sixt, Alamo, National & More!
Australia is like a big Hollywood movie studio, complete with ever-changing sets and scenery, monsters on land and in water, cutesy stuffed toy-like characters and money, sex and rock and roll. Australia (the country, not the continent) is huge, massive, gigantic that going on a road trip in a fantastic deal car hire is surely going to be way exciting, mate. As you drive from one town to another, the scenery changes from one exceptional wonder to another. The adventure shifts from as the scenery does – surfing in Sydney, diving in the Great Barrier Reef and go culture-high in Melbourne.
Going around Australia
Australia is so enormous that going from one city to another usually forces people to fly or use the train. The problem with the convenient route is not only the steep cost, but it also deprives you of the lovely Australian views. Best to schedule your escape to the Land Down Under when you have a wide stretch of car rental holiday than try to squeeze in a very hectic itinerary in one short vacation. This is an advice that you'd be wise to take as Australia gives the perfect road trip getaway. Don't worry about driving a car rental as Australian drivers are disciplined and courteous and the roads are well-serviced. You may also consider getting a 4WD rental to be able to better conquer the rocky parts of Australia.
From the Airport
If you're landing on the major airports of Australia, you have plenty of choices to go from the airport to your city destination. Buses and trains conveniently link airport to key towns although you would have to familiarize yourself with the routing and the system. You may opt to have your hotel pick you up at the airport or if you are renting a car hire in Australia, arrange to pick up your car at the airport terminal.
Places to See
How do you pick out which places to see in a country that is more than 7.6 million square kilometers large? With plenty of time, that's how. Drive your car hire to the New South Wales for rugged surfing on the beaches of Sydney. See cute wallabies and koalas in Blue Mountains and watch the scenery change to desert as you move inland. For culture, food and fashion, venture to Melbourne in your rental car. It's not all just worldly in Melbourne as the beaches are stunning albeit more laidback. Don't leave out Yarra Valley, where the vineyards can compete with those in Italy and California. For some wilderness, get in your car hire and brave the roads to Tasmania where seemingly monstrous animals vie for the limelight with the exquisite Cradle Mountain. Of course, what is an Australian car rental holiday if you don't go diving in the Great Barrier Reef?
Nearby Countries
There is no reason to not be content with an Australian vacation, but who's to blame a traveler who wants to see the rest of the world? New Zealand is a country very close to Australia and the thought to see the sunrise in New Zealand before anybody else in the world is enough reason to visit it on a car rental holiday. Geeks (specifically Lord of the Rings fans) will be thrilled to drive their New Zealand rental car around real-life Middle Earth.
Car Rental Services Directory in Australia
Avis
Sydney Airport
Ross Smith Avenue
Mascot, NSW
Europcar
Sydney Airport
Terminal Building
Sydney, NSW
Hertz
Sydney Downtown
William Street and Riley Street
0 false 18 pt 18 pt 0 0 false false false
Sydney, NSW
We were most pleased without rental arrangement and the vehicle which was clean and neat, and a very good air conditioner. We were happy with the car and it was reliable. We will use your services again.