Great Prices
We challenge you to find cheaper! Our rates include unlimited mileage, one-way fees and roadside assist*. Why pay more?
Wide Selection
We have around 20,000 depots around the world. We offer a great range of vehicles at competitive prices, from the most reputable suppliers
24/7 Hotline
We provide 24/7 service while you're on the road. You can also call 1800 761 192 , leave a message, and we'll return your call.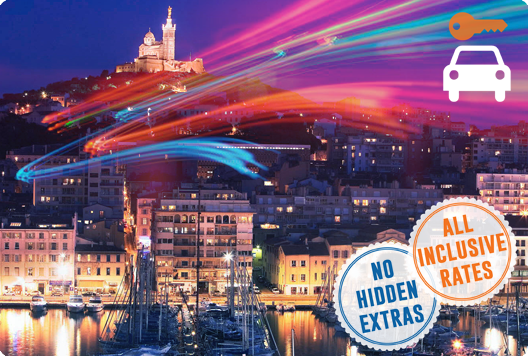 Marseille Information
Marseille, formerly known as Massalia is the oldest city in France, and currently its second most-populous, behind Paris, with 852,395 residents as of 2007. It forms the third-largest metropolitan area, after those of Paris and Lyon, with a population recorded to be 1,516,340 at the 1999 census and estimated to be 1,605,000 in 2007. Located on the south east coast of France on the Mediterranean Sea, Marseille is France's largest commercial port. Marseille is the administrative capital of the Provence-Alpes-Cote d'Azur region, as well as the administrative capital of the Bouches-du-Rhône department. Its inhabitants are called Marseillais.
The city is served by an international airport, Marseille Provence Airport, located in Marignane. The airport has two terminals. Terminal one, the main terminal of the airport contains halls 1,2,3 and 4 and serves as a base for French and international arrivals and departures. The newer terminal, referred to as MP2, is used for low-cost flights arriving and departing from Europe and North Africa. A shuttle coach system operates between the airport and the railway station, Gare de Marseille Saint-Charles.
Marseille is very well connected to most French cities through numerous highways. As always in France those highways are expensive but practical, comfortable and fast. Marseille is around 8 hours from Paris by car, 2 hours from Nice, 1h30 from Montpellier, 4 hours from Toulouse and 3 hours from Lyon. However, be aware that driving in the city centre is a nightmare - park your car somewhere safe and stick to public transport when ever you can.
Compare Cheap Marseille Car Hire

Try our simple-to-use booking engine to compare car hire deals at Marseille. Type in your pickup and drop off locations & other information required and we'll immediately provide you with some quotations. Whether you're after an economy Marseille car hire, or a luxury Marseille rental vehicle, we have the perfect deal for you. Our low cost car rentals are provided by well-known suppliers such as Avis, Hertz and Europcar, but we can often provide better car hire rates!
Avis, Budget, Thrifty, Dollar, Hertz, Europcar, Sixt, Alamo, National & More!
After Paris, Marseille is the second largest city in France. With a population of over 800,000 people, it is also the principal hub on the Mediterranean coast. The expansive metropolis has a summer climate which makes it a popular travel destination. Ideal months to travel are between May to October, with July and August being the hottest months.
With a history that stretches back over 30,000 years, it is no surprise that Marseille is nicknamed "the oldest city in France". Notable moments in its story are when citizens embraced the French revolution in the 19th century and also occupation by the Germans between 1942 and 1944.
These days, daily life is calmer and Marseille is often highly appreciated by visitors who are instantly attracted to the diversity and dynamic vibes.
Annually over 890,000 cruise liners dock in and the easy transport network encourages more than 4 million visitors. All are eager to explore the museums, landmarks, shopping and entertainment centre of this wonderful multi-cultural city.

11 Tourist Attractions in Marseille, France

• Explore the old port near the marina. This place has plenty of waterside cafes specialising in fish dishes because of the near fish market that opens daily. On the outskirts of the old port is a large lighthouse built in 1855
• Shopping addicts should head to the bustling districts of Centre Bourse and St Ferreol
• The abbey of Saint Victor dates back to the 5th century and it has a large amount of ancient catacombs
• The Natural History Museum opened in 1819 and to date currently houses over 1 million specimens
• The Grobet-Labadié museum has an impressive collection of old musical instruments
• The Musée de la Mode will delight fashion fanatics with its 2000+ designs stretching back over the last thirty years
• Head to the Romano-Byzantine basilica called Notre-Dame-de-la-Garde, which is on the outskirts of the city. It gives away amazing panoramic views of the surrounding area. This is the number one tourist attraction of the region and it is free to visit
• Due to become France's, eighth national park the Calanque is an area of amazing natural beauty and ideal for trekkers and hikers
• The Palais Longchamp is home to the Museum of Natural Science and also a large green park
• A ten minute ferry ride away is the Chateau d'if which was one of the imprisonment settings in the book the "Count of Monte Cristo"
• The Centre de la Vieille Charité is open from Tuesday to Sunday and it is a cultural and exhibition centre housing the archaeological museum and other attractions.

---
Marseille Rental Locations
---
This is our first lease car experience – and we were not disappointed. The booking process went smoothly, completed in Australia before leaving. We collected the Dacia Duster in Marseilles and dropped off in Lyon. The pick-­up worked seamlessly, with the staff member finalising the paperwork quickly as well as providing an overview of the car and its operations. Our 7 weeks went smoothly and was great to have a car to enjoy the countryside in France and Spain. The drop-off again went seamlessly, the staff at Lyon were ready for us, and quickly completed the hand-over, dropping us to the airport. Would totally recommend.
I've rent a car with UDrive for a weekend, absolutely happy with prices and services provided. I would recommend UDrive for a smart travellers. Price policy is very friendly. Definitely next holidays I will be back to you! Cheers.