Great Prices
We challenge you to find cheaper! Our rates include unlimited mileage, one-way fees and roadside assist*. Why pay more?
Wide Selection
We have around 20,000 depots around the world. We offer a great range of vehicles at competitive prices, from the most reputable suppliers
24/7 Hotline
We provide 24/7 service while you're on the road. You can also call 1800 761 192 , leave a message, and we'll return your call.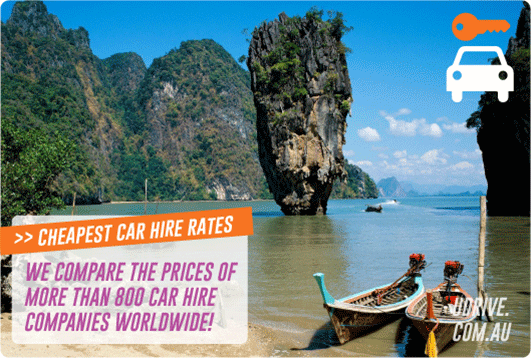 Thailand Information - Guide
Thailand isn't called the city of smiles for no good reason, neither the Thais' pride in calling its nation, Amazing Thailand. Treat yourself to a Thailand car rental holiday and discover what about the country earned itself the right to be called amazing, aside from the obvious that the Thais are a smiling race. Driving a rental car around Thailand lets you see the gradation of sceneries, culture and lifestyle. Bangkok is a bustling city, notorious for traffic, street food and shopping centers interspersed with Buddha monuments. Drive to the province of Chiang Mai and you'll feel a cooler breeze, a more cultural town and a more serene lifestyle. Once you get to Ayutthaya, the scenery changes to historical architectures. And what about the beaches of Phuket and Ko Samui?
Places to See
Thailand is divided into 5 regions and 76 provinces, each with a distinctive geographical, cultural and historical flair. It may be convenient to focus on features that appeal to you when you go on a car rental holiday, but it is advisable that you experience, or at least glimpse at, the unique offerings of each place. The capital city, Bangkok, found in Central Thailand, was voted capital of the country as it represents a balance of old-world and modernity. It is also the city of great culinary wonders. There are numerous Buddha temples in Bangkok, the oldest being Wat Pho, or the Temple of the Reclining Buddha. Park your car hire outside and offer your petitions in the temple. Not to be missed are Jatujak Market and the floating market in Damnoen Saduak for all things Thai - including the world's sweetest tropical fruits. A more laid-back province is Chiang Mai in Northern Thailand, also known as the country's cultural capital. It is famous for holding cooking classes, teaching age-old, spicy Thai recipes.
Going around Thailand
Public transportation may not be wholly recommended, but it does make for fun and interesting means of going around. Take the train for example; the train covers a wide expanse, but what makes it appealing are the friendly locals and the vendors/hawkers carrying local treats. The tuk-tuk, a three-wheeled motorcycle with a cab, on the other hand, has been a symbol of Thailand because of its uniqueness. The safest way for foreign travelers to move around Thailand is by driving a car hire. A Thailand rent-a-car is incredibly cheap! You may grovel at the Bangkok traffic jam, but outside the capital, things get smooth and road tripping makes for a delightful experience.
From the Airport
The name of Thailand's main airport, Suvarnabhumi, translated as "golden land", was used in reference to old accounts telling of a golden kingdom that is found in Southeast Asia. The Suvarnabhumi Airport is situated in the province of Samut Prakan, 30 kilometers from the capital city of Bangkok. Car rental services are widely available at the Suvarnabhumi Airport; leading international car hire agencies like Avis and Hertz are found at the airport, which you can book through our web site.
Nearby Country
Thailand shares borders with Malaysia. Go on a car rental holiday in Malaysia and wander in tea plantations or get a tan on their beaches or hike the tallest mountain in South East Asia, Kota Kinabalu.
Popular Car Hire Depots in Thailand
Avis
Suvarnabhumi Airport
Bangkok 10540
Hertz
Chiang Mai Airport
60 Mahidol Road
Suthep Muang
Chiang Mai
Compare Cheap Thailand Car Hire
Try our simple-to-use booking engine to compare car hire deals in Thailand. Type in your pickup and drop off locations & other information required and we'll immediately provide you with some quotations. Whether you're after an economy Thailand car hire, or a luxury Thailand rental vehicle, we have the perfect deal for you. Our low cost car rentals are provided by well-known suppliers such as Avis, Hertz and Europcar, but we can often provide better car hire rates!
We have 29 pick up locations in Thailand (See below). Please select your car rental pick up location from our booking engine or by clicking on the 'Book Now' link above.
Phuket Banyan Tree | Bangkok - Lumpini | Phuket Dusit Laguna Resort | Phuket JW Marriott Resort | Phuket Laguna Beach Resort | Phuket The Evason Phuket Res | Phang Nga | Chiangmai -Sheraton Chiangmai Hotel | Bangkok - Downtown | Bowin | Pattaya | Chiang Mai - Airport | Chiang Rai - Airport | Phitsanoulok - Airport | Khon Khaen - Airport | Korat - Airport | Ubon Ratchathani - Airport | Udon Thani - Airport | Hat Yai | Hua Hin | Krabi - Airport | Krabi - Downtown | Phuket - Airport | Phuket - Patong | Khao Lak | Koh Samui - Downtown | Surat Thani - Airport | Bangkok - Airport International | Koh Samui - Airport | Chiang Mai - Downtown
---
Top Car Hire Locations in Thailand
---
---
Thailand Rental Locations
---
Just returned our Bangkok car hire. It was a little hassle to drive in Bangkok but we can't fault the service we've received from UDrive. Thank you.