Great Prices
We challenge you to find cheaper! Our rates include unlimited mileage, one-way fees and roadside assist*. Why pay more?
Wide Selection
We have around 20,000 depots around the world. We offer a great range of vehicles at competitive prices, from the most reputable suppliers
24/7 Hotline
We provide 24/7 service while you're on the road. You can also call 1800 761 192 , leave a message, and we'll return your call.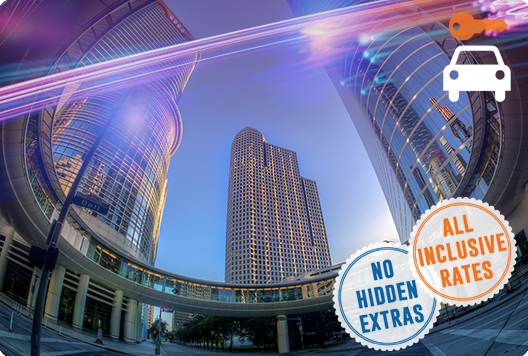 Your Travel Guide to Houston
As the largest city of Southern United States, Houston proudly boasts about its social status as a pivotal hob of business, transport, finance and tourism. Possibly it's most prominent claim to fame as the command portal of NASA's space centre, puts it firmly in the mind of international visitors as well. Once named as the best city in America, by Business Insider, despite its relatively young age (it was only founded in 1836,) Houston is an amazing place to visit and suitable for families, couples or solo travellers.
Eating out and Nightlife: Feast on International Cuisine
Latest records show Houston has over 11,000 restaurants, serving a feast of international cuisine including Chinese, Indian, and British, and of course American culinary delights. Local recommended dishes to try include seasonal oysters, the Texas-sized steak fajitas known as Tex-Mex or the crawfish coated in Cajun spice. From high-class luxury restaurants to budget street-food stands, the diversity in nationalities of local inhabitants, means a vast array of dining options is always on offer.
After eating, partying might be on the agenda in which case, Midtown is the district to head to. Known as party central, Establishments like Prohibition serve every drink possibly but go further afield to Downtown to find classic cocktails bars such as Moving Sidewalk, The Pastry War and Captain Foxheart's Bad News Bar and Spirit Lodge.
4 Fun Things to Do in Houston
Undoubtedly Houston's biggest attraction is the visitor's part of the space centre. It opened in 1992 and since then, more than 17 million people have passed through. Priding itself on education as well as fun, the centre's space museum displays an amazing array of artefacts and every Friday, they offer the chance to meet a real life astronaut.
After the Space Centre, Houston Zoo should definitely be on your list. With a variety of species including amphibians, mammals, birds and reptiles, visitors can see for their own eyes, animals such as gorillas, orangutan, lions, zebras and elephants. Kids can feed the giraffes or join a zoo keeper on a behind the scenes tour, which not only makes the visit fun but educational as well.
Museum lovers will enjoy the vast abundance of museums that have free entry including the African, American Culture museum, Heritage Society, Photography and Holocaust museums. Surprisingly as well, Houston has many green areas so hire a car and head out for a picnic in scenic places such as Buffalo Bayou, or the 12 acres of Discovery Green that includes a farmers market, art exhibitions and 2 restaurants.
The 100-year old Battleship Texas, now docked into a small harbour, took part in some of the most significant battles of the last century but now serves as a floating museum to help visitors understand what it was like to be a sailor. Just a short drive from downtown Houston, explore it on your own or join up for a guided tour.
If your time in the city is not limited, more exciting things to do can be viewed on the official website for Houston, including guided tours, spa centres, golf courses and art galleries. Enjoy yourself in one of America's greatest cities!
As throughout the US, driving in Houston is no drama. Of course the downtown can be busy, especially in rush hour. However, generally roads are wide and parking is adequate if sometimes expensive. Fuel is readily available and pretty economical.
Expansive landscapes and open roads, Texas is perfect for the classic American road trip. Meander through colourful towns with welcoming (and quirky!) locals, or drive scenic wooded canyons. Visit some fabulous museums, including the Frontier Times Museum in Bandera, and the Texas Prison Museum. Eat plenty of chicken-fried steak, and visit the Enchanted Rock State Natural Area. Check great road trip entries on the National Geographic and Trip Advisor forums for more planning ideas.
Straightforward Houston car rental
Booking with Udrive was easy. What a find this website turned out to be! Their rate was nearly the best we found, but once we realised it included the one-way fee for which others charge extra, then it was definitely the best. Plus, we had fabulous customer service from Carolyn by emails. Good to have an Australian voice on the end of the phone during the planning stages and she made some good suggestions. Hope to use Udrive again next summer for our trip to Europe.